Jeff and I have joked before that right now we're living in our "lost years" for holiday enjoyment. We're not kids any more, so much of the magic has been replaced by general grumpiness at all the money spent around holidays and the work it takes to make things go off without a hitch. There aren't as many raucous parties with friends anymore either and we usually end up doing a whole bunch of nothing on holidays. I know it'll all change when we have kids and we get the chance to create the magic for them that our parents made for us on those few special days a year, but until then we're just stuck in this lackluster "in-between" state.
It sucks because Halloween has always been my favorite holiday, and only in the last few years has it turned into a complete non-event for me. This year though, we at least have something to look forward to: Trick-or-treaters!
This is the first year that we live in a neighborhood with lots of young children and will surely be visited by droves of tiny ghosts and witches, superheroes and princesses. Maybe it's a strange thing to be excited about, but it's re-infusing this holiday that I love so much with the joy that it's been lacking for years.
Yesterday, I carved a jack-o-lantern to put outside our door to let everyone know that YES, we do have candy!
After 2 hours of cleaning and carving, this: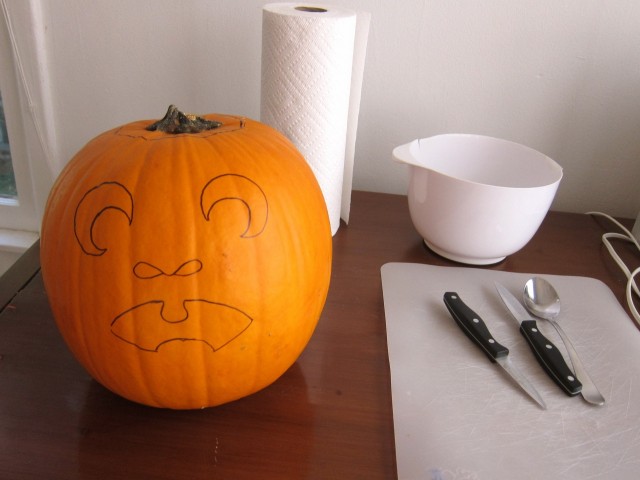 Became this: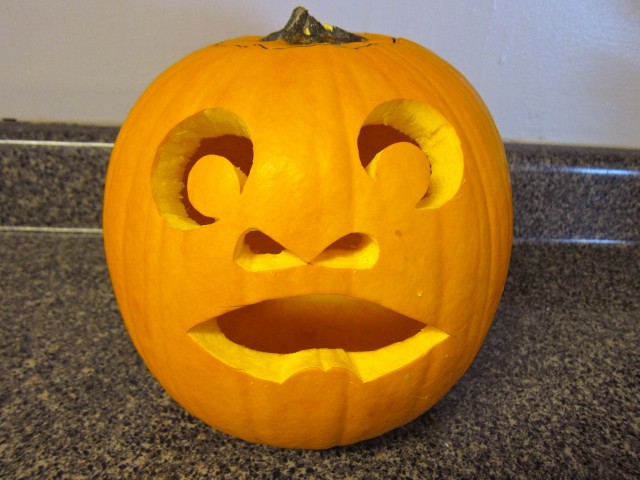 I don't know what I was going for, but I kind of think he looks like a frog. Liam, of course, needed to sniff our new housemate…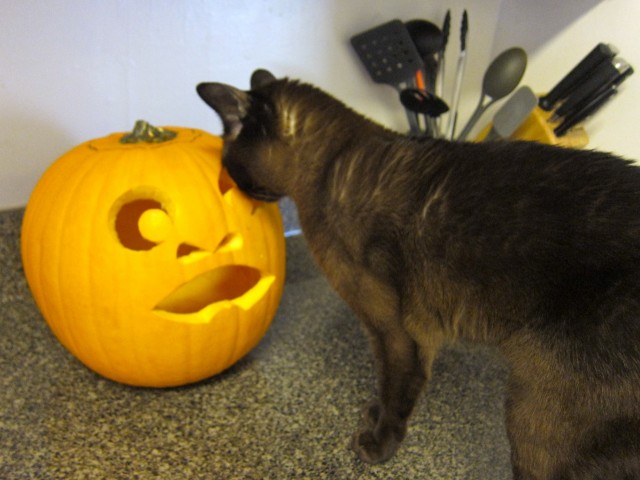 Face. in. pumpkin.
I have named the pumpkin Robert; I have no idea why. Hopefully the trick-or-treaters will get as much enjoyment out of him (and the candy, of course) as we'll get by being able to participate in the holidays again.
What was your favorite holiday as a child? Has your enjoyment of it changed as you've gotten older?