It wasn't all beer guzzling in Boulder, there was also tea!
Apparently, Boulder's sister city is Dushanbe, Tajikistan. As a gift, the Dushanbe Tea House was assembled in Tajikistan then taken apart piece by piece and transported to downtown Boulder where it was reassembled amidst a garden of roses and a trickling stream.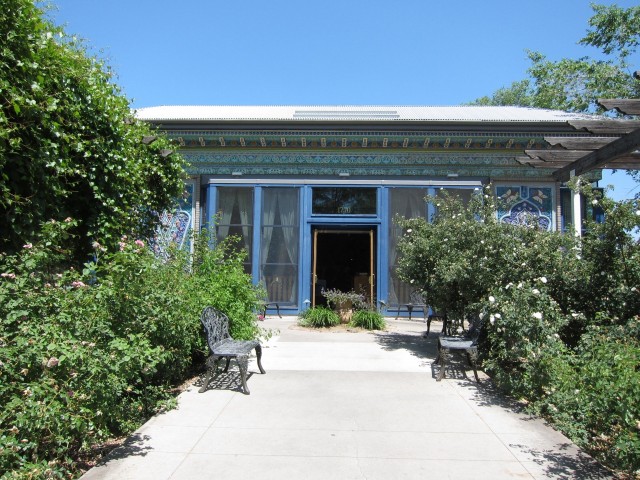 As you may know, Jeff and I are kind of tea nerds, so we knew we'd be spending a long afternoon at this tea house for sure. It's so hard to find tea shops that specialize in Chinese teas, they're usually English "afternoon tea" type places with a sprinkling of heavily-flavored Assam and Ceylon teas, none of which we really care for. So we were excited to find that Dushanbe carries mostly Chinese teas of a high quality.
I loved seeing the authentic Persian-inspired painted ceilings and intricately-carved wooden columns.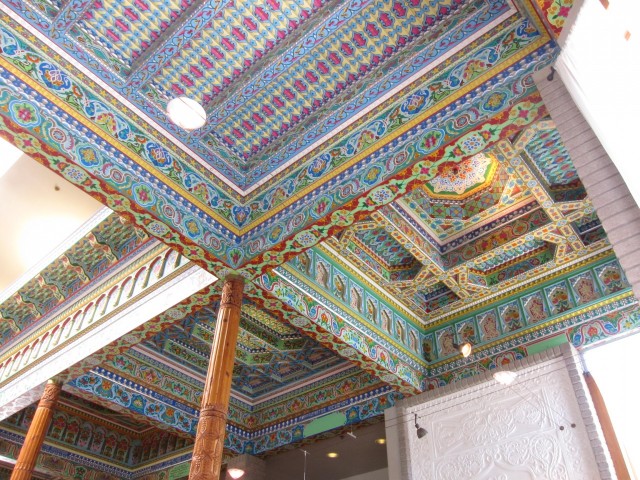 And there was the constant sound of moving water from the Fountain of the Seven Beauties in the center of the tea house.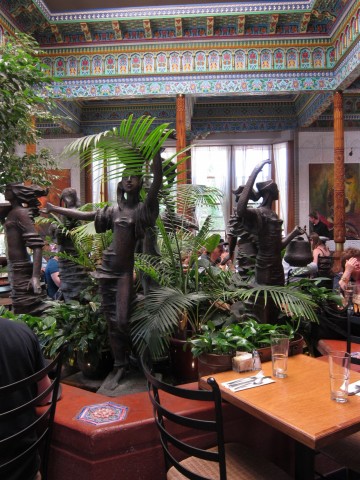 And the tea was excellent. Jeff had a Chinese black tea and I opted for a tea cocktail made from oolong, pineapple, and mango juices. Kind of like a tropical Arnold Palmer.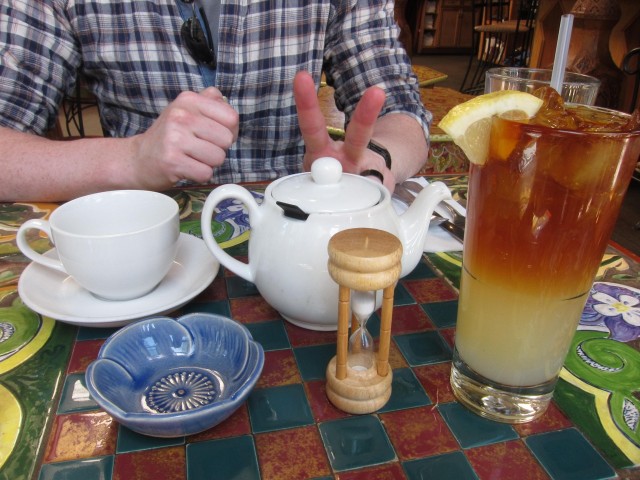 We also decided to have lunch there, starting with these curry-filled samosas with mango chutney and raita. So good!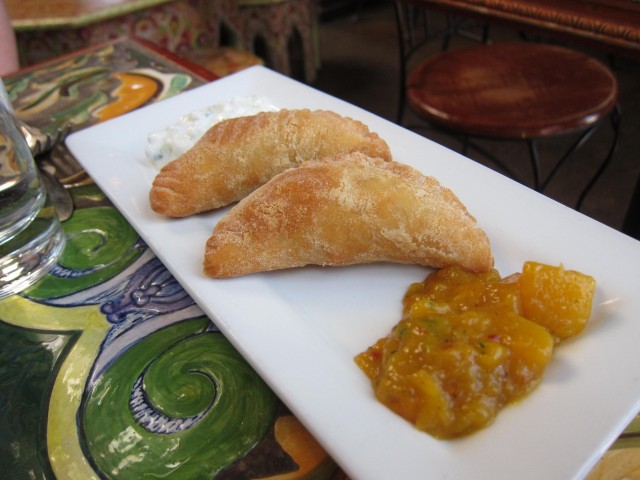 Jeff had one of the most amazing dishes I've ever tasted. It was a thai panang beef curry with bok choy and shaved jicama, the richest and most flavorful curry ever. I could not stop stealing bites from him!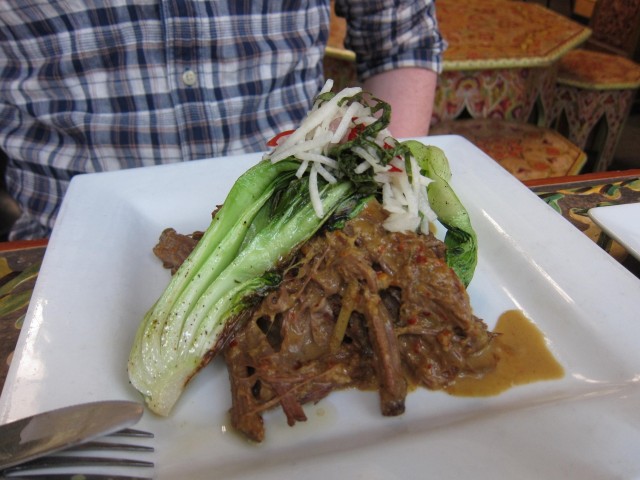 I ordered a salad of spinich and shaved pear in a pu-erh tea dressing with salmon and a bleu cheese-stuffed pear half. The stuffed pear was horribly underripe and hard as a rock, but I just scooped out the bleu cheese and ate the rest, which was an incredibly yummy salad without it.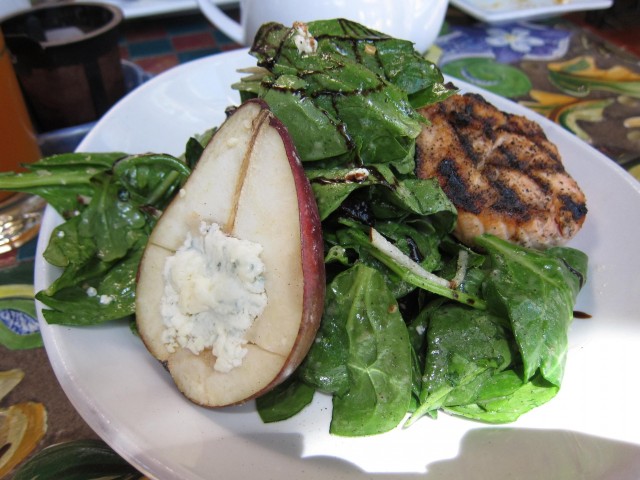 We ended up splitting a pot of oolong together and digging into dessert. This was the most soft and delicious gingerbread I've ever had. It was accompanied by a drizzle of blood orange syrup and five spice whipped cream. Yum!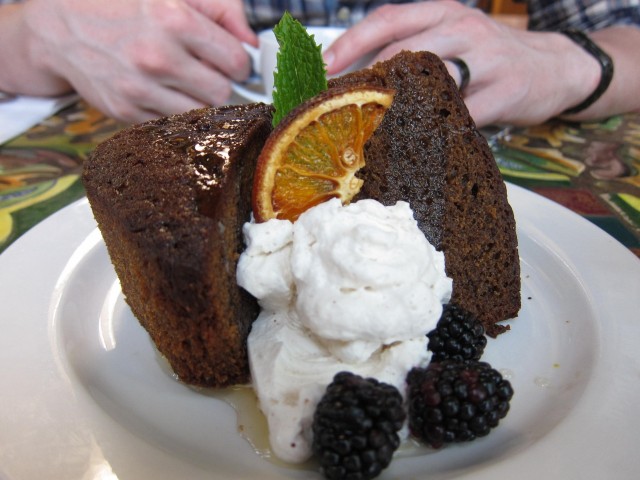 Dushanbe Tea House was incredible. I was worried that a place that specializes in tea couldn't possibly also make great food, but WOW they do. The whole place felt very authentic and natural, not gimmicky and contrived as these types of theme places can be. I can't recommend it highly enough if you're ever in Boulder!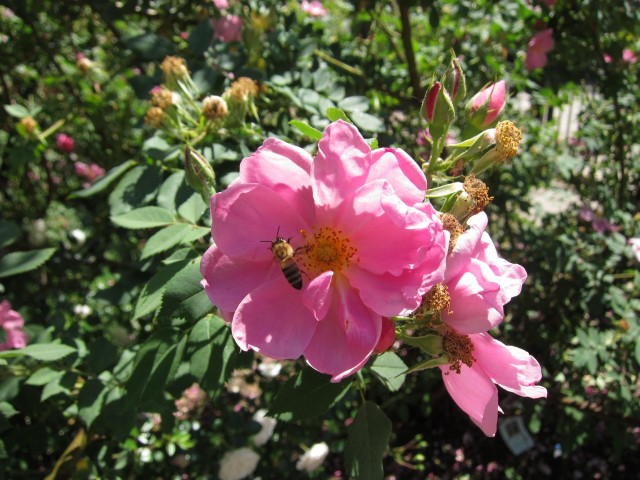 One place that was just ok was Chez Thuy, a Vietnamese place walking-distance from our rental. The free rice porridge was the best part of the meal!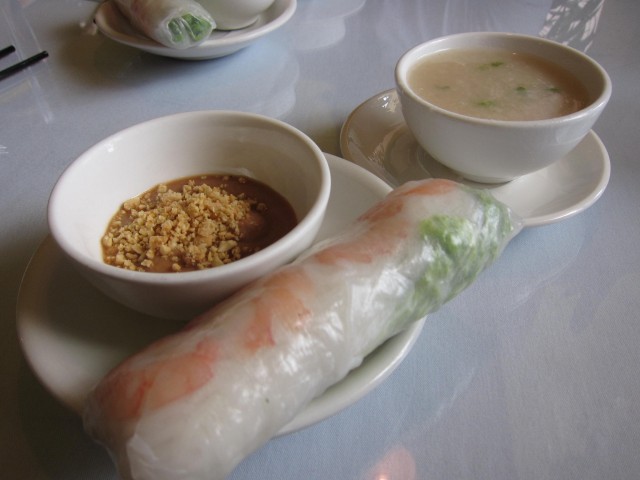 The spring rolls were dry and flavorless, Jeff's green curry was bland and full of watery vegetables, and my sampler plate of nori rolls, skewered beef, tempura shrimp, and stuffed chicken wing was way too heavy and strangley spiced.
I ended up taking mine back to the rental in hopes of snacking on it later, but it began to smell so atrociously within an hour that I never ended up eating it and it just stunk up the place for days. Skip Chez Thuy if you're ever in town.
Back to the good stuff!
We caught up with some of our friends who moved out to Denver a while back and they could not stop raving about Snooze, a brunch place on Pearl St. that we'd passed a few times that was always crowded. We decided to take them up on their recommendation one morning and headed over expecting a long wait. Lucky for us, we were seated immediately on their lovely patio for prime people-watching!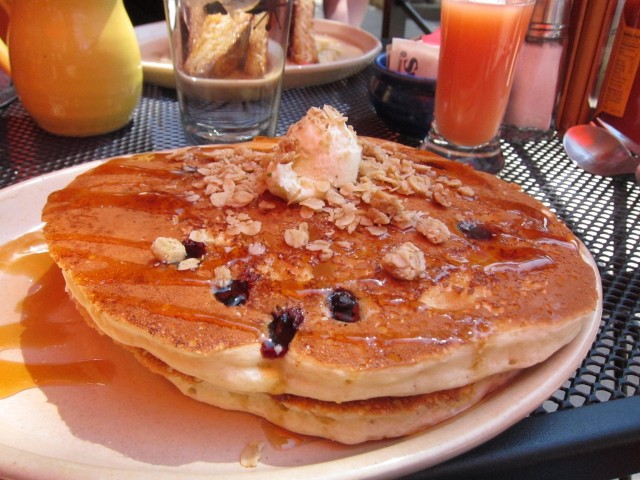 I got the Blueberry Blossom pancakes: two super-fluffy and light pancakes studded with fresh berries and drizzled in local honey, topped with a sugary oat crumble and lavender butter! Best. Pancakes. Ever.
Jeff got the OMG French Toast which totally lived up to it's namesake. Decadent when swirled in the vanilla cream sauce!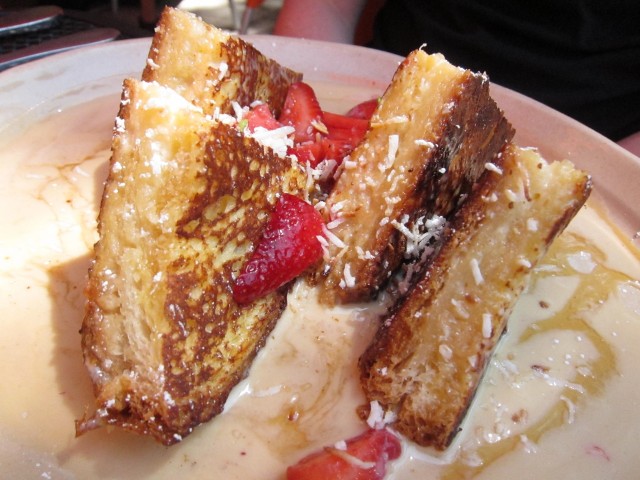 I wish we had a Snooze in Atlanta, I'd be waking up early to go there every weekend. There were so many things on the menu that I wanted to try!
Alright, one more Boulder recap to go. Tomorrow is the wedding and I'm rushing to get all this cake stuff done in time. Wish me luck!