If you don't already know, I suppose now is as good a time as any to mention that my husband and I are approximately 3 weeks away from the birth of our first child. I'm due with a little lady on July 18th and totally freaking out.
A few weekends ago, I hosted a little dinner party at our house in an effort to have one last hurrah with some of our friends before we inevitably disappear down the rabbit hole of new parenthood. I cannot believe I managed to pull it off. I'm massively, uncomfortably, achingly, exhaustingly, deliriously pregnant right now and for some reason thought it was a good idea to cook a fancy dinner for 8 people, the most I've ever entertained. Somehow, by spacing the prep work out over a few days and by the gracious help of my wonderful husband, it all managed to come together and everything tasted great. And as a bonus, I actually had the energy to enjoy myself that night rather than collapsing into spontaneous hibernation. Domestic goddess status: Achieved.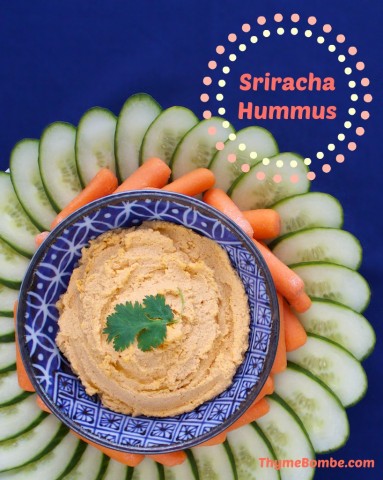 The menu for the night included a honey soy roast beef shoulder (this recipe can be found in my book,) mashed potatoes, jasmine rice, Thai chickpea and cauliflower curry, baked leek and shiitake wontons, a salad with strawberries, bleu cheese, and pistachio dust, and a dark chocolate berry crumble with whipped coconut cream. I wondered what the guests would like the most, and while of course everyone swooned over dessert, I was surprised to find that by the end of the night the only dish that completely disappeared was an appetizer plate of sriracha hummus with veggies that took me almost no time to put together.
It would seem that it's always the simplest things that make the biggest impact.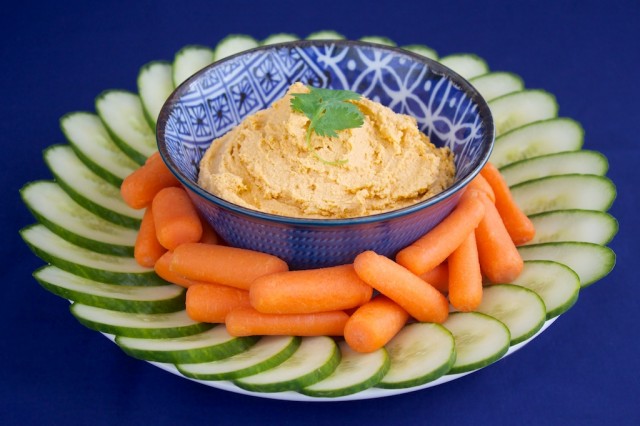 This was a total experiment gone right. I just tossed a bunch of stuff in the food processor and hoped for the best. What I got was far better than just edible, it was downright delicious.
The flavor starts off a bit lemony but otherwise not too unlike a standard hummus, and then it hits you. A deep spicy tickle starts in the back of your throat and quickly rushes forward lighting up all of your tastebuds like thousands of fiery torches. It's a tingly heat that makes your pupils dilate and little beads of sweat settle on your upper lip. Now that's my kind of party.
Sriracha hummus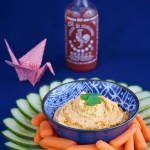 A spicy dip made with fruity sriracha and creamy chickpeas.
Prep Time: 15 minutes
Total Time: 15 minutes
Ingredients
1 15oz. can of

chickpeas (drained)

3 tbsp.

sriracha sauce

3 tbsp.

tahini

3 tsp.

lemon juice

1/2 tsp.

garlic powder

a heavy pinch of

salt

4 tsp.

canola oil

1 tbsp. +

water (optional)
Cooking Directions
Add all ingredients except for oil and water to a food processor and pulse to combine. Use a spatula to scrape down the sides and pulse a few more times.
While processor is running, pour in oil through the vent in the lid. Process until smooth.
If hummus is too thick, add water 1 tbsp. at a time until desired consistency is achieved.
Store leftovers in an air-tight container in the refrigerator for up to a week.
I used water in this recipe to thin the hummus out to the right consistency, but if you'd prefer you can use the salted water from the can of chickpeas instead, just make sure to scale back the amount of salt you add until you've tasted it.
This was so good tempered with the coolness of cucumbers, but you can use pita chips if you prefer. If you're a crazy person, try eating it with peppers. Go on, I dare ya.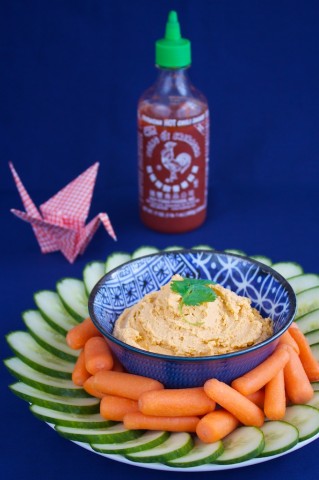 Supposedly spicy food helps to jumpstart labor. If that's true, then I may have this batch of sriracha hummus to thank for introducing me to my daughter soon. If nothing else, maybe it'll help the little lady to develop a taste for spicy food before she's even born. I sure hope so, I may actually cry if I have to start toning down the heat for family dinners in the future. Mama needs her hot sauce!
Do you like super spicy food?