Is your mind blown yet?
I have been meaning to try my hand at making nut butters from scratch for so long now. Sure, I could have started with something simple like a honey roasted nut butter or simply salted, but I've been dreaming up nut butters for months without actually making them so I've kind of already skipped those first steps in my head.
I've had this container of red curry paste sitting in my fridge for several months now and it's on the verge of reaching the end of its shelf life, so I've been racing to find uses for it before it's too late.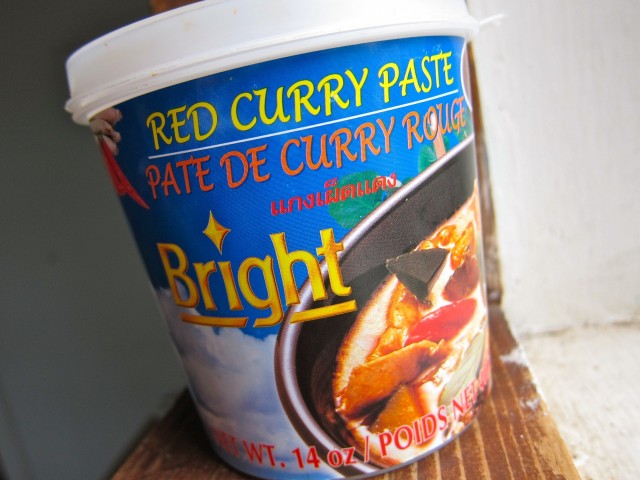 I tried making a curry with it last week that ended up unblogworthy. I used to make curry at least once a week for dinner but just kind of fell out of the habit of it. I've been craving peanut noodles recently too and then it hit me, why not put the flavors of the sauce into the peanut butter itself?!
Here's what I used:
2 cups unsalted roasted peanuts
1/4 cup desiccated coconut
up to a half cup of coconut milk
2-3 tbsp. agave nectar
up to 4 tsp. red curry paste (depending on how spicy you want it)
pinch of salt
The nuts I bought said they were roasted but they tasted pretty raw to me, so I roasted them on a sheet pan for about 1o minutes at 375 degrees until I could see a bit of color on them. Those got obliterated in the food processor for a good 5 minutes. Then I added everything else and let it whir away for another few minutes.
I'm pretty sure that the blades on my old food processor are too dull to ever make a smooth and drippy nut butter, so I stopped after about 10 minutes when it became apparent that I wasn't gonna get anything thinner than peanut pate.
I thought that would be disappointing but the texture is part of what makes it wonderful. It's spreadable but still thick and creamy, like the texture of peanut butter frosting.
If your food processor will get it completely smooth though, go for it!
I was eating this on everything yesterday. I could not get enough of the full peanut flavor tinged with a fruity creeping heat and balanced with a subtle sweetness. Amazing!
I'm totally hooked on making crazy nut butters now.
Thai red curry coconut peanut butter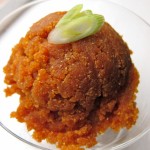 Home made peanut butter with the exotic flavors of Thai red curry and coconut.
Prep Time: 20 minutes
Yield: about 2 and a half cups
Ingredients
2 cups

roasted unsalted peanuts

1/4 cup

desiccated coconut

up to a 1/2 cup

coconut milk

2 to 3 tbsp.

agave nectar

up to 4 tsp.

red curry paste (adjust for spice tolerance)

a pinch of

salt
Cooking Directions
Grind peanuts in food processor until smooth (about 10 minutes.)
Add other ingredients and pulse to combine.
Help me out: What's the most interesting nut butter flavor you can come up with? If I see one that I think I could create I'll make it!