Ahh! I've been waiting so long to share the pictures from our honeymoon in Japan and now it's finally here!
We flew out early the morning after our wedding for the insanity-inducing 13 and a half hour flight to Tokyo. From the airport it's about a 45 minute train ride from Narita, where the airport is, to Tokyo. I stared out of the window the whole time trying not to miss a single thing.
We stayed one night in the Shibuya part of town before heading on to Osaka the next afternoon. I'll get to what we did on that first day later when I show you the rest of the Tokyo part of the trip.
Osaka was about and hour and a half south on the Shinkansen high-speed train. We ordered a bento to share for lunch while we watched the mountains and rice fields roll by.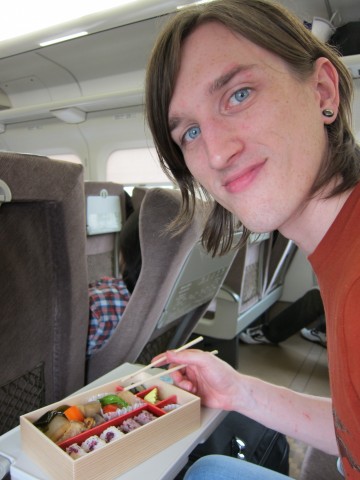 It had 2 kinds of rice along with both boiled and pickled vegetables. Most of it was really good, though I don't think Jeff or I will ever get the hang of eating umeboshi (sour pickled plums.)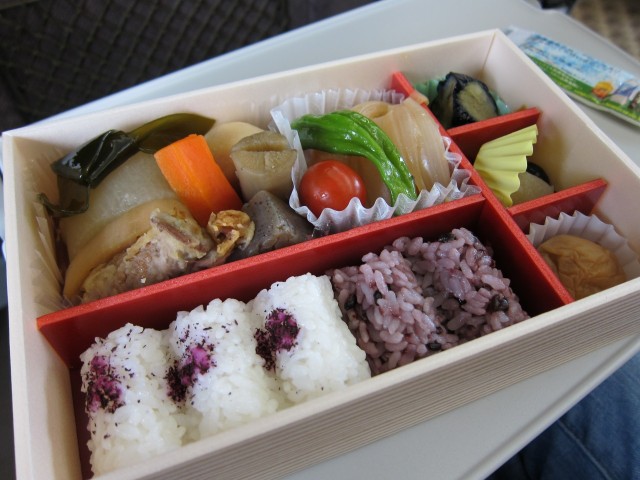 We stayed at a really cool hotel called Hotel Ichiei which had very traditional Japanese room arrangements done with a modern flair. I loved how our sleeping area was separated by these curtains, it was like sleeping in a tent.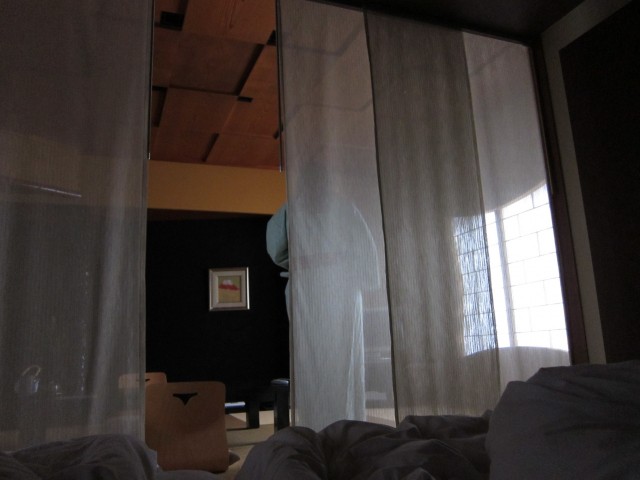 And we were provided with yukata, typical house robes for lounging in.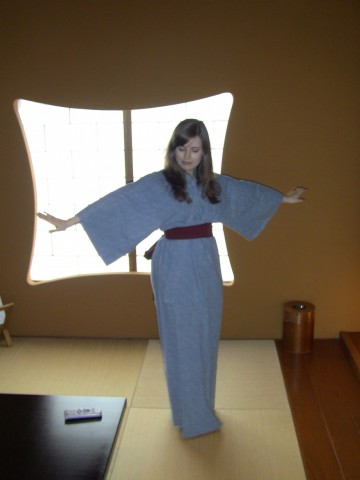 I loved getting up each morning and making tea with this pretty little set.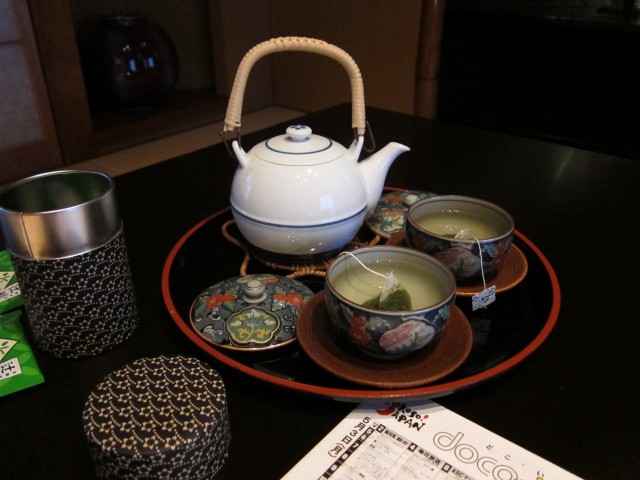 We ordered the traditional style breakfast just once and it was amazing! There was rice, miso soup, pickled vegetables, seaweed salad, boiled vegetables, tamago omelet, grilled salmon, and fish cakes. It was so much food! I wanted to eat all of it but there was just no way.
One of the first things we did was visit Osaka Castle. The whole thing is a museum inside and it's surrounded by gardens and a complex of other buildings.
From the top you can see the whole city.
On our way back we passed a cute little fair for kids. Domo-kun was out shaking hands and being creepy and cute at the same time. He's the mascot for the NHK television station.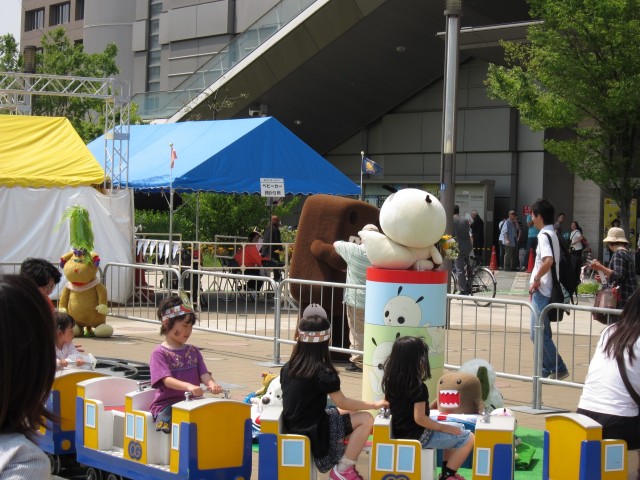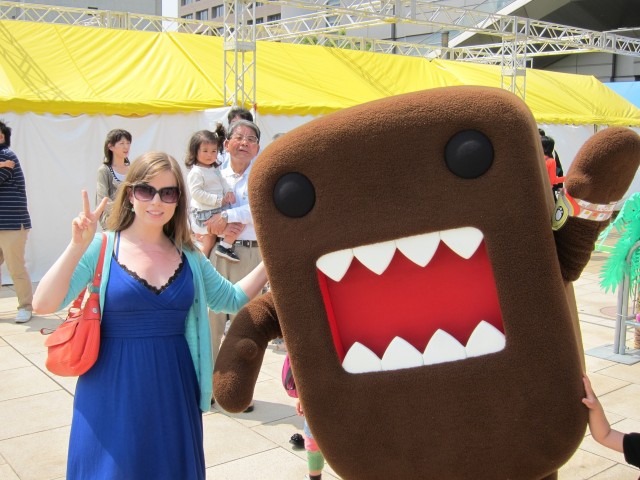 We had a delicious lunch of sushi, soup, tempura, and noodles.
The next day, we skipped the extravagant breakfast and opted for donuts and coffee. Truthfully, pastries and coffee were our breakfast for all but 2 days of the entire 2 week trip! I loved the kinako (toasted soy flour) flavor best.
We did a bunch of window shopping down Shinsaibashi and Ebisubashi streets. That's not a mall we're in, it's a covered outdoor street you can drive down!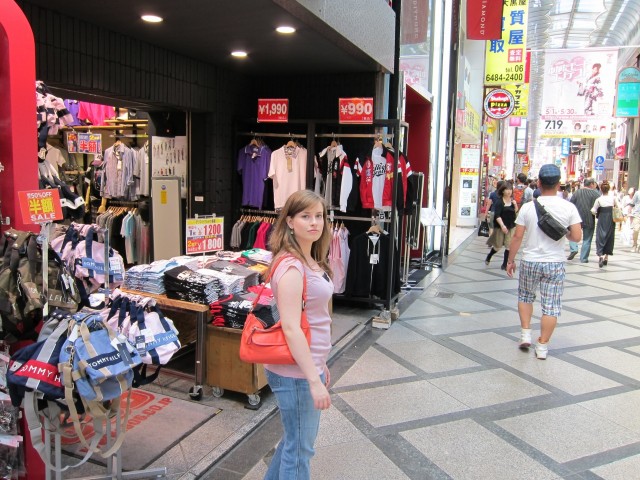 We had a bit of a hard time in Osaka with getting access to cash. If you ever go to Japan, don't use MasterCard credit or debit cards, only a very few ATMs take them whereas Visa is accepted everywhere. I can't tell you how much frustration and lost time was caused by this one fact. We did manage to have a great time though, regardless.
Later, we headed a few blocks north to the famous Dotonbori Street. This street is packed to the ceiling with restaurants, junk food vendors, novelty shops, bars, clubs, and all sorts of entertainment.
As it got dark out we looked for a place for dinner with one thing on our minds: takoyaki! There were at least a dozen takoyaki shops lining the street, like this one with a giant creepy octopus looming overhead.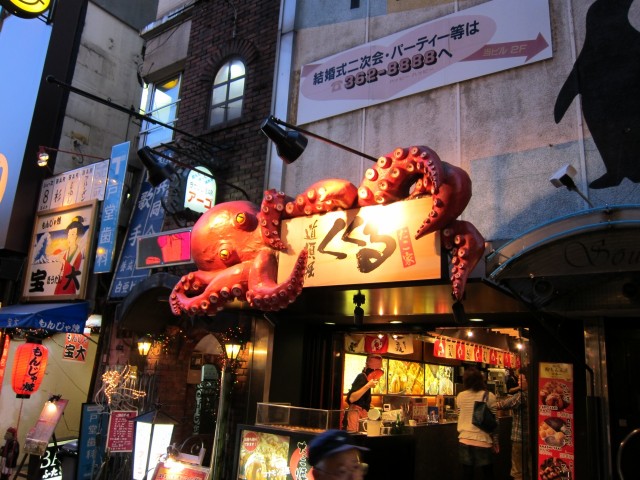 We settled on this one though because they also sold okonomiyaki, a type of half omelet half pancake filled with shredded vegetables and topped with salty sauces.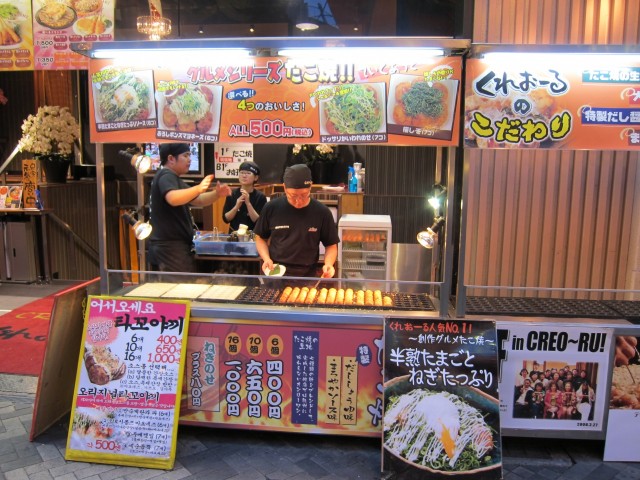 We both got shochu to sip on and proceeded to get a little tipsy.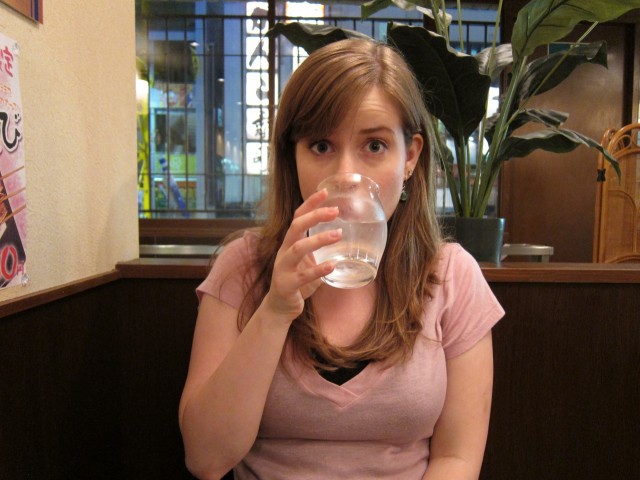 The takoyaki we had in Japan were so different than any that we've had in the states. They were always barely cooked so that the inside is still liquid and lava hot.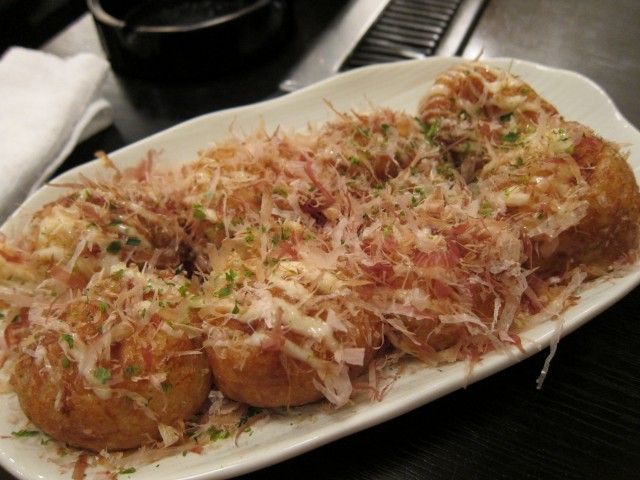 They gush everywhere when you bite into them!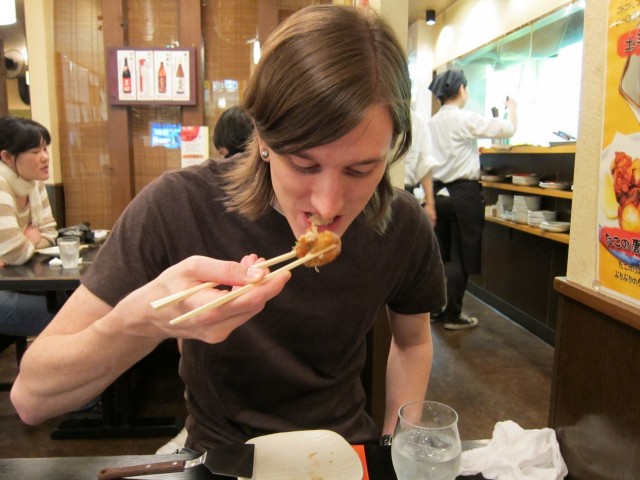 The okonomiyaki was cooked right at our table and topped with lots of Kewpie mayo and shredded bonito. Sounds gross, and normally I'm not a fan of mayo, but I assure you it's amazing.
We spent most of our time in Osaka doing more of the same: window shopping, walking, and stuffing our faces. I think we had takoyaki 3 times! We were really excited to move on to the next leg of our trip though…
Tomorrow: Kyoto!