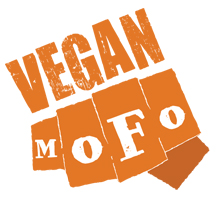 Hi guys! I'm very excited to announce that for the month of November I'll be participating in Vegan MoFo!
What's a Vegan MoFo, you may ask? It stands for Vegan Month of Food! If you thought it meant something else, go put a dollar in your swear jar and come back to me.
Everyone with me now? Ok!
For this month I, along with hundreds of others, will be trying to create and document as many vegan recipes as possible to help get the word out about healthy and satisfying vegan food, and we need your help! If you see a post you like, feel free to use any means you can to pass it on to others. Retweet my tweets, "like" a post with StumbleUpon, email it to a friend, anything you want.  And if you want to check out lots of other Vegan MoFo bloggers, just take a peek at the extensive blogroll for this years' event. I'll be doing my part to tweet every recipe, and if I get good enough pictures, I'll submit my recipes to sites like Tastespotting and Foodgawker.
"But Alayna, you're not even vegan!"
You are correct.  I do, however, consume a lot of vegan food and love it!
My diet is still evolving, and veganism is an ideal that I'm striving to get closer to as time goes by. I will probably never be 100% vegan, but I'd like my consumption of non-vegan foods to dwindle lower and lower to an almost negligible amount. I'm making positive changes in the way I eat every day!
I'm hoping that with this challenge I can eat a more-vegan diet for a month and show myself that it wasn't that big of a change.  I'm also hoping to show people who may have never thought of a vegan diet as something they could incorporate into their own lives, that vegan food is no weirder than a fruit salad or roasted vegetables.
Ok! Enough chatter, on with the delicious vegan food!
EDIT: I changed the picture of the sauteed apple oatmeal to the berries and oats above because I realized the previous item had honey in it.  Oops!  This stuff matters!