This was so yummy and so easy that we had it two nights in a row!
I started by making 2 cups of rice and set it to keep warm.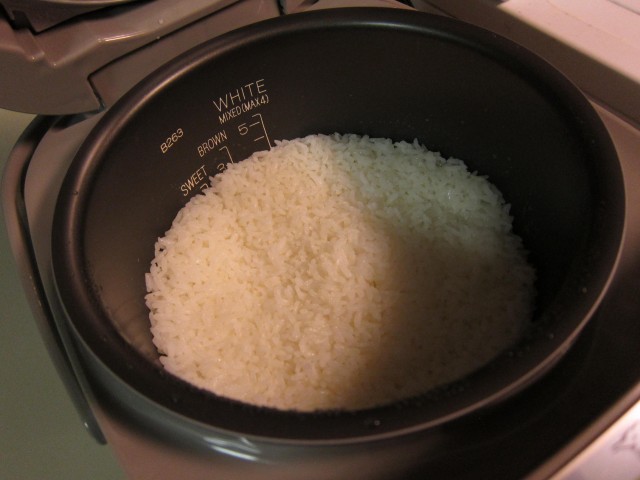 I got all my ingredients ready to go. You need:
sesame oil
soy sauce
rice vinegar
frozen vegetables of your choosing
2 or more eggs, beaten
I used a wok but you can do this in a large flat pan too. Just add some sesame oil and vegetables to the pan and get it hot, medium-high heat should do it. I used half a bag of "Japanese Mix" which included broccoli, mushrooms, red bell pepper, and some kind of string bean. I actually added about a half of a fresh red bell pepper in too because this mix was really skimpy on it, but you don't have to add anything.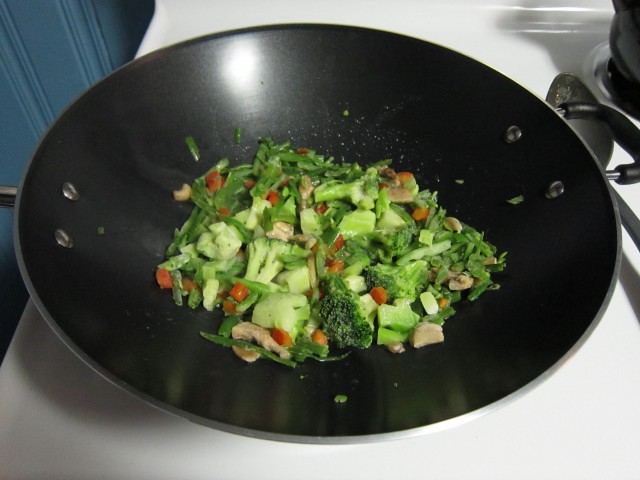 Wait until the vegetables have thawed and are starting to sizzle before adding the rice, you may want to add a bit more oil too.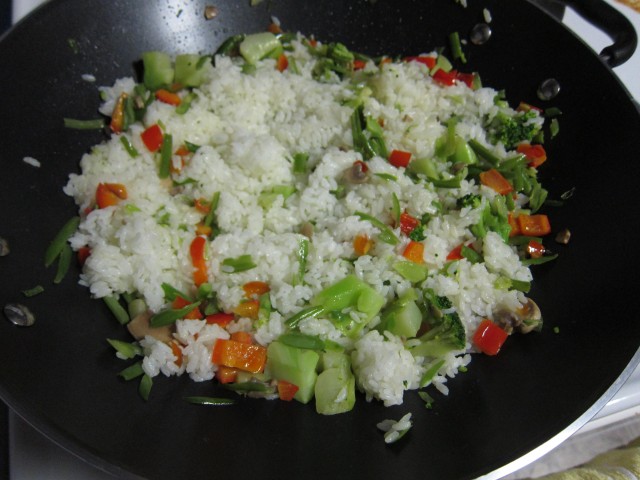 Toss everything every 30 seconds or so for several minutes or until the rice is smelling slightly toasty and you can see either sear marks on the vegetables, slight browning on the rice, or both.
Pour over about 3 tbsp. of rice vinegar and toss.  Swirl over a generous amount of soy sauce (probably almost a 1/4 cup) and toss until distributed. Now it's starting to look like fried rice!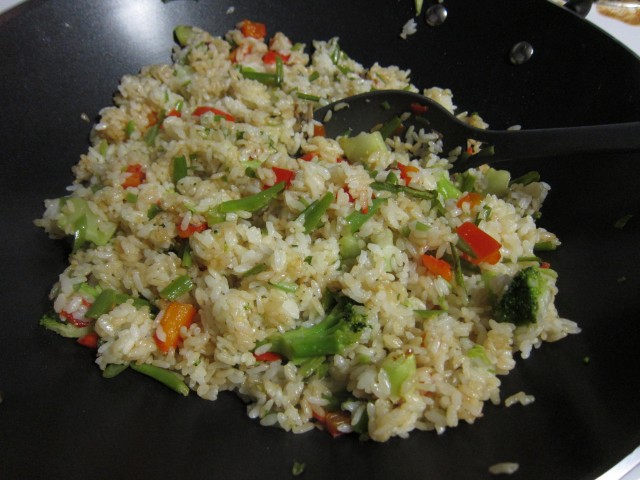 Turn the heat down to medium and wait a minute for the pan to cool down. Make a well in the center of the pan and pour in the beaten eggs.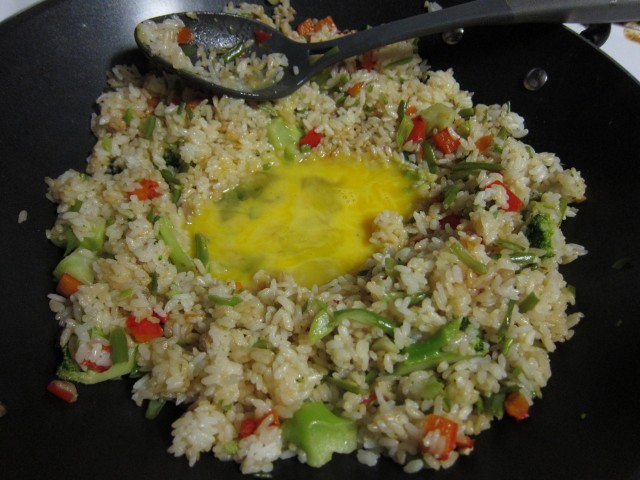 Stir the eggs as they start to scramble. Use cutting and folding motions to break apart the egg and distribute it throughout the rice. When it's cooked through, serve it up!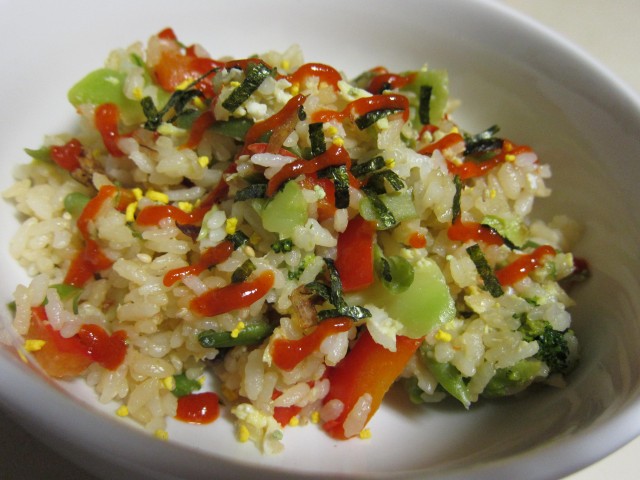 We topped ours with noritamago furikake (seaweed and dried egg seasoning) and super-hot sriracha. It really doesn't need anything though.
This dish comes together in less than 20 minutes and doesn't make a bunch of dirty dishes. It's so much lighter than the stuff you get in a take-out box or thrown at you in a hibachi restaurant, as you can control the amount of oil and soy sauce.
This fresh-tasting and filling dish has quickly become one of my go-to meals when I don't have a lot of time to make something. You could absolutely chop fresh vegetables and even saute a little onion in too, but the real magic here is that this dish allows you to get something healthy and filling in you without all the work, and I'm going to keep taking the shortcut because it makes my life easier.
And we have enough left over to have it again for lunch, yay!
Quick vegetable fried rice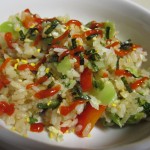 Simple customizable fried rice recipe, never greasy because you control the oil content.
Prep Time: 5 minutes
Cook Time: 10 minutes
Total Time: 15 minutes
Yield: 2 to 4 servings
Ingredients
2 cups

cooked shortgrain rice

half a bag of

frozen vegetable mix of choice

2-3

eggs

2-3 tbsp.

rice vinegar

up to a 1/4 cup

soy sauce

sesame oil

for frying
Cooking Directions
Saute frozen vegetables in a hot wok with sesame oil until starting to brown.
Add cooked rice to the center and allow to toast slightly, then mix in.
Add rice vinegar and soy sauce, mix evenly.
Push rice to the outside of the pan and fry the eggs in the center, scramble as they set and mix to incorporate.
Serve topped with sliced scallions, toasted sesame seeds, seaweed flake, or sriracha if desired.