You have got to know by now just how much I love miso, right?
This recipe is my absolute favorite way to enjoy miso, and one that I make about twice a month as it is so quick to put together and so richly delicious.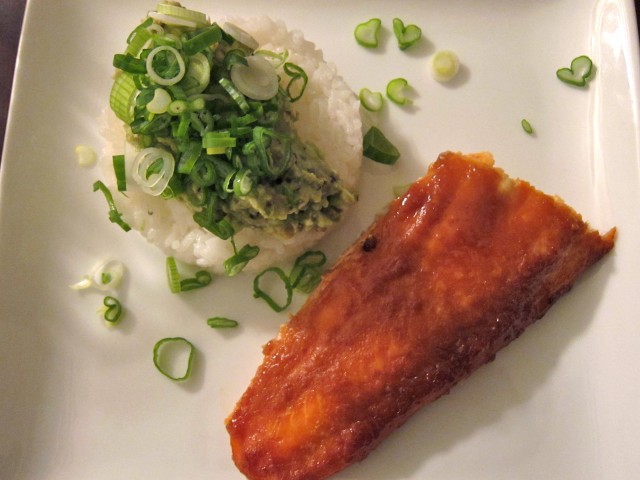 I start with a fillet of salmon placed on a baking sheet that has been lined with aluminum foil.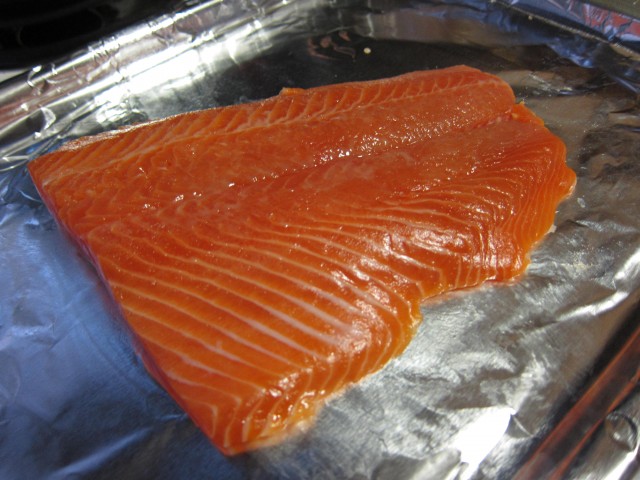 Next, I make the glaze. All you need are these two, miso and mirin…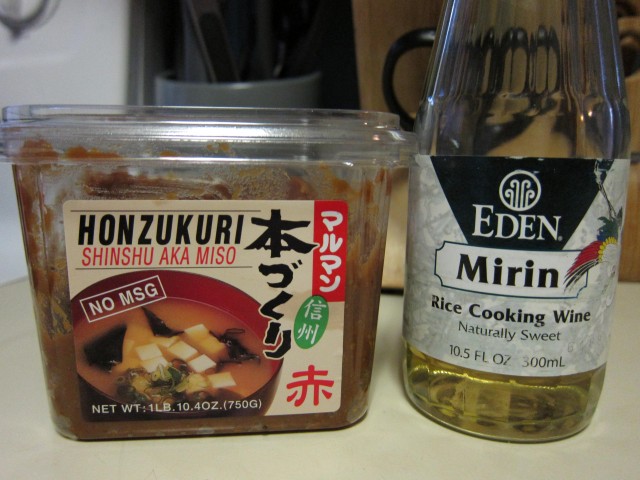 Any miso is fine, I realize you may only be able to get your hands on shiro miso (aka: white or mellow miso.) I use this "red" variety because I've tried making the recipe with both and found this one to be less salty. As for mirin, if you can't find it you can use either maple syrup or honey and a few drops of water to thin it out. I've tried it using both of those ingredients and it was still awesome.
So, put a dollop of miso in a bowl and add about a tablespoon or so of mirin.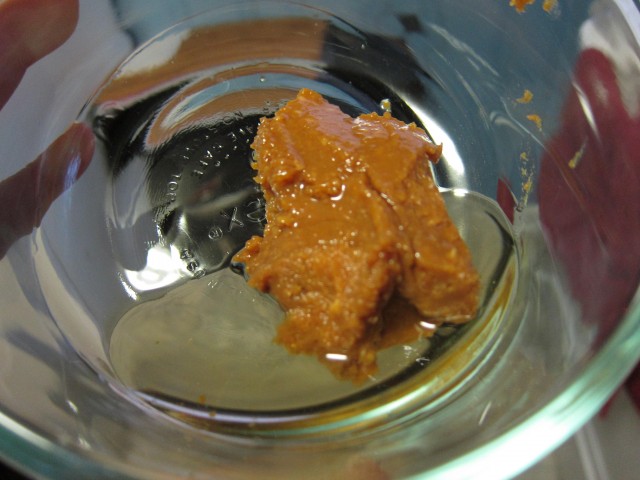 I then microwave this for ten seconds, stir, then another 10 seconds and stir again. It'll look about like this, don't worry if yours is thicker or thinner than mine. It'll be great, I promise.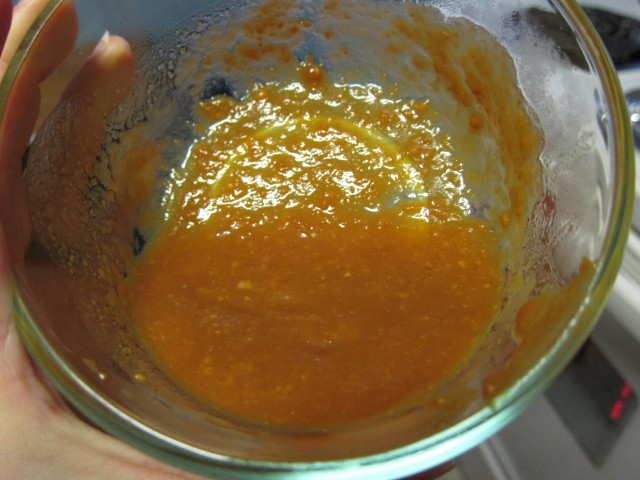 Just pour it over the salmon and spread evenly over the surface and down the sides.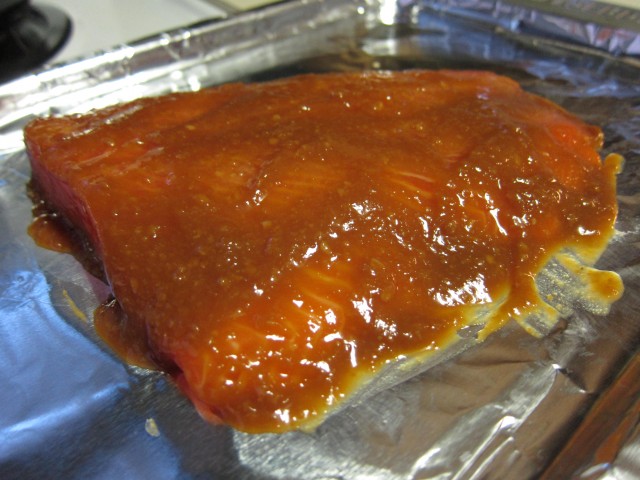 This gets baked at 400 degrees for exactly 20 minutes.
While that was baking, I got the rest of the meal ready. I had some sushi rice going in the rice cooker already so I just had to make something to go with it. I decided to smash up an avocado with seaweed flake, salt and toasted sesame.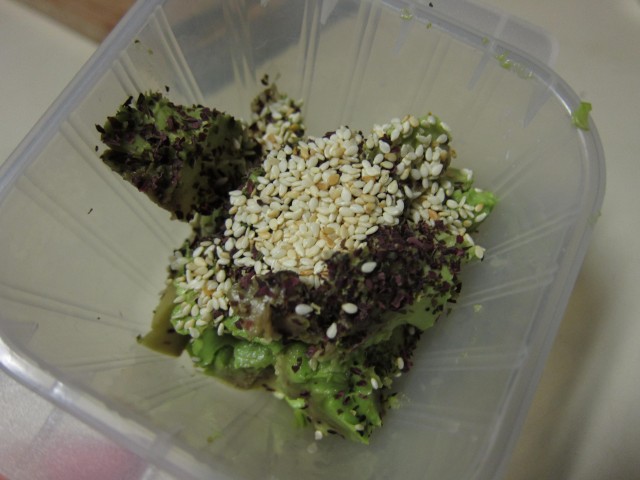 And I even had time to have a little fun with my ring molds that I haven't touched in forever. I used them to mold the rice into pretty little discs.
Out came the salmon. Don't worry about the burned edges, it's just because there is sugar in the mirin, the fish itself is fine. This is why you needed the foil.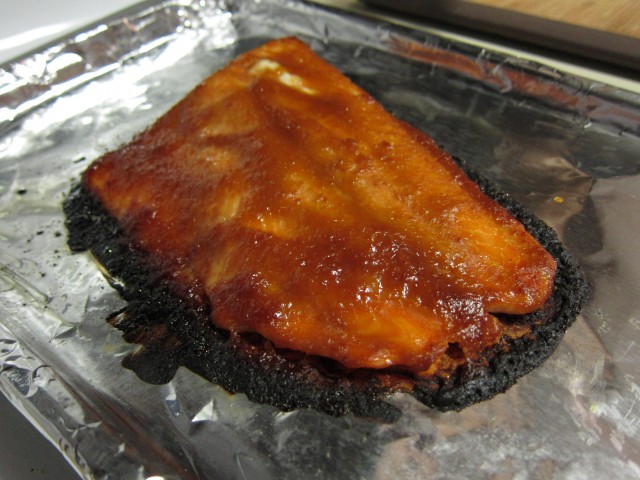 And here it is, alongside the rice topped with mashed avocado and sliced scallions.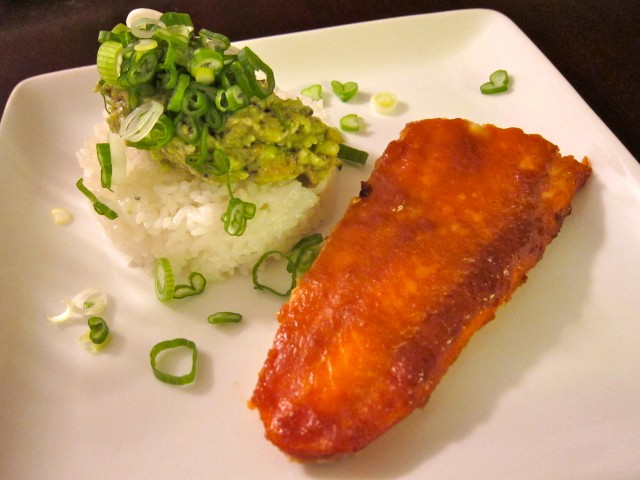 Seriously, one of my very favorite dinners.
And no, you don't need to mold the rice into pretty shapes. I would have just plopped it on the plate too if I wasn't planning on photographing it!
Miso-glazed salmon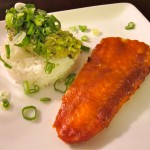 Perfectly baked salmon topped with a glaze of salty miso and sweet mirin.
Prep Time: 5 minutes
Cook Time: 20 minutes
Total Time: 25 minutes
Yield: 2 servings
Ingredients
1 skin-on

salmon fillet

approx. 2 tbsp.

red miso paste

approx. 2 tbsp.

mirin
Cooking Directions
Lay salmon fillet on a baking sheet lined with aluminum foil, remove any pin bones.
In a small bowl, combine miso and mirin.
Microwave miso and mirin for 20 seconds then stir to combine.
Pour mixture over salmon and spread evenly with a butter knife.
Bake salmon at 400 degrees for approximately 20 minutes or until done.
Serve with rice, smashed avocado, and scallions if desired.
Hope you try it, I'm really proud of this one!