Well, Thyme Bombe the blog is only around 7 months old. But as for me, Thymebombe the living breathing human, I turned 27 yesterday at precisely 4:46pm!
I didn't do any crazy partying or anything (gettin' to old for all that jazz.) Instead, I spent the day doing some personal shopping since I haven't bought myself a new article of clothing in ages and then Jeff and I got gussied up for a nice dinner together.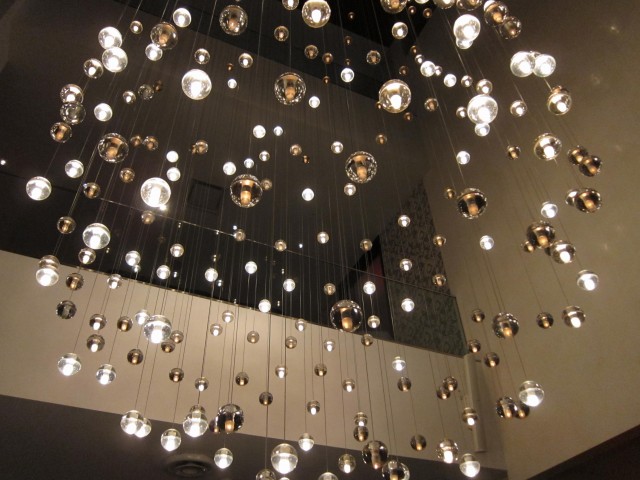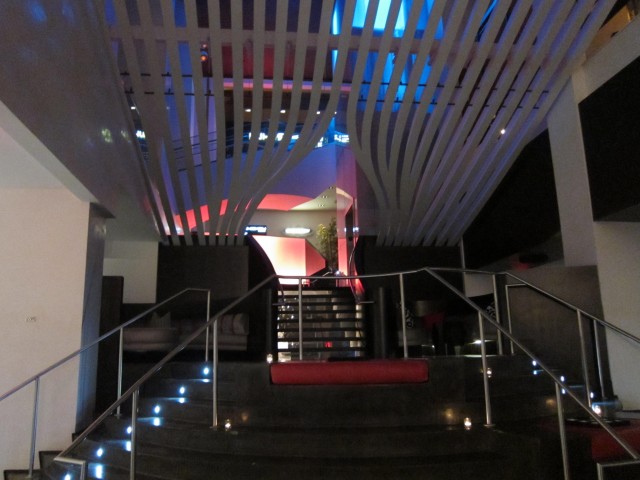 We went to Spice Market, a Jean-Georges Vongerichten joint. Dude is a majorly famous chef, so we had high hopes for his south-asian themed fine dining incarnation.
Lemme go ahead and tell you right now that the lighting was terrible and all of these shots are super-blurry, they didn't look that way on my camera screen but apparently they don't scale-up well.
We, of course, started off by ordering cocktails. Jeff went for a standard Old Fashioned with Blanton's bourbon and I had a ginger margarita with a ginger salt crusted rim.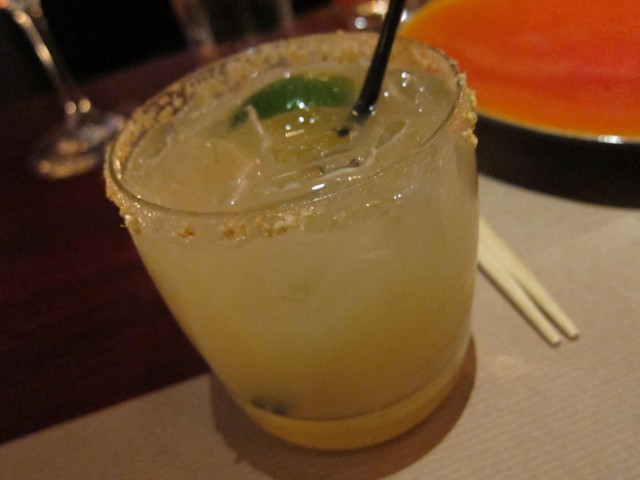 It was really good, not too sour and just enough ginger flavor.
We were served a starter of papadams with an Indian curry "salsa." Delicious! Very sweet and tomatoey with hints of onion and deep spices.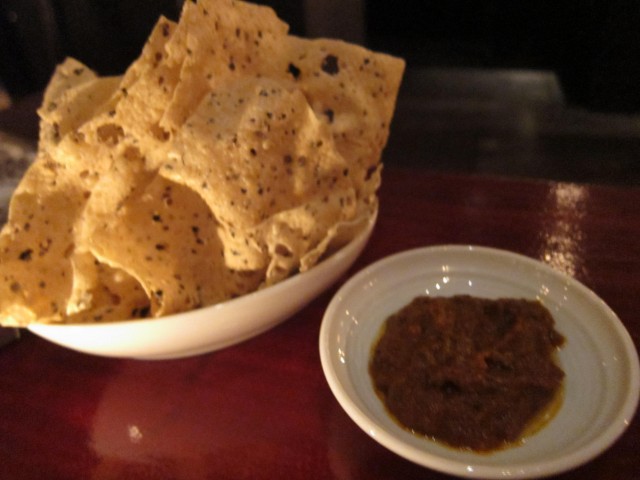 We ordered two appetizers to start with: calamari with basil salt and sriracha aioli followed by black pepper shrimp over sundried pineapple.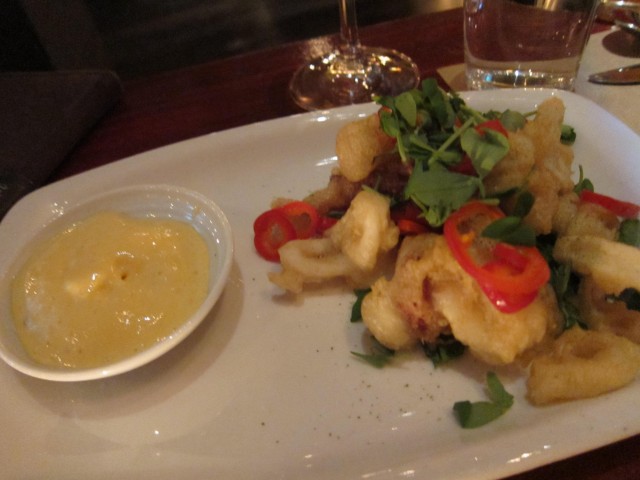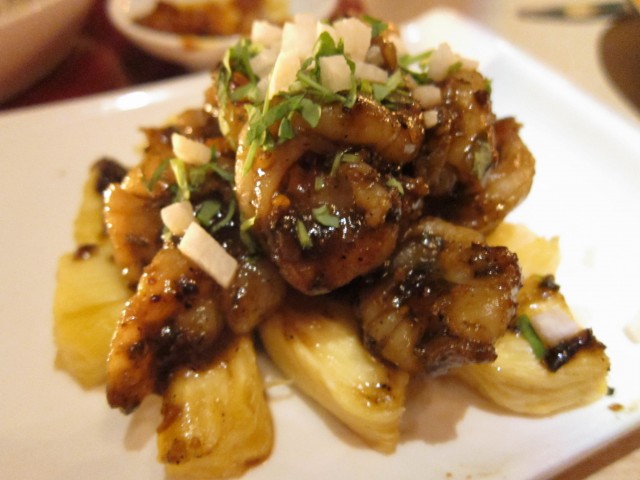 The calamari was some of the best I've ever had. The batter was so light and not greasy at all. The dipping sauce was addictive with it's creaminess calming the spicy sriracha.
The black pepper shrimp were cooked very well, still bouncy and succulent. The sauce was spicy and earthy and heavily garlic-laden. I was sad that the pineapple was kind of sour. It's just not in season and you could really tell that it lacked the honeyed juiciness that only an in-season sun-drenched pineapple has.
Next up, we ordered two more appetizers: A tuna tartare and the ginger fried rice with panko-crusted runny egg.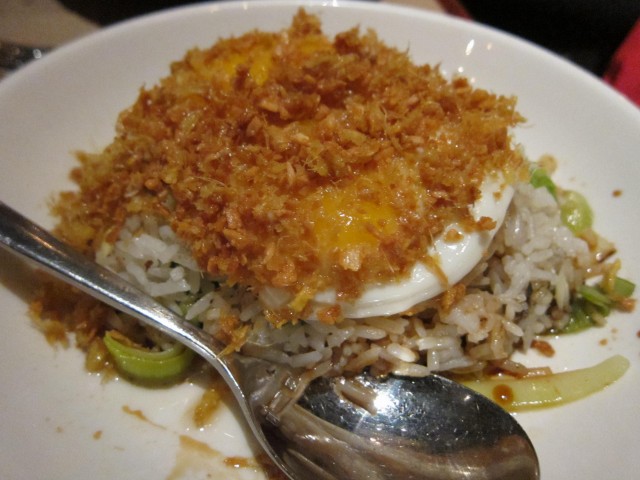 This is where the dinner started to take a turn downhill.
Tuna tartare may be a cliche item on every fine-dining restaurants menu, but it's one of my favorite things in the world, so you can usually bet that I'll order it if it's offered. This tartare was absolutely drowning in the intensely-flavored chili dressing. It made the tartare so wet that it was falling apart and becoming a soup. The dressing was also just so intense in flavor that you couldn't taste the tuna or avocado at all, rendering the expensive and beautiful tuna to little more than a flavorless textural vehicle for sopping up more sauce. Sad.
The fried rice was ok. When I took my first bite of it I was in love with it's creaminess from the raw egg yolk and the intense onion flavor and perfect sticky texture of the rice. As I kept eating though, I fell out of love with every bite. It was extremely oily, for one thing, and I discovered as I ate that it was sitting in a puddle of soy sauce that made the last few bites an insufferable salt lick.
Moving on.
We shared the short rib entree which was described as being garlic and onion crusted, but was no such thing.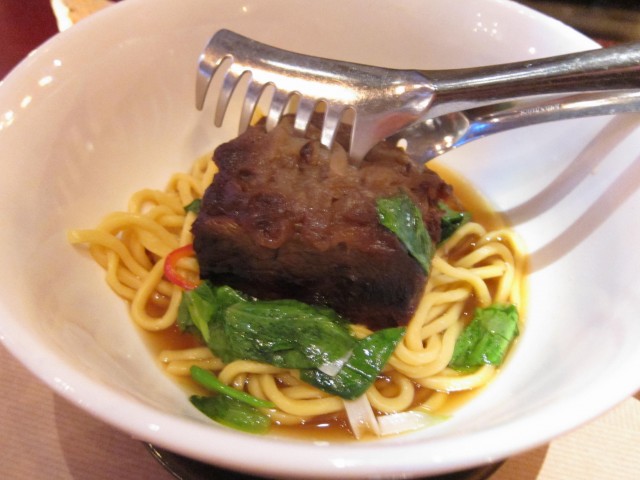 This was one of the most bizarre things I have ever received in a restaurant. It was almost entirely flavorless. The noodles tasted like bland paste and made no sense with this giant hunk of flavorless meat. The whole dish was really oily and fatty, and though the short rib was fall-apart tender, it just didn't taste like anything. It's like they boiled this whole dish in plain water and then added food coloring to make it look like a broth. FAIL.
Anyway, a nice meal isn't complete without dessert, right?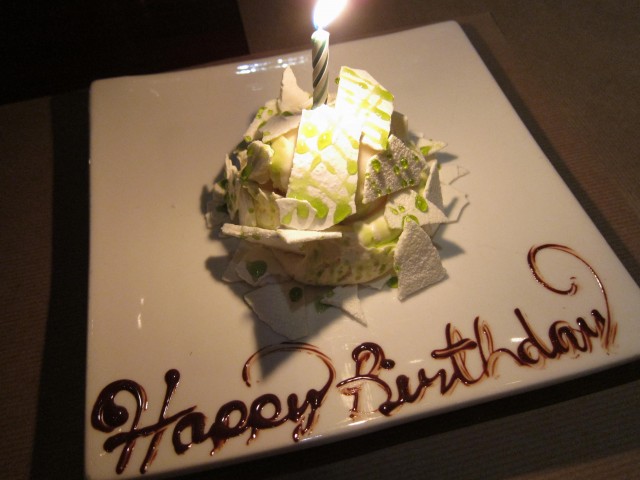 Yay! A personalized pavlova with white chocolate cream, yuzu sorbet, and sweet basil oil drizzle.
Now this was a winner! Jeff could not shut up about how amazing the basil oil was. I could have eaten that yuzu sorbet alone, you could really taste the zest in it! We both felt that it would be a better dessert without the white chocolate, which didn't seem to go well with the other more summery flavors, but it was a really yummy sweet nonetheless.
So, all in all, we liked Spice Market ok. It didn't seem like very authentic asian flavors, and that was kind of what we were expecting. Aside from that though, it just didn't seem to live up to the quality I would expect from the restaurant of a famous chef. We enjoyed ourselves, but we won't be going back or recommending it to others.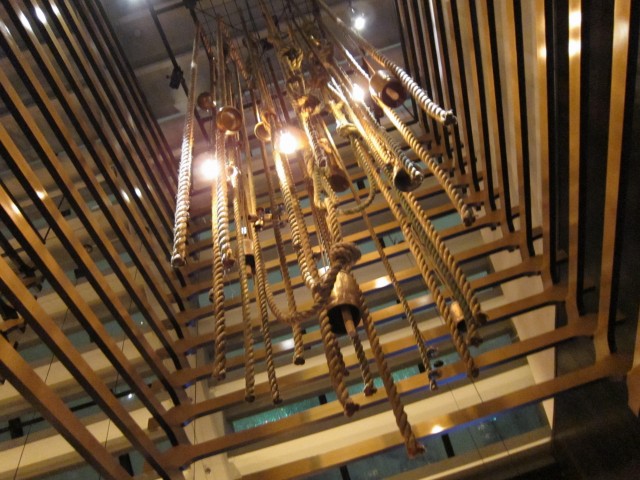 That's ok, I still had a great birthday, I don't need things to go perfectly for me to have a good time.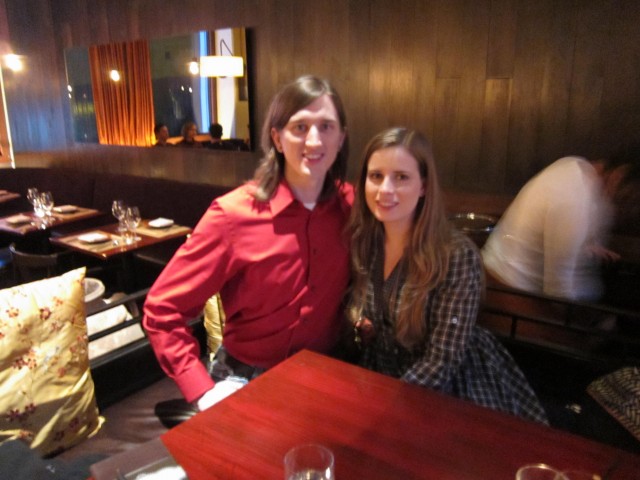 Hanging out with this guy is all I need to enjoy myself. 😉
Here's to 27 years of life!