I am really loving all this nice weather we're having in Georgia right now. February is normally the coldest month of the year, but we've had temps in the high 60's for almost 3 whole weeks now. I'm just waiting for the inevitable cold snap to hit and crush all my dreams. 😉
I love it when it's warm enough that we can walk into Decatur and grab a drink or a bite to eat; it makes me feel like we live in a real city!
One thing I always crave when the temperatures start to rise is spicy food. Mexican and Thai are all I want in the summer, and the heat wave has me craving both already.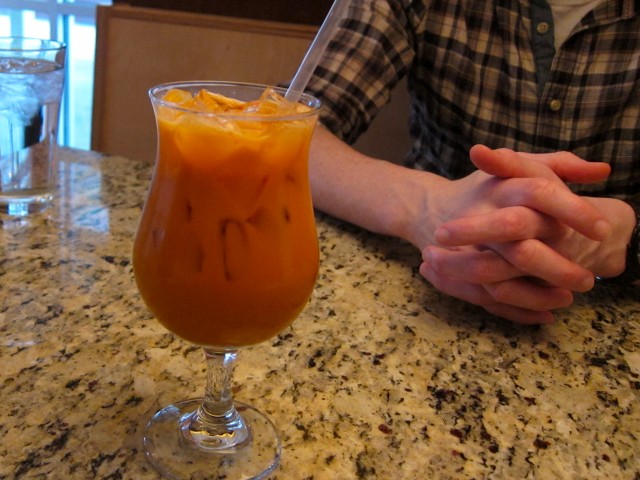 I've been disappointed in the Thai restaurants in Decatur though, that is until we finally visited Garlic, a relatively new place that we've been avoiding like the plague.
First off, they're in a spot that has had a few failed restaurants in it previously, so for some reason we just assumed that it was equally crappy. Secondly, they advertise $1 sushi between the hours of 5pm and 7pm, which is a surefire way to have me running for the hills. I'm of the opinion that you need to pay a good bit for sushi for it to be any good. It doesn't have to break your wallet, but $1 is ludicrously low, and that fact left me skeptical of the quality of all their food, not just the sushi.
Well, the other day we wanted Thai and didn't want to go very far for it. Since we already knew we weren't that into the other Thai places near by, we figured we'd at least go to Garlic once so we could confirm our unfounded bias that it must be awful and never have to wonder about it again.
Well, it turns out we were wrong and Garlic was oh-so-right!
We started off with two thai iced teas and this plate of barbecued eel for an appetizer.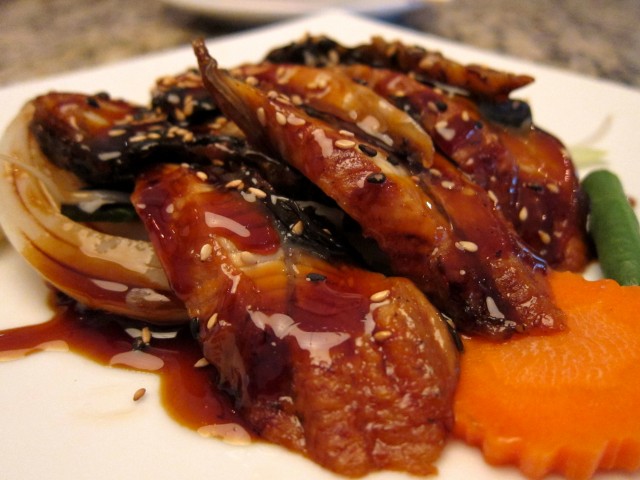 It was so good dripping in eel sauce and set atop both fresh and grilled veggies. It's just one of the many tapas style items they offer. We were also eyeing the fried lotus root chips, one for next time!
Jeff got red curry with pork. This is his "litmus" dish for Thai food; if the red curry is good, it's all good. And it was good!
It was lightly sweet and creamy with a creeping heat in the back of the throat. The best thing though was that it had a sourness to it that was much more authentic-tasting than typical Americanized curries which are always just cloyingly sweet.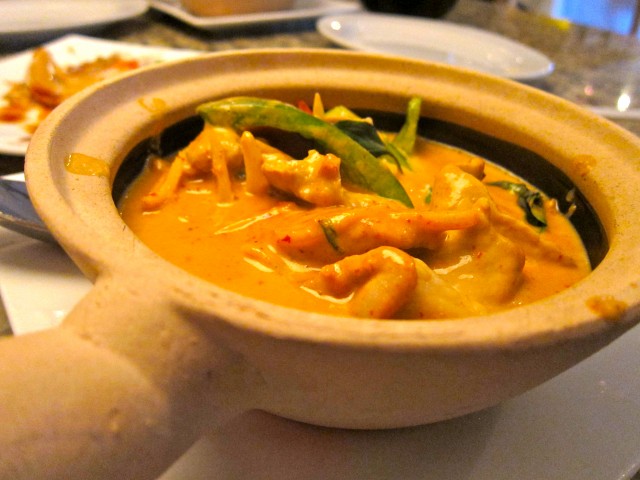 I got a green curry with fried tofu that was out-of-this-world! The veggies were cooked but still snappy, the tofu tasted beany rather than bland, the sauce was rich and plentiful, and the frizzle-fried basil was so fresh and green-tasting.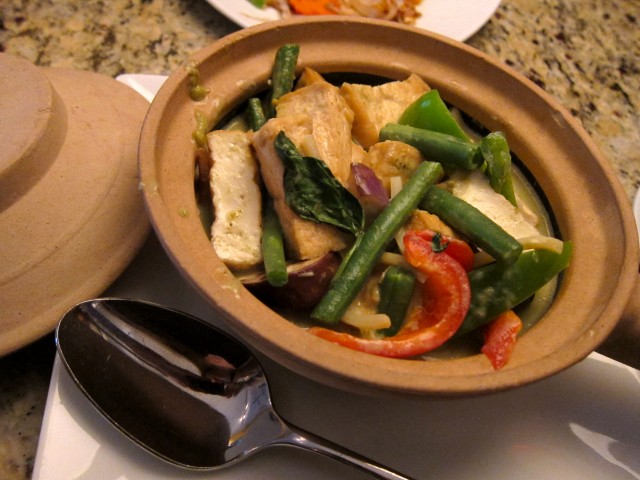 One of the better curries I've ever had.
We didn't try any sushi, but with the quality of their other offerings I'd be willing to give it a go now.
I haven't made Thai curry at home in quite a while, whereas it used to be one of my weekly meals. Nope, I don't only cook Japanese food, that's just what I gravitate towards most often.
I think it's time to bring back the curry, or at least walk up to Garlic more often and order some of theirs since we were so wrong about it.

Do you like Thai food? What is your favorite Thai dish?