So you've heard that I crave Thai food in the warmer months.  Well, I crave Mexican food even more, and here's the proof…
Yesterday we got out for lunch at Taqueria del Sol with but one goal in mind: Drink margaritas on the patio in the beautiful spring-like weather!
Well, it ended up only getting to around 62 degrees out when we left for lunch, so instead of sitting outside with a pitcher of margaritas for a few hours like we intended, we decided to grab a quick bite and just one drink then walk around Decatur for a while before stopping in somewhere else.
We always start with the chips and guac at Taqueria del Sol, it's the perfect consistency and always full of ripe chunky avocado and juicy tomatoes. The house margaritas are never too sour and are always deceptively strong!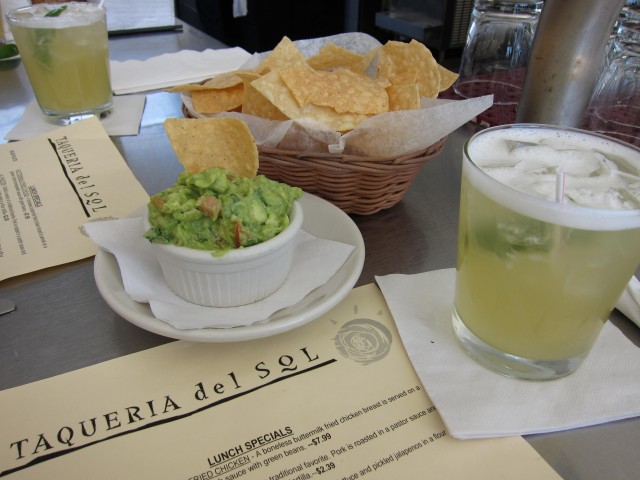 Jeff got his usual beef enchilada with red sauce, he usually gets two but he got some tacos to share with me instead.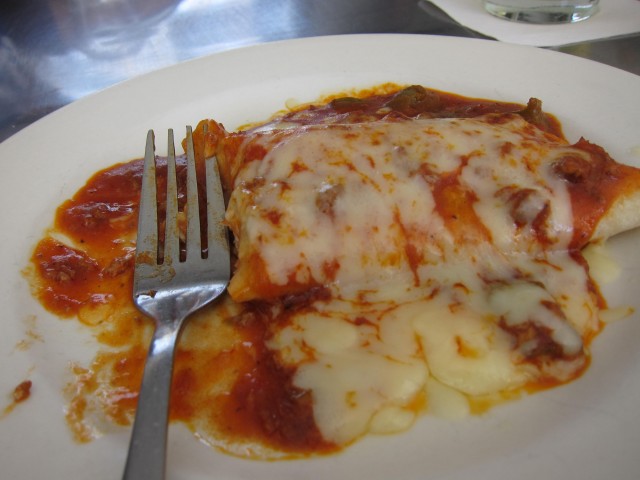 Two fish tacos are my usual. They are lightly fried, never greasy, and come with more super-hot jalapenos than most people can handle and a cooling lime cilantro aioli. My lips are always swollen and burning when I eat these!
Jeff got another fish taco and one of their featured "special" tacos, the Al Pastor. It tasted like vinegary pulled pork barbecue topped with a limey tomatillo salsa.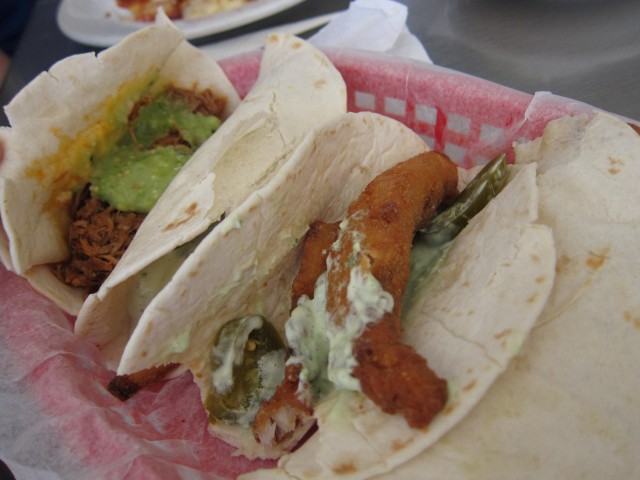 After that we did some window shopping and walking and inevitably ended up at Leon's. I love that their bar is open to the sunny patio, it's flooded with natural light and cool breezes. I got a Mikkeller Limoncello beer which was very herbal and zesty, it had that oily feel in the mouth that a citrusy beer gives but without feeling like you've bitten off a mouthful of chapstick. Very refreshing, I would order this again for sure.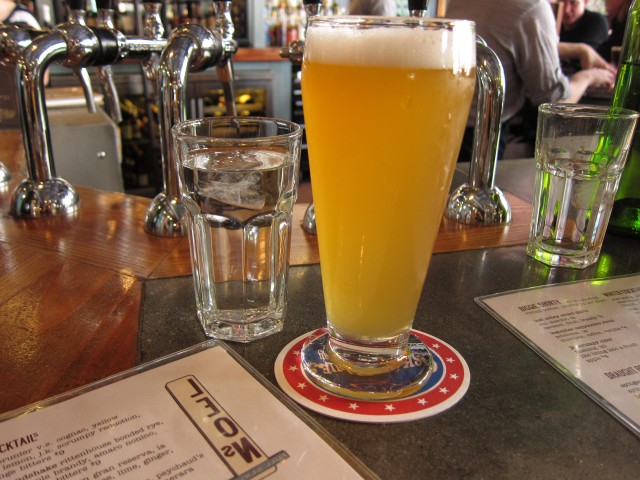 And today, we essentially repeated yesterday's margarita celebration, but with more vigor!
Jeff's youngest brother Bryan and his girlfriend Caitlin met us for lunch at Raging Burrito. They have the largest outdoor patio in all of Decatur—perfect margarita conditions!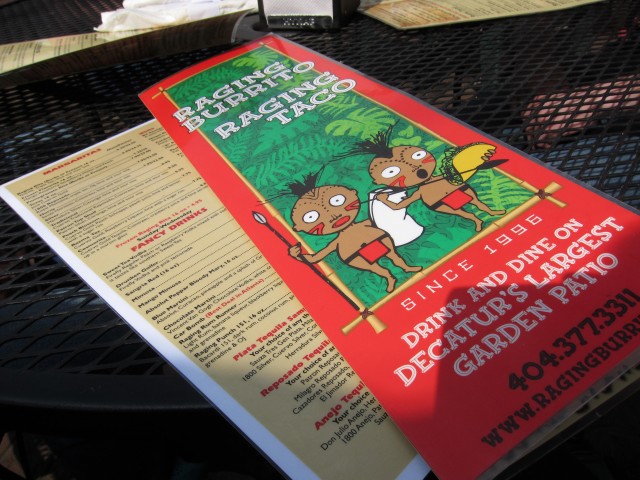 We got a pitcher of texas style margaritas which have a higher grade tequila plus orange juice to split between Jeff and I. Bryan was being a gentleman and not drinking since Caitlin had to drive.
So for the second day in a row we chomped down on delicious Mexican food for lunch. I had two veggie-stuffed tacos with rice and beans and Jeff got a monster quesadilla…really, that's what it's called.
So, yeah…I just had heavy Mexican food and margaritas for two days in a row now and I feel great about it! It's not like I'm gonna eat this way all spring and summer or anything.
I think it's very healthy to allow myself to indulge in this new pleasure of seasonal food and fresh drinks in the sunshine while it's still comfortable enough outside to do it. Once true summer rolls around I'll be too sweaty and sluggish to eat such heavy food in the oppressive direct sunlight and chug a pitcher of alcohol in a daze as the sun further bakes my hot brain.
See? It's all about balance. I haven't had a tomato in all of winter because I know that they are just not worth it while they're out of season, watered-down and expensive in spite of it. And a margarita and quesadilla will be just as unappealing in hot-as-h311 august as it was in the freezing cold of december.
This pleasure has its place, and I'm getting my full joy of it now while it's still enjoyable.
Are there any favorite foods that you only enjoy at special times?