Just as predicted, the nice weather didn't last and this week has been awash in shades of gray and just literally washed with buckets of rain.
I've spent several days feeling a bit moody at being trapped indoors with the memory of sunny walks into town that took place such a short time ago. I've used the "opportunity" to practice a few extra-long yoga sessions in the dining room, trying not to fall out of pose onto one or more curious cats.
But sometimes you just gotta get out of the house!
We hit up Garlic Thai again this week for a spicy little reminder of approaching spring. I got the fruitiest, springiest cocktail I could find on the menu; one with lychee, ginger, and sake. It was fruit-tastic. The maraschino cherry makes it fancy. 😉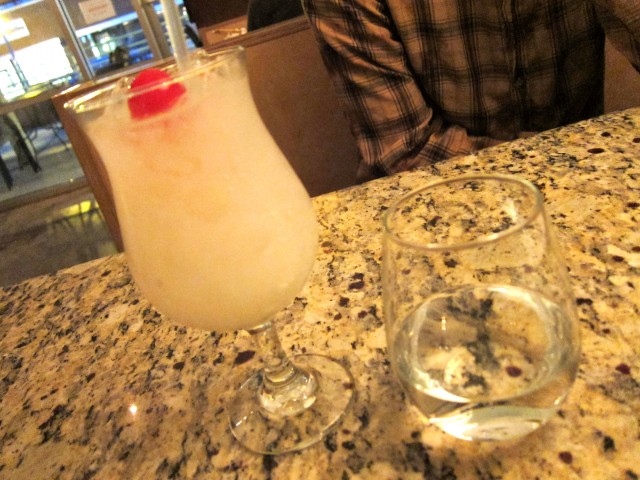 Jeff got a barley shochu that was a bit lighter than he was wanting, but it was still good.
We both shared a plate of the prettiest spring rolls I've ever seen.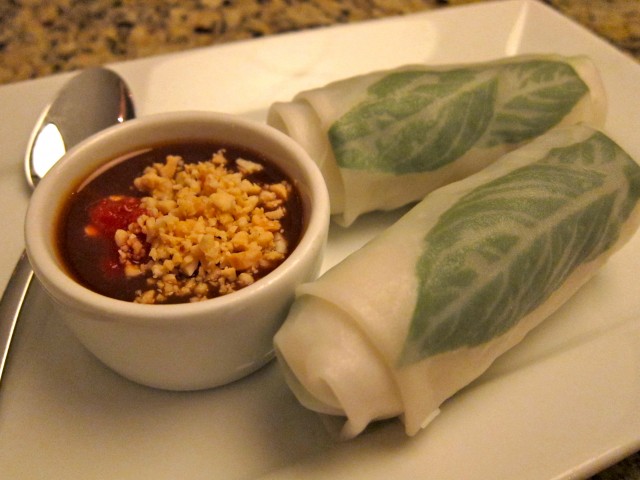 Love the basil leaves pressed perfectly between the layers of soft and chewy rice paper.
I got a miso soup. This one was pretty salty and inauthentic. Pretty sure it was a powdered mix or something and it had the wrong kind of seaweed in it; tasted like thick lettuce.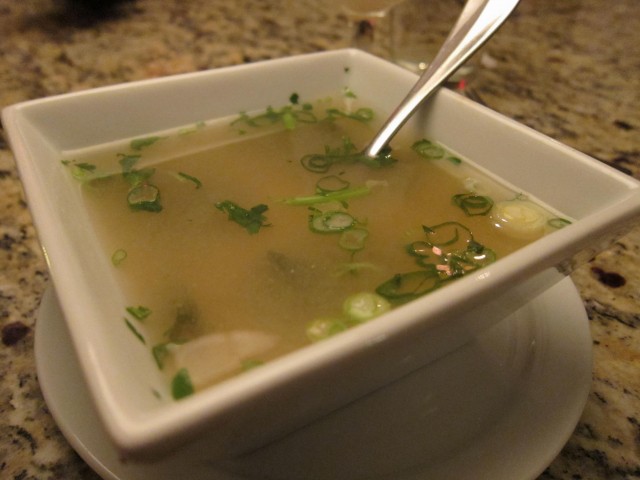 I got a glass noodle salad called Yum Woon Sen that had minced chicken and grilled shrimp all in a spicy lime-flavored sauce.
Unholy gates of hell! This was the single spiciest thing I've ever put in my mouth! Jeff asked for his curry to be Thai hot, and my dish was listed as mild on the menu. I think they got switched because I was sweating and breathing hard and my lips were huge and painfully red.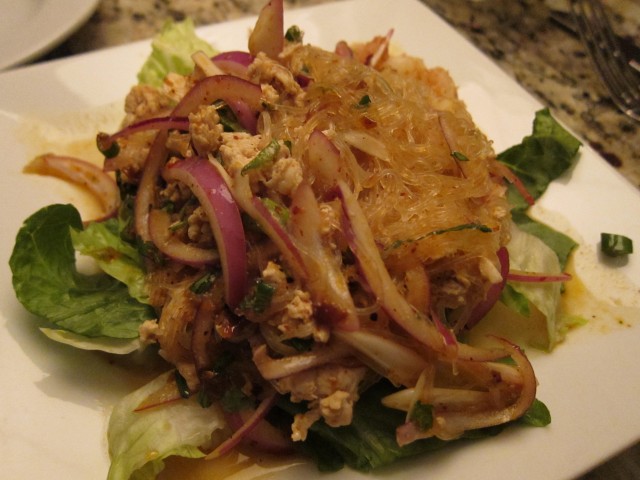 Jeff's panang curry, on the other hand, was sweet and delicious. It had some heat to it but not nearly as much as my little salad did!
Still love Garlic Thai though. I can't wait until it's warm out again so we can drink fruity cocktails on their nice patio.
Tonight we got out again for sushi at Sushi Avenue. It's not the best sushi place ever but it's only a mile from our apartment so I can't complain.
I had an Asahi Black beer which I love. It's so roasty and malty, tastes a bit like toasted buckwheat or roasted barley. We both got seaweed salads to munch on. I was telling Jeff how much I like the sound it makes in your head when you crunch on the seaweed! Yeah, he thought that was weird.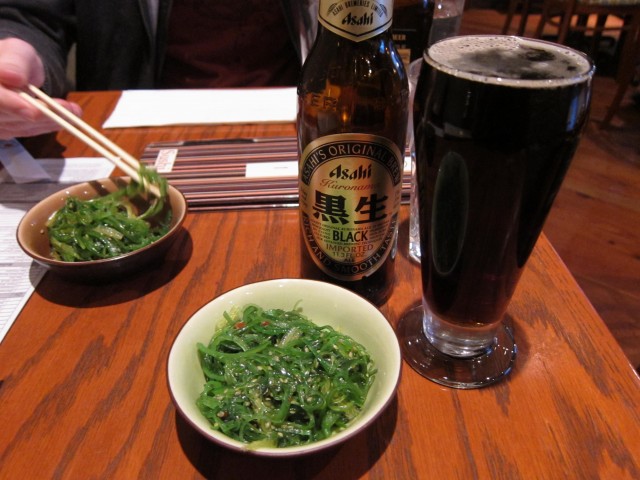 Of course we ordered takoyaki, and it was just as awesome this time as it always is.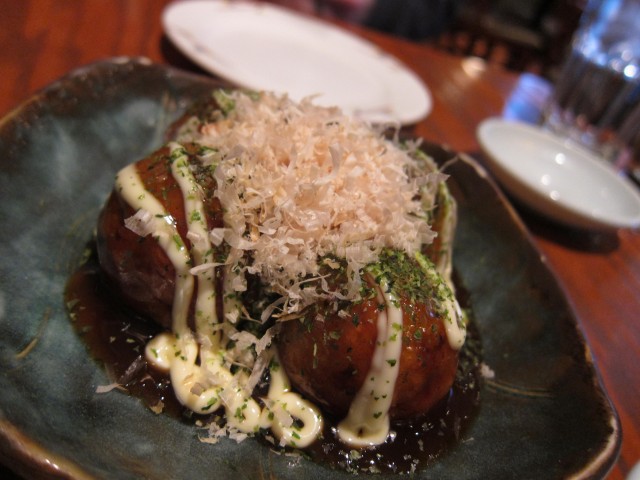 For sushi we got 2 inari, a crunchy eel roll, a spicy tuna roll, and a scorpion roll. Sushi Avenue is bad about cutting their pieces too large and packing too much rice around the rolls. It all tastes great though.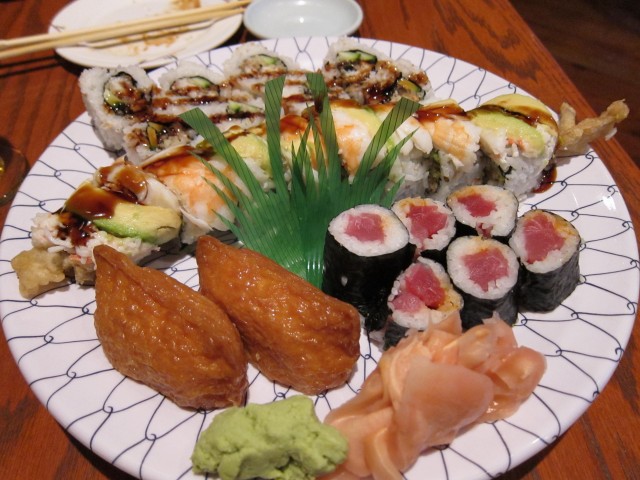 And here's something I made at home earlier this week…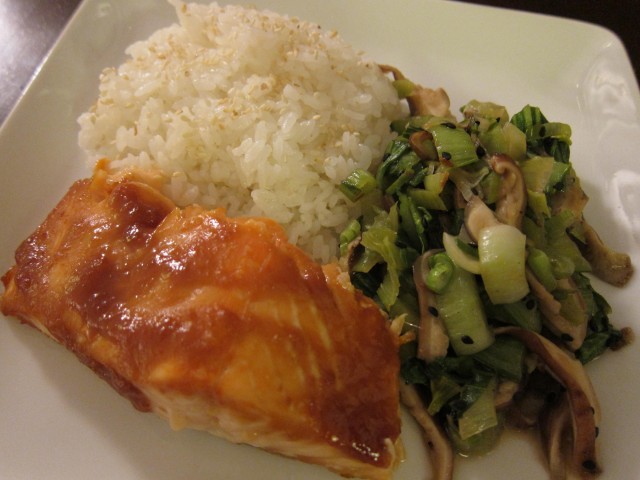 Miso-glazed salmon with stir-fried bok choy and shiitake mushrooms. It was so, so, so good! I love this dish, it takes so little effort to prepare.
Well, the weather is supposed to perk up a bit for this weekend, so maybe we can get out a bit and not feel so cramped up in the house.
I'm excited that I'll get to attend an Atlanta blogger meet-up at 5 Seasons this Saturday!
What are your weekend plans?