Today was a day of preparations.
First off, I spent this afternoon shopping for the supplies I'll need to bake a wedding cake for my brother-in-law and his fiance.
I've talked about this on the blog before, albeit a very long time ago, so it may be news to many of you that I'm baking a wedding cake soon.
I actually love baking, though I don't do it that much anymore. There was once a time not too long ago that I was trying to get into culinary school to study baking and patisserie. I ended up not going, mostly because it was really expensive and I wasn't sure what I wanted to do with that education.
So, I'm pretty jazzed to get to make this cake for Kevin and Ashley's wedding. I've tested the cake recipe and buttercream before, so all that's really left to do is a color test on the fondant to get it the right shades and I'll be ready. I'll definitely be sure to chronicle my cake baking adventures next month when the big day comes!
Next up, I made sure everything I need for the Tour Decatur 5K tomorrow was washed and ready.
Brand new athletic socks are a rare joy! 😉
The Garmin is fully charged, and after several months of ownership I have finally broken in my running shoes to where they don't feel like two styrofoam bricks on my feet!
I'm not bringing an iPod this time because music tends to distract me. I'll just listen to the sweet music of my ragged breathing instead.
I also mixed together a batch of muesli which I will be partaking in for breakfast before the race.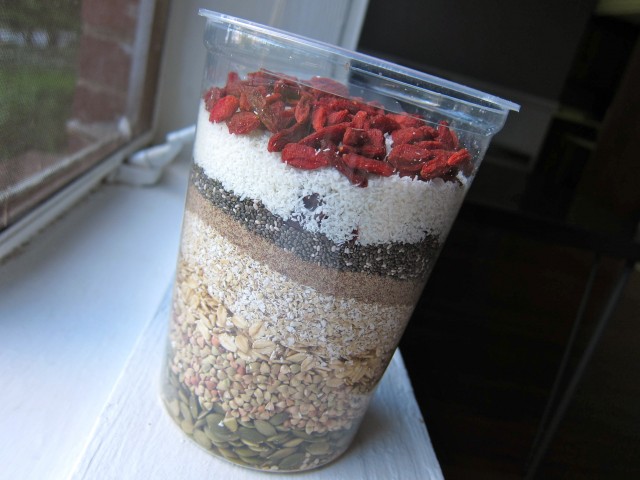 I layered toasted sesame, raw pumpkin seeds, toasted buckwheat, rolled oats, oat bran, flax meal, chia seeds, dried cranberries, golden raisins, desiccated coconut, and goji berries. All I have to do in the morning is shake it up and eat a few spoonfuls with almond milk and fresh blueberries for a filling and nutritious breakfast.
So, all that was left to do tonight was load up on carbs!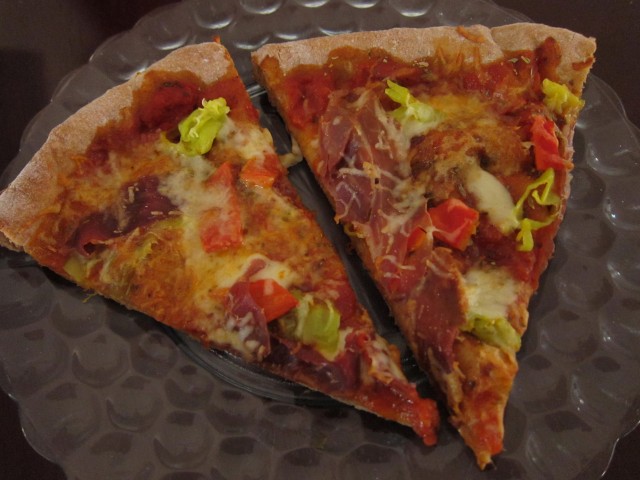 I like to buy pre-made whole wheat pizza dough from my local farmer's market and roll it out myself. This one got topped with red pepper flake, pepperoncinis, roasted red peppers, prosciutto, and mozzarella cheese. Delish!
I checked the weather and saw that it's gonna be a tad bit chill and possibly raining in the morning!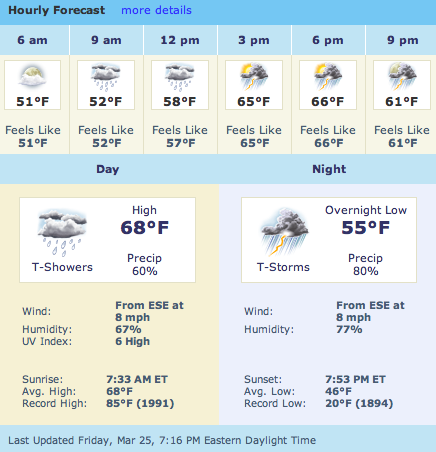 Hopefully my cheerful water bottle will chase away the rain.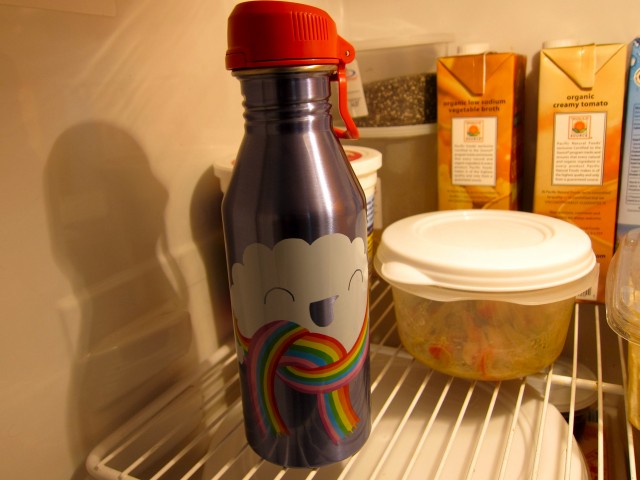 I smile every time I look at it!
I've been hydrating like it's my job today so that I don't bonk in the morning.
So, everything seems to be as in order as it can be for tomorrow. It calms me down to have all my ducks in a row.
Wish me luck on my race! (And luck that it doesn't pour down rain!)