It's really hard for me to pick which neighborhood of Seattle was my favorite. I think Jeff loved Capitol Hill the most with its urban grunge, tattoo shops, and hip bars and restaurants frequented by the young 20's crowd. I liked Ballard, a seemingly upscale and trendy area with tons of eating and shopping that manages to come to life at night.
From our hotel we could see the downtown area only a few blocks away. Seattle as a whole was very walkable, and anywhere you couldn't walk you could take a bus. And the buses are much nicer and cleaner than Atlanta's Marta system, which frankly scares me.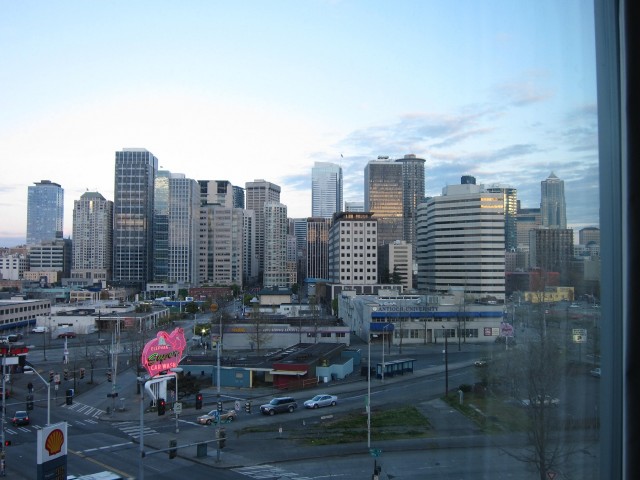 We definitely spent the most time in Belltown though, being that our hotel was there and we wanted to be able to walk to most of the things we did. From what I understand, Belltown used to be a bit seedier and industrial but has recently boomed with tons of bars and restaurants aimed at roping in the happy hour crowd and holding onto them for the night.
We were just 2 blocks from the Space Needle, though we decided not to go up it (Jeff and I both don't like heights.) But just under the Space Needle was another attraction that did sound interesting – The Experience Music Project and Science Fiction Museum.  Yes, a music and sci-fi museum, together!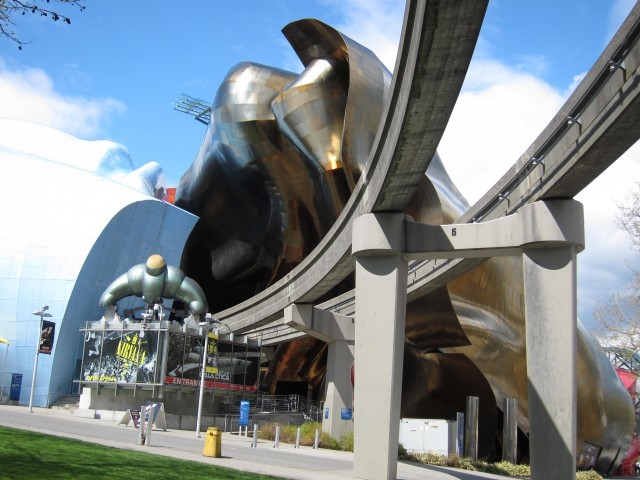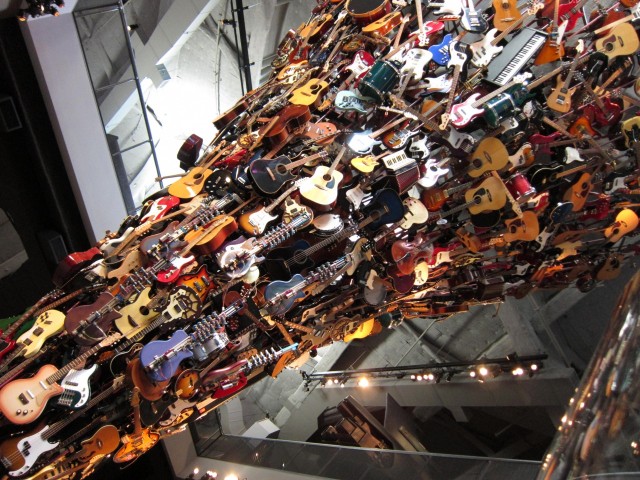 They were showing exhibits on the life of Jimi Hendrix, the story of Nirvana as a band and as the influence of an era, and even….Battlestar Galactica! I'm really showing my nerd colors now!
Jeff thought it was hilarious how excited I was about this. He probably had the most fun in the sound lab playing around with all the instruments. Isn't my guitar-god husband so sexy? 😉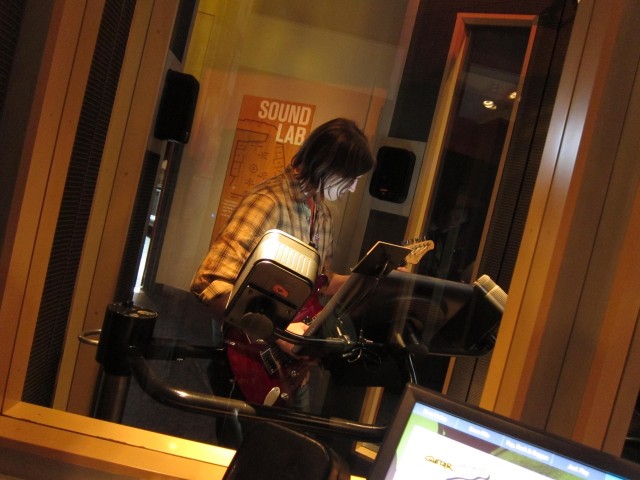 Sadly, we were too early for a huge Avatar exhibit that is coming to the museum soon. That would have been pretty cool.
One other neat attraction just a few blocks from us was the Olympic Sculpture Park, an outdoor extension of the Seattle Art Museum.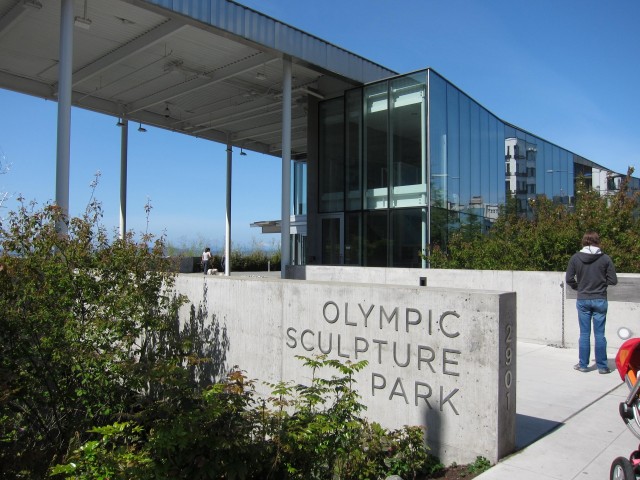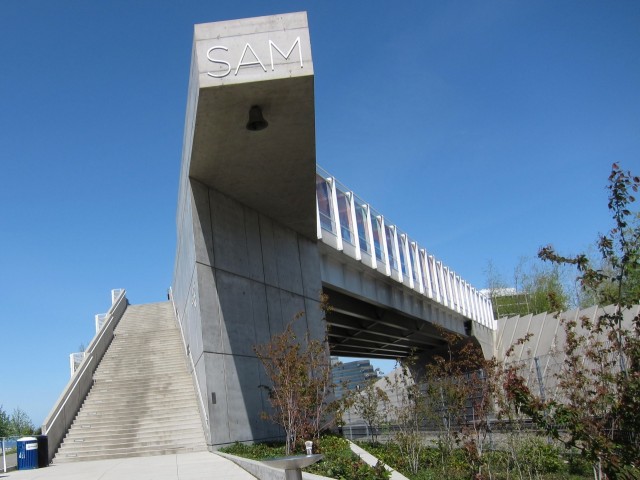 It was so cool! A beautiful waterfront park with huge modern art sculptures and amazing concrete architecture…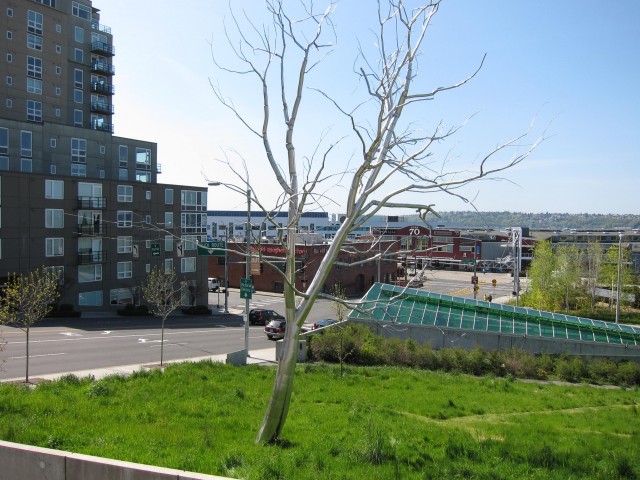 This picture doesn't do that metal tree sculpture justice, it was enormous and far below the balcony we were standing on.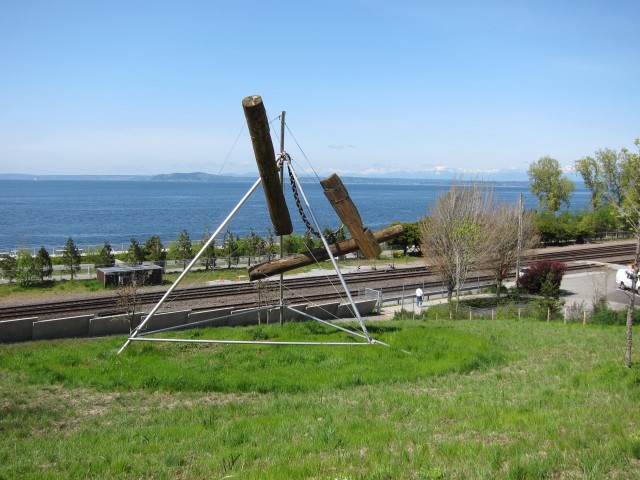 I called this one the "red elephant." I don't know why but it just reminded me of an elephant somehow.
And there were amazing views everywhere you looked.
My husband emits rainbows…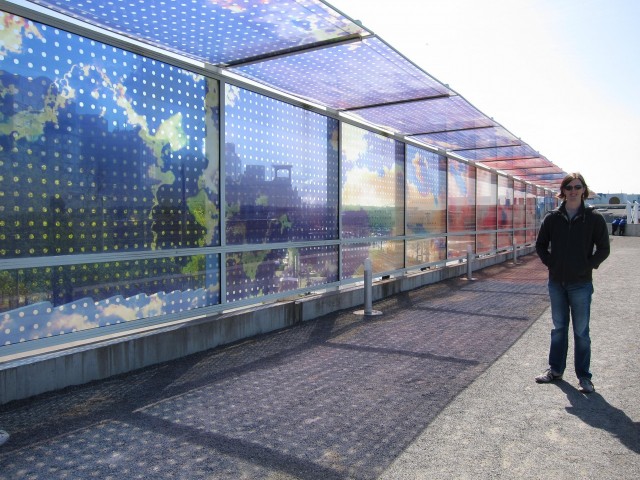 Eye see you!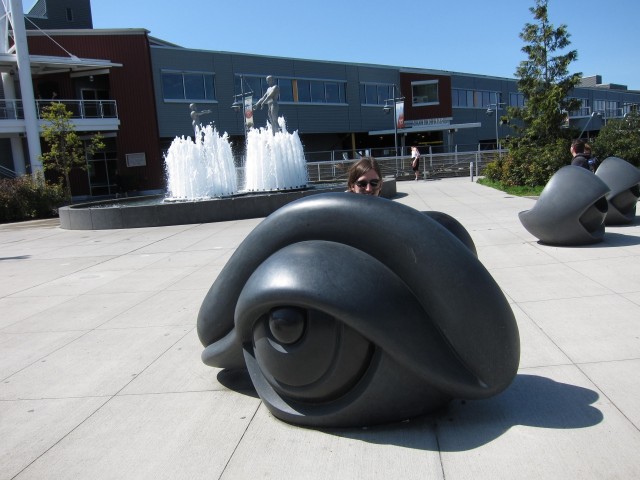 We weren't sure what to expect from the sculpture park, but it ended up making for a great date, along with a stroll along the piers with a view of Mt. Rainier in the distance.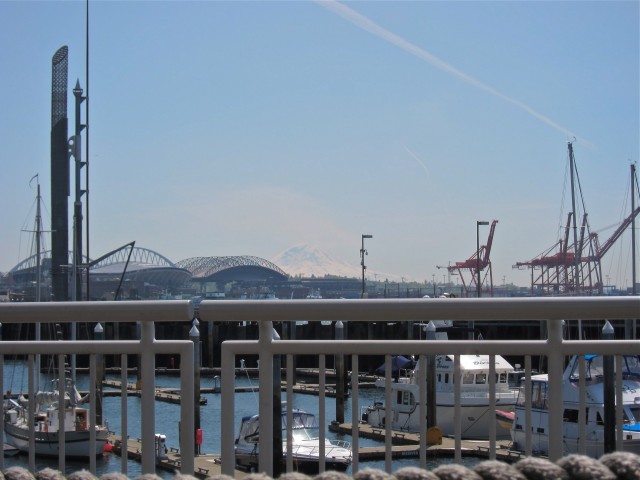 Next time: Pike Place Market and the Chittenden Loch.