I have no idea why this recipe is not already on this blog. I make this about once every other week because it's easy and because it's one of my husband's favorite meals.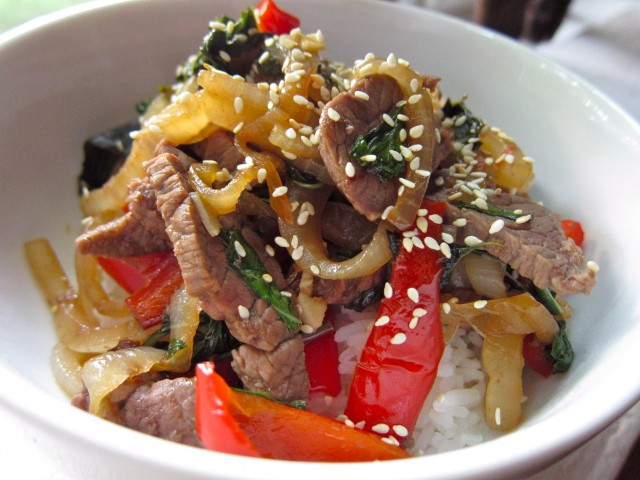 Thai basil is more aggressive and slightly more bitter than it's sweet Italian cousin. Its bright and springy flavor melts in and permeates the salty sauce and gets soaked up by the hot fluffy rice.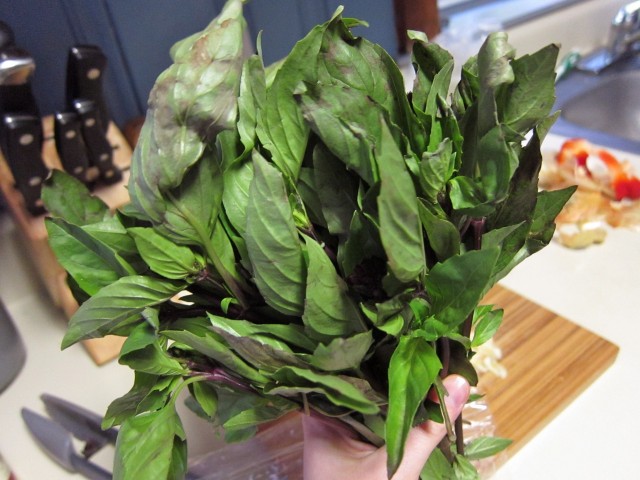 It's easy to tell Thai basil from sweet Italian basil. Its leaves have streaks of purple and the stems are often purple too. If you can't find Thai basil, Italian basil will work but you should plan to use more of it.
I start by sauteing an onion and a bell pepper in sesame oil…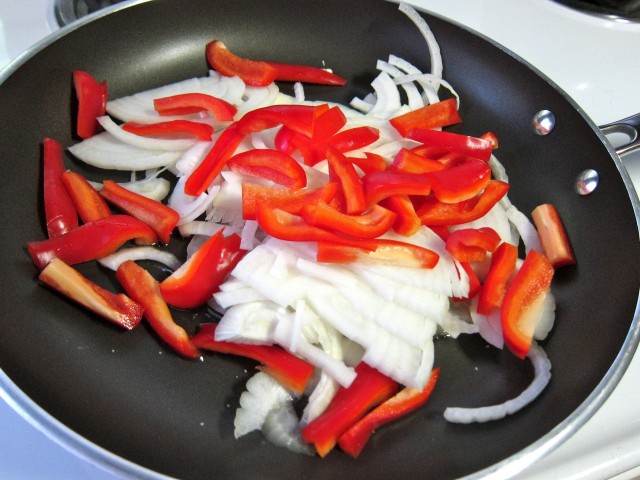 Then I make a space in the center to brown the flank steak…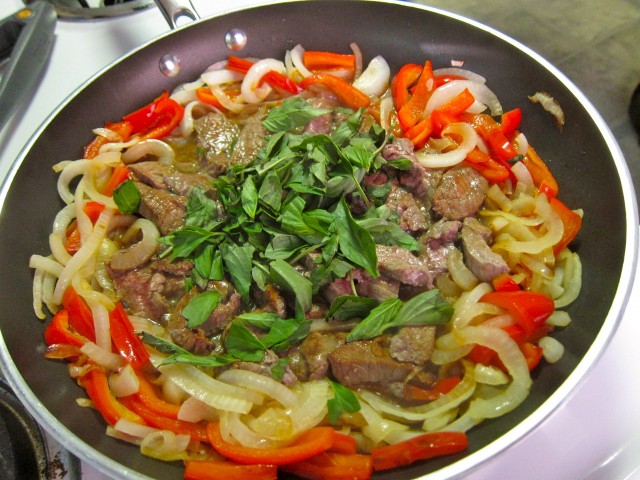 Then I add the basil and garlic…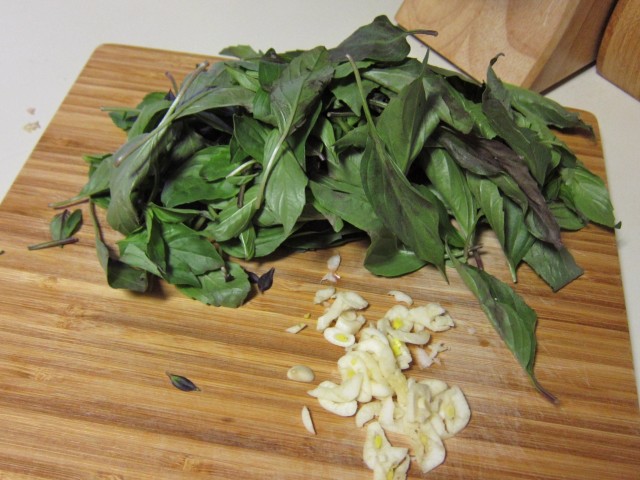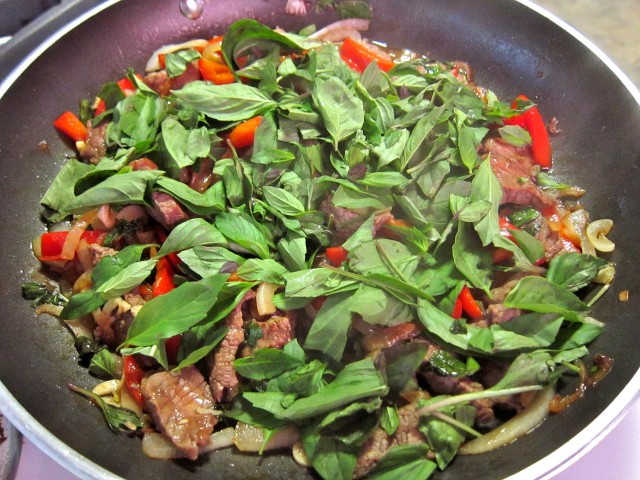 And the sauces…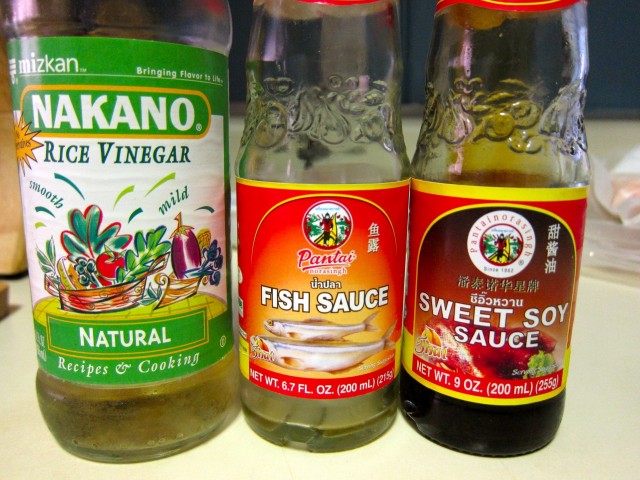 And allow it to heat through.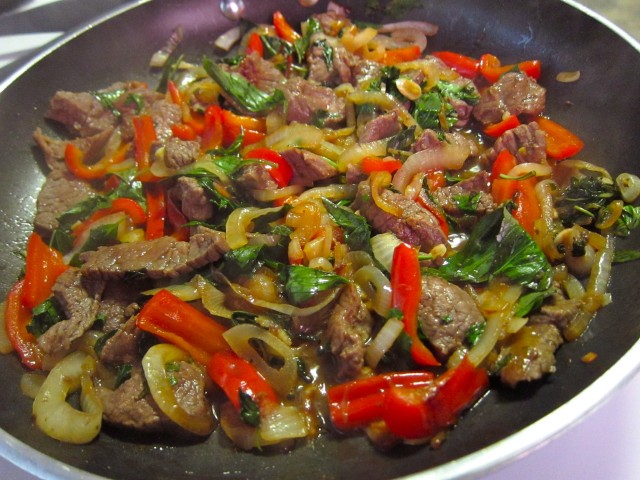 Thai basil beef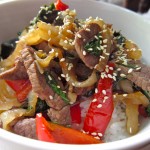 Thinly sliced beef and veggies in a salty-sweet sauce infused with fresh Thai basil.
Prep Time: 10 minutes
Cook Time: 15 minutes
Total Time: 25 minutes
Yield: 2 to 2 1/2 servings
Ingredients
2 portions

flank steak

1 large

red bell pepper

1 medium

onion

1 large bunch

thai basil (about 10+ stems)

2 large cloves of

garlic

2 tbsp.

sweet soy sauce

1/4 cup

fish sauce

a pinch of

chili garlic sauce

2 tbsp.

rice vinegar

2 tbsp.

sesame oil

garnish with

toasted sesame seeds
Cooking Directions
Slice onions and bell pepper and saute with sesame oil.
Slice flank steak thinly across the grain.
Push vegetables to the outside of the pan and saute steak in center.
Brown steak on both sides then mix in with vegetables.
Add garlic, sauces, and thai basil torn into small pieces.
Allow to heat through and serve over rice.
This is as good as what you would expect to get in a restaurant. I've made it with tofu too, and while it's not the same dish without the beef juices melting into the sauce, it's still really good.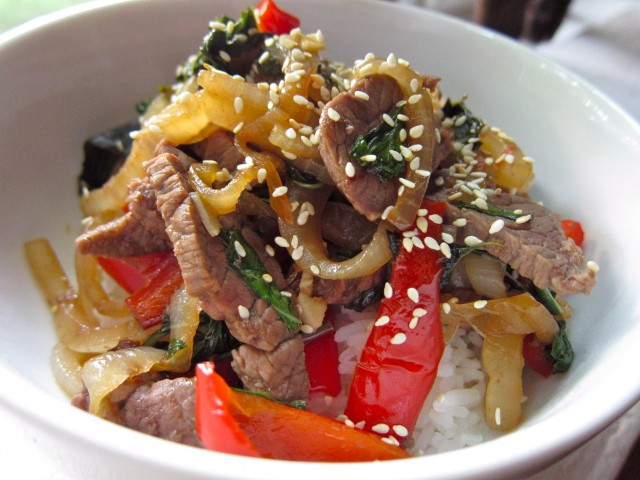 What's your favorite dish to eat over rice?