Helllooo everyone!
I have a blog-related announcement today…the look of my Recipes page has changed! Click the link or the Recipes tab in the header bar to check it out!
The Recipes page used to be just a searchable database of past posts tagged as a recipe. Each one was listed as a paragraph excerpt from the beginning of the post with no pictures to help you find what you were looking for.
Well…my awesome programmer husband has jazzed it up and now it looks like this!….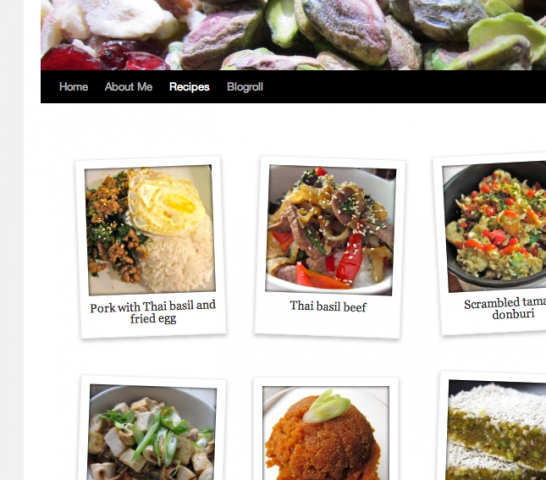 Now, all recipes show up as a Poloroid-like icon, much prettier and easier to sift through than the clunky search feature was.
Currently, about half of the total recipes from the site are available, but as I have time to update the rest to the new format more will pop up.
Speaking of the new format….
Some of you may have already noticed that my posts containing recipes appear a little differently now. To show you an example of the new look, here's a short recipe for spicy cucumber quick pickles that I made yesterday.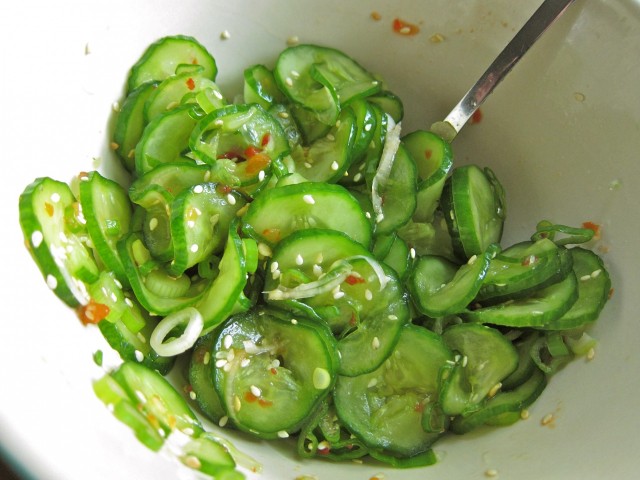 Spicy cucumber quick pickles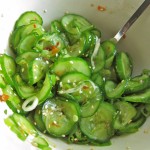 These spicy cucumber pickles are quick to make and are a cooling compliment to spicy dishes.
Prep Time: 20 minutes
Yield: About a cup of pickles
Ingredients
2

small cucumbers

1

sliced scallion

1 tbsp.

mirin

1 tbsp.

rice vinegar

up to a 1/4 tsp.

chili garlic sauce

sesame seeds

for garnish

salt to

remove excess moisture
Cooking Directions
Slice cucumbers very thinly and sprinkle with salt.
Massage salt into cucumbers and allow to sit for 10 minutes.
Rinse and squeeze out cucumbers and return to bowl.
Add mirin, rice vinegar, chili garlic sauce, scallions, and sesame seeds.
Mix everything well and store in the refrigerator.
Now, recipes appear in a box with all the information you need to recreate them at home. Even if all the steps for the recipe were explained elsewhere in the post, you'll still find the whole recipe written out like this towards the end of the post. That's because soon I intend on adding a print feature to make using recipes even easier!
Neat, huh?
I hope these changes really do make finding and using recipes easier. I know even I was having trouble finding anything with the old layout.
What kinds of recipes do you get most excited about? Desserts, smoothies, appetizers, ethnic foods, dinners?