Life is returning to normal around here. We signed the papers to rent the new house, so it's really happening now. I can finally start thinking about how we want to arrange the furniture and how our lifestyle will change without winding myself up for nothing.

For the past two days I've been furiously cleaning and staging our apartment for showings. We were supposed to have one yesterday but it never materialized. I really want to get this place rented quickly so that we don't have people continuously coming over to see it for the next month and a half. It's a pain to have to keep the apartment spotless every day and crate the cats when someone comes to see it.
I've been enjoying some delicious food lately. Donut peaches are one of my favorite fruits but I can rarely ever find them. I had them for breakfast one morning with strawberry goat's milk yogurt, which I'm now addicted to!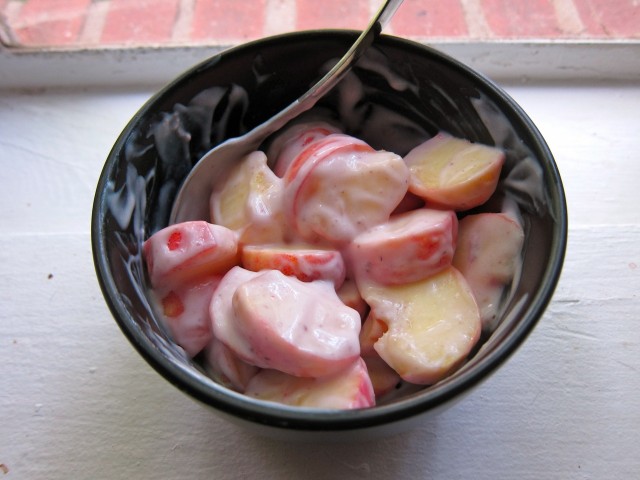 Last night's dinner was fantastic too. Turkey and apple sausages with mashed sweet potatoes and kale sauteed in the sausage juices with caramelized onions.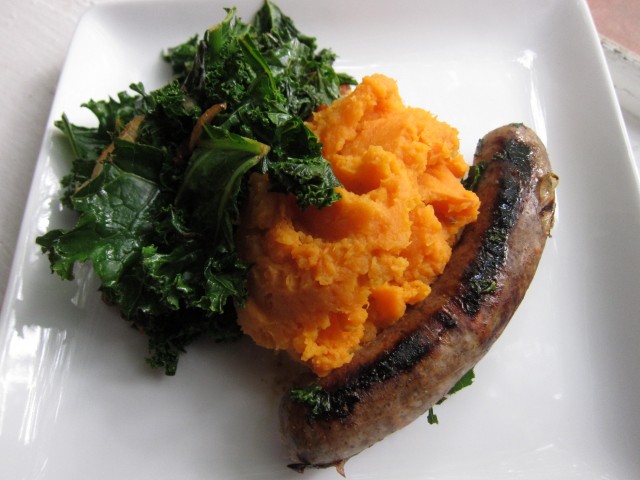 I like to mix butter and almond milk into my sweet potatoes to make them creamy. You'd think the almond milk would be weird, but it picks up on the sweet flavor of the potatoes nicely.
The kale is easy too. I just sauteed half an onion along with the sausages and when they were caramelized I added the kale right on top and let it wilt down. A few drops of water pulls the brown bits off the bottom of the pan to coat the kale leaves.
I cook a lot when I'm frazzled, and I certainly have been with all the packing and cleaning I've been doing.
This past weekend we visited Jeff's family and were gifted these gorgeous homegrown tomatoes from his grandfather. (Hey Papa!) Aren't they beautiful?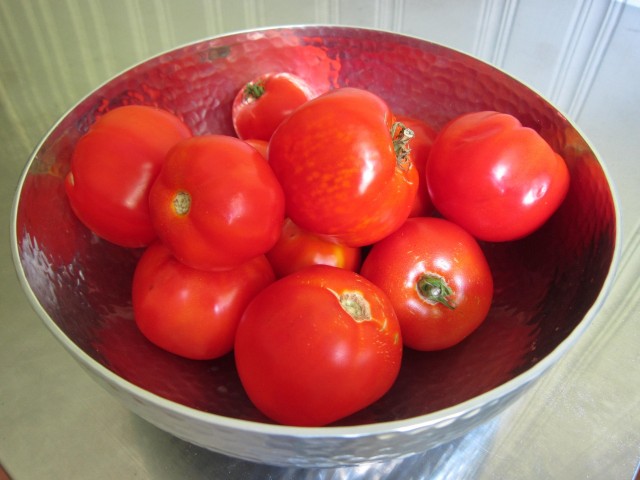 I used some of them to make an outstanding vegetable soup that I'll share with you tomorrow or the next day. Seriously, these tomatoes are so good that I've been convinced to start growing some of our own when we move. They are so sweet and the texture is much less watery, more firm and supple.
And here's another frazzled cooking foray…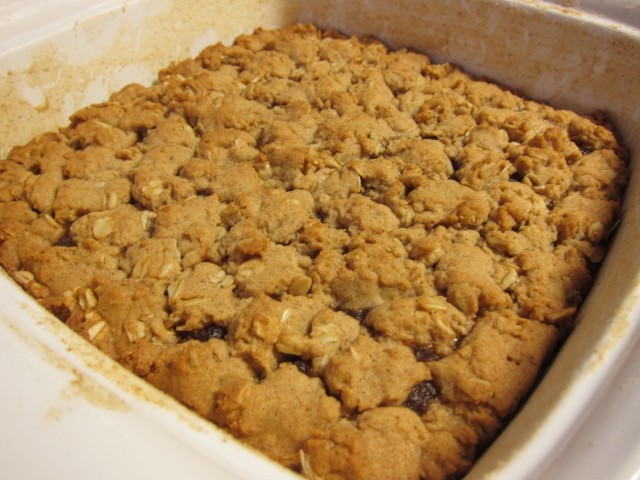 Those are apple butter oat bars, yum! I made these same bars just last week with sliced almonds rather than oats and strawberry jam rather than apple butter. I'll definitely share the recipe because they are killer!
Can you tell I'm ready for fall to start? I've been making soups left and right and I'm definitely craving fall flavors like baked apple and pumpkin.
What do you do when you're frazzled? Ever had a homegrown tomato?