Earlier this year when Jeff and I were taking a vacation in Seattle, we visited a vegetarian restaurant for lunch called Cafe Flora. There, we had an appetizer of rosemary biscuits topped with the most amazing mushroom miso gravy ever.
Ever since then, I've been meaning to recreate the recipe at home but never really got around to it. So when I mentioned that I might want to make a miso shiitake gravy for the dinner party this past weekend, Jeff immediately asked, "Like the one we had in Seattle?!?!" Yes, my love, like the one we had in Seattle….but better!
I started by chopping up a bunch of shiitake mushroom caps. I'm not really sure how many, and they were all different sizes, but I'd say it was around 2 cups or so.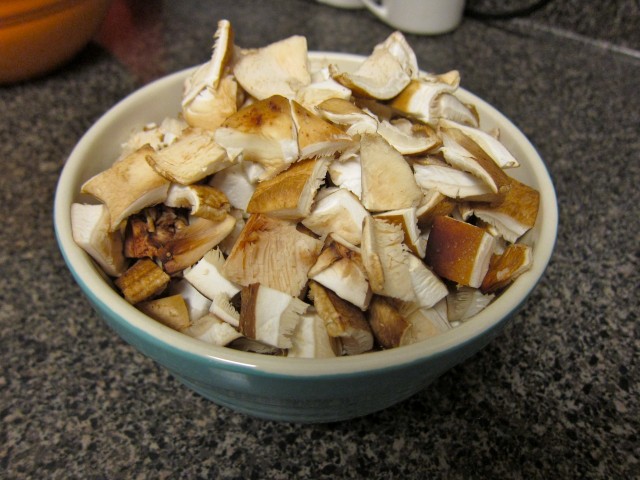 I even found this really cool "mutant" mushroom in the bunch…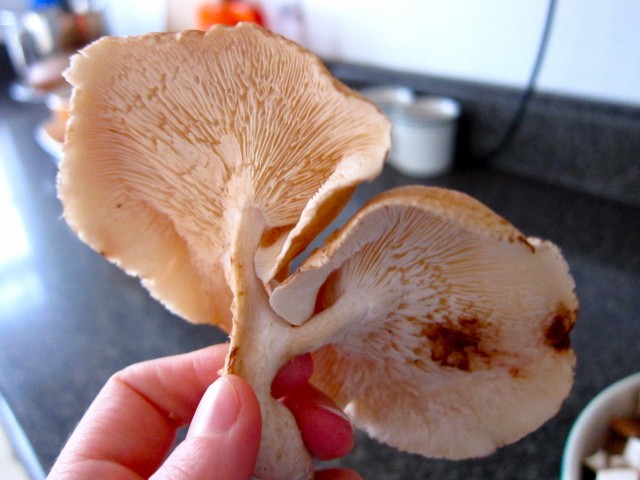 I discarded the stems because while shiitake stems are edible, they're very woody and unpleasant to eat. I sauteed them in a few spoonfuls of lamb drippings but really you can use any fat, butter would work very well. I also threw in a few of the roasted garlic cloves from the lamb which dissolved nearly immediately, but chopped garlic would be just fine. Also, I didn't add any extra herbs because the lamb drippings were already so heavily scented with rosemary, but if I didn't use the drippings I would have added a bit of chopped rosemary instead.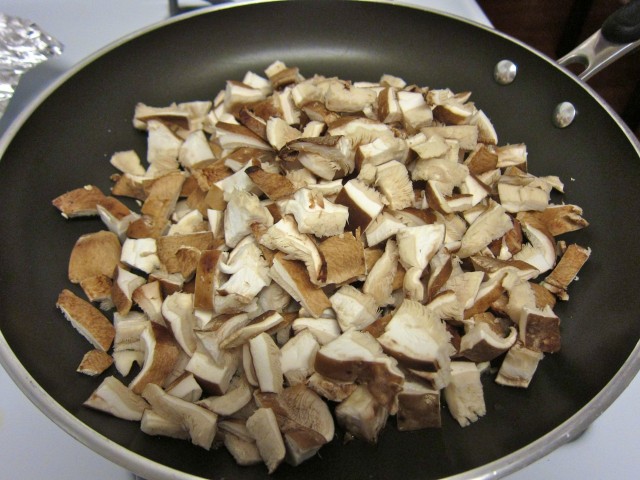 Once they were very soft I sprinkled in a little flour to make a mushroom roux. It should come together like a thick paste with the texture of wet sand.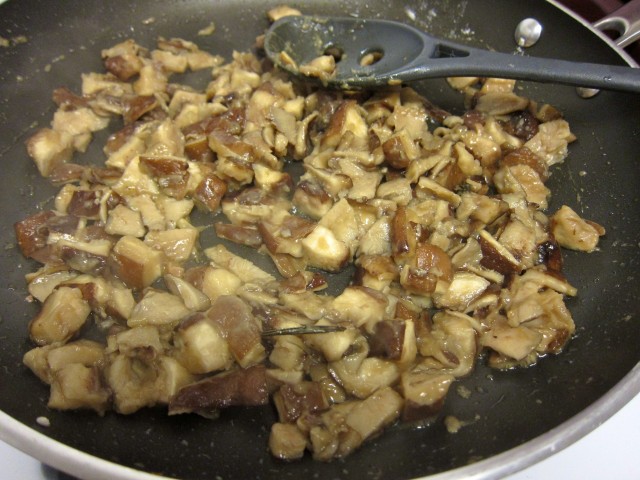 Then I added in the liquids; vegetable stock, soy sauce, and a bit of apple cider vinegar. I put a big dollop of red miso in and used a small whisk to incorporate it slowly and completely.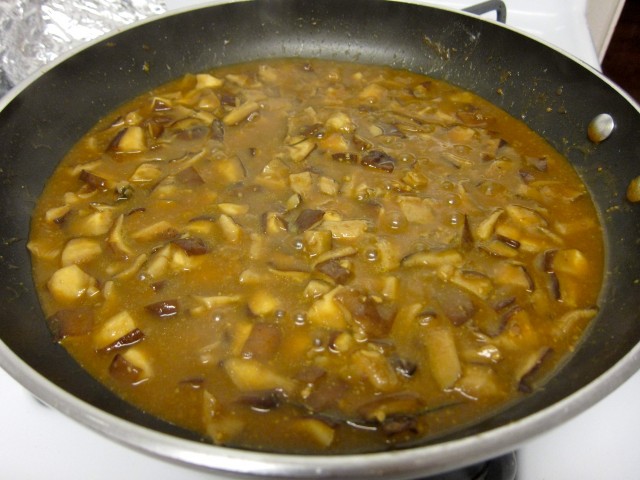 Then it just needs to reduce a bit to the desired consistency.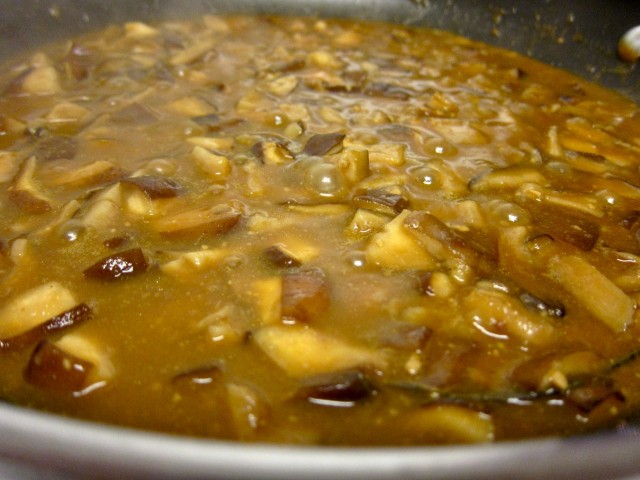 It is absolutely killer at this stage with all of the chunky mushroom bits swimming in the richly flavorful sauce, but I decided to pulse it a few times in a food processor because I wanted a more homogenous texture, as you can see on my plate below. I think next time I would leave it as is though.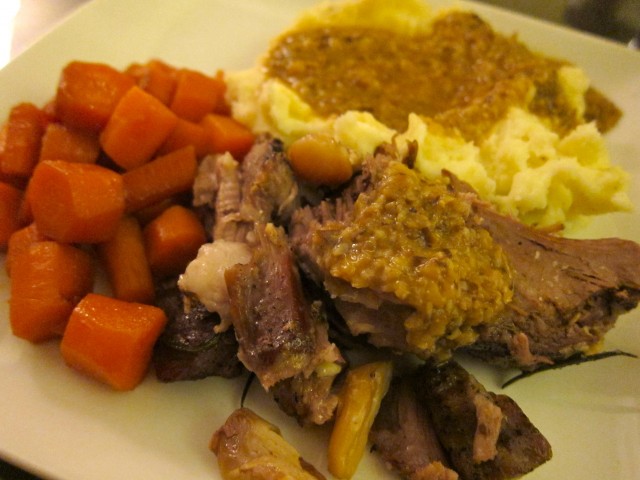 Miso shiitake gravy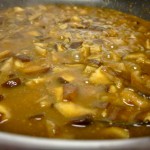 A rich vegetarian gravy made with earthy mushrooms and salty red miso.
Prep Time: 10 minutes
Cook Time: 20 minutes
Total Time: 30 minutes
Ingredients
2 cups

chopped shiitake mushroom caps

half a quart

vegetable stock

1/3 cup

red miso

1 tbsp.

soy sauce

1 tsp.

apple cider vinegar

4 tbsp.

butter

up to 4 tbsp.

flour

1 tbsp.

chopped fresh rosemary
Cooking Directions
Sautee mushrooms and rosemary in butter over medium heat until soft.
Sprinkle over flour while stirring and keep adding until you have the texture of wet sand.
Add in liquids and lightly whisk in miso to incorporate.
Allow to reduce for 5 minutes or until desired thickness is achieved.
If you can't find shiitakes that's ok, but I'd make sure to use another flavorful mushroom such as portabellas. Button mushrooms should really be reserved for topping salads and pizzas. And while I truly prefer red miso in this recipe for the way it pairs better with red meats, white will be just fine but can sometimes be a little too salty, so you might even want to omit the soy sauce if you're using it to cut the extra saltiness.
This miso gravy is a recipe I fully intend to pull out again to impress a guest. Also, every time I make a roux I feel like a real chef. It's so easy but it just feels so fancy!
Do you roux?