All that's left to share from last weekend is this incredible apple butter cake!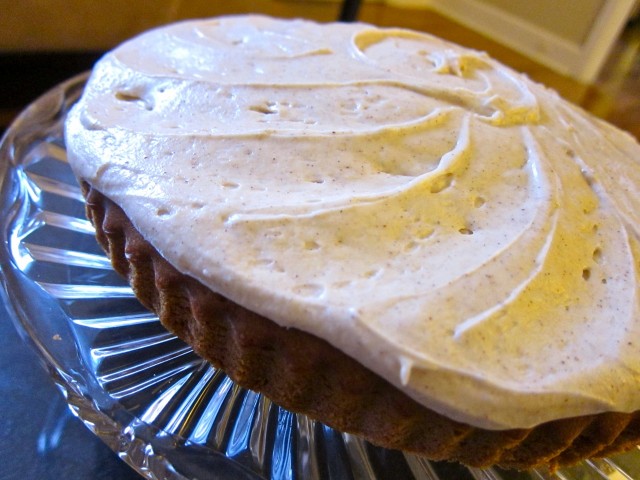 I love to bake, but ever since I started paying attention to eating mostly healthy foods I've tried to put aside that urge to make a batch of cookies every week. I have a huge folder full of bookmarked recipes for when I need a "fancy" dessert, if only I had enough occasions to make them all!
This is a cake that I heavily modified from another recipe. It's so far changed from that "inspiration cake" though that I feel totally cool with posting it as my own recipe.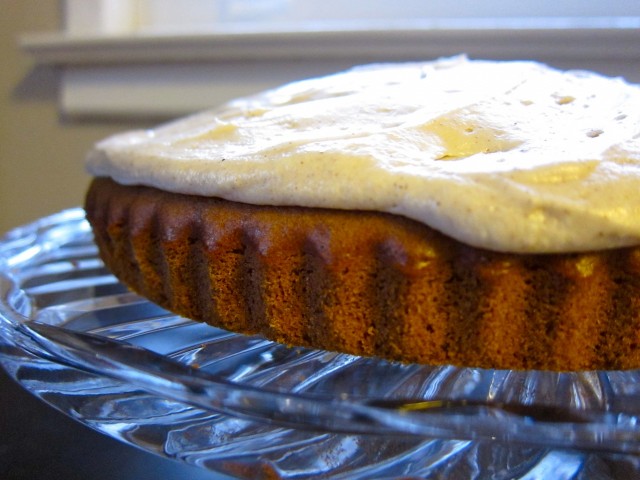 Apple butter cake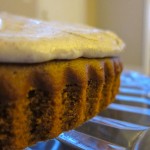 A damp and delicious cake with the warm winter flavors of cinnamon and rich apple butter.
Prep Time: 20 minutes
Cook Time: 40 minutes
Total Time: 1 hour
Yield: 1 9-inch cake layer
Ingredients
2 cups

all-purpose flour

1 and 1/2 tsp.

baking powder

3/4 tsp.

baking soda

1 tsp.

cinnamon

1/4 tsp.

salt

3/4 cup

packed brown sugar

1/2 cup

vegetable oil

3/4 cup

apple butter

1 tsp.

vanilla

2

small eggs

3/4 cup

unsweetened almond milk

1/4 tsp.

ground clove

1/4 tsp.

ground ginger
Cooking Directions
In a stand mixer, mix together oil and brown sugar followed by the vanilla, apple butter, and eggs one at a time.
In a separate bowl, whisk together dry ingredients and spices and slowly add to the wet mixture in three installments, allowing the dry to fully incorporate with the wet each time.
Slowly drizzle in almond milk while the mixer is at it's lowest speed until it is fully combined.
Pour batter into a non-stick tart pan or regular 9-inch cake pan sprayed with a non-stick spray.
Bake at 350 degrees for 35 to 40 minutes or until a toothpick inserted in the middle comes out clean.
Allow to cool completely before frosting.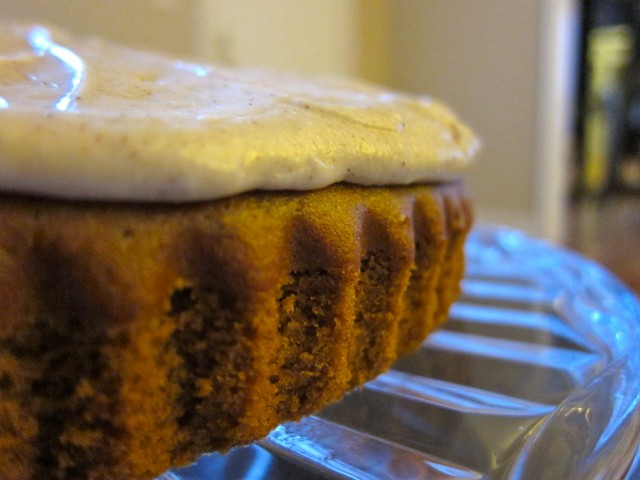 I love how damp the texture of this cake is. It reminds me of a really good banana bread. The frosting is a sweet contrast to the subtle cake flavor but it isn't too crazy sweet either. The flavor of the cider is barely noticeable in it, it just adds a kind of fresh fruity crispness.
Cinnamon cider buttercream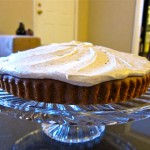 Sweet buttercream with a hint of fresh fall apple and warming cinnamon.
Prep Time: 10 minutes
Total Time: 10 minutes
Ingredients
3/4 stick

unsalted butter

1/4 cup

apple cider

1 tsp.

cinnamon

pinch of

salt

up to 4 cups

powdered sugar
Cooking Directions
Beat room-temperature butter in a stand mixer until light and fluffy.
Add in a cup of the sugar and all the other ingredients and beat until combined.
Keep adding sugar a bit at a time and mixing until the desired thickness is achieved.
Spread over a completely cooled cake.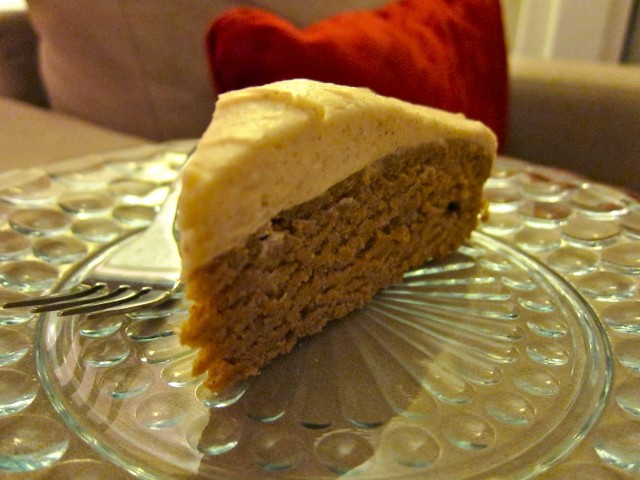 I ended up pawning the rest of the cake off on my mom and brother-in-law. If it had sat in my house any longer I would have undoubtedly eaten it all myself. I love sweets.
Speaking of sweets, today I'm baking up a carrot cake to take to Christmas Eve dinner with Jeff's family. I'm adding some special signature touches to it, so I'll be sure to share the recipe with you after the holidays. Hope yours are wonderful!