So, I may have promised to share my recipe for the Japanese sweet potato casserole I brought to the blogger potluck over the weekend. It was intended as a recipe for my cookbook and it will still appear in the finished version, but I suppose I could give this one away early as kind of a teaser. 😉
It really couldn't be simpler, but yields an impressive result. If you can make mashed potatoes, you can definitely put together this delicious Japanese take on the traditional Thanksgiving classic.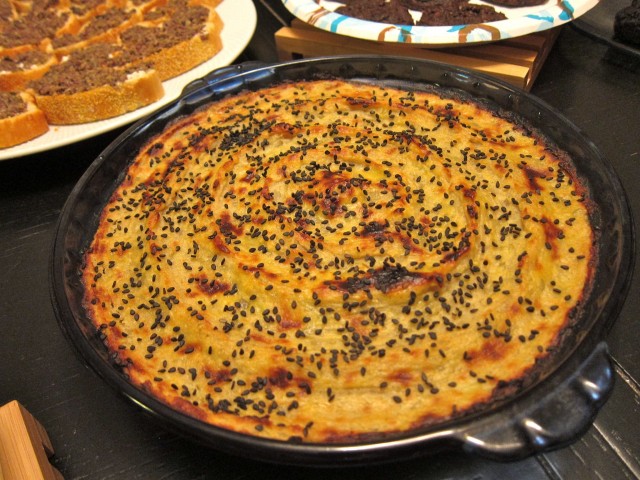 Japanese sweet potato casserole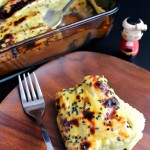 A Japanese interpretation of the classic Thanksgiving side dish featuring the subtle sweetness of Japanese sweet potatoes.
Prep Time: 25 minutes
Cook Time: 20 minutes
Total Time: 45 minutes
Ingredients
2 very large

Japanese sweet potatoes

4 tbsp.

butter

1/4 cup

sugar

1/4 cup

milk

1 tsp.

cinnamon

2

egg yolks

sesame seeds

for garnish
Cooking Directions
Peel potatoes and chop into small pieces of roughly the same size.
Boil potatoes until tender (approximately 15 to 20 minutes.) Drain and pour into a large mixing bowl.
Mash with butter, sugar, cinnamon, and milk while still warm. Allow to cool, then mix in one of the egg yolks.
Pour into a 9 inch round or square baking dish and use the back of a spoon to make a design of your choosing on the surface.
Break apart the remaining egg yolk with a fork and brush the entire yolk over the surface of the casserole being careful not to flatten the design. Sprinkle on sesame seeds if desired.
Bake for 10 minutes at 350 degrees to heat it through then put under the broiler for up to 10 minutes to brown the top.
This recipe was actually inspired by a type of Japanese candy known as a "wagashi." Wagashi are small individual-sized desserts that are traditionally served with tea. Typical flavors include mashed chestnuts, green tea, several varieties of sweetened beans, dried fruits, steamed squashes, and also sweet potatoes.
One common wagashi is the suito poteto, which of course refers to the fact that it is made from sweet potatoes. The potatoes are steamed, mashed, lightly sweetened with sugar, formed into a ball, glazed with egg yolk, and then baked. I've used a similar process and ingredient list to make this Japanese sweet potato casserole reflect the suito poteto wagashi, but added cinnamon to tie it together with the Thanksgiving dish of sweet potato casserole.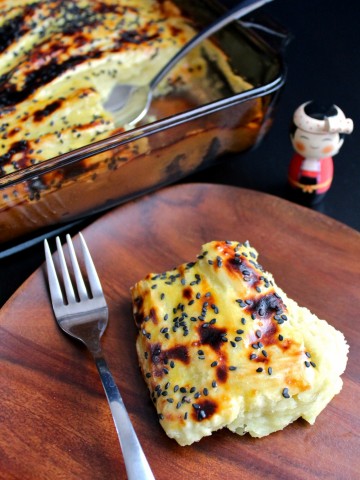 I'm starting to see Japanese sweet potatoes, also known as satsuma-imo, popping up in regular grocery stores everywhere. They have reddish purple skin and pale white flesh and come in varying shapes and sizes. They're a bit starchier and harder to cut than regular sweet potatoes and are a little less sweet, but they can be used in any way that you would normally use a regular sweet potato. I've had success mashing them, roasting them, even making thick-cut fries. They're not too bad baked whole and slathered in butter either. 😉
If you see them in your local grocery or market give them a try, whether you use my recipe for Japanese sweet potato casserole or one of your own!
Update! This recipe can be found in my cookbook, The Japanese Pantry, along with other fun Japanese fusion foods such as crispy "popcorn" edamame .