Thank you all for the incredible response I've received to the news of my cookbook, The Japanese Pantry, finally going on sale. It feels really good to hear that so many of you were excited about it and had been anticipating it for some time. And thank you to each of you who have already purchased a copy or intend to soon. Every sale feels like a validation that I've created something interesting and worthwhile. I've been very hypercritical of every recipe, every story, every photo that went into this book because I know that I'm still a novice at this and have so much to learn. Already, as I plan for the next two (yes two!) books that I have in mind, I see ways in which I can improve upon this first endeavor and produce something even more informative and beautiful next time.
I thought today I'd share a recipe from the book that's incredibly easy to put together. These crispy "popcorn" edamame were so good that even though I nailed the recipe the first time I made them, I ended up making another test batch "just to be sure." I might have eaten the whole batch in one sitting.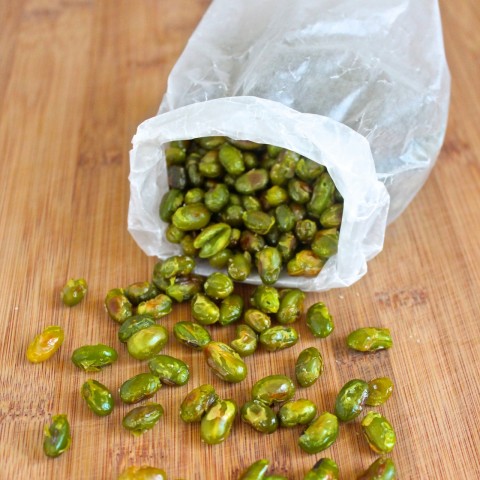 From the book:
"We all love crunchy snacks. For some it's crispy chips, for others it's crackers, and for still others only a bowl of buttery popcorn will do. But all that carb-laden junk food is just that – junk. It's hard to find a healthy snack that satisfies the craving for salt and fat without busting your gut. These crunchy roasted "popcorn" edamame come close. They have all the crispiness of a potato chip and are endlessly poppable, but contain just a scant teaspoon of oil. The delightful texture and bright flavor will have you snacking happy."
And here's how simple they are to make…
Crispy "Popcorn" Edamame
A poppable snack that makes for a healthier alternative to chips or crackers, but with all the satisfying crunch.
Prep Time: 5 minutes
Cook Time: 45 minutes
Total Time: 50 minutes
Yield: makes about 2 cups
Ingredients
one 12oz. bag of

frozen shelled edamame

1 tsp.

olive oil

the juice from half a lemon

(about 2 tsp.)

sprinkle of

salt (to taste)
Cooking Directions
Allow frozen edamame to thaw on the counter or under lukewarm running water.
In a large bowl, toss edamame with oil and lemon juice.
Bake at 375F degrees on a foil-lined baking sheet for 40 to 45 minutes or until lightly browned and crispy.
Sprinkle over salt to taste while edamame are still hot. Allow to cool completely before storing in an airtight container.
I love that edamame (young soy beans) are found in almost all major grocery stores these days. They are a really tasty snack food that even children love, despite resembling other less yummy green vegetables. This is one Japanese ingredient that has definitely made its way into the mainstream. Maybe someday kids will be snacking on pickled plums instead of candy too. Seriously doubt that one though.