Ok, I need a break from talking about the book for a while. I'm sure you guys are ready for something new too. 😉
Who's ready for spring?!! I don't know about you guys but I am counting down the days until short sleeves, sunny walks, and refreshing warm-weather fruits. I'm craving berries. Every time I go to the farmer's market and pass the table packed with those little green plastic cartons overflowing with plump red strawberries, I have to force myself to keep walking and not fall for their ruse. It is not berry season. Those strawberries will be watery and sour and unsatisfying.
Right now I'm combatting this need for refreshing fruit flavors with the last of winter's citrus. I just annihilated an entire red grapefruit with lunch, sliced into wedges like an orange, making little smiles of rind as I chomp down on each one. I never eat grapefruit like that for some reason. I always see grapefruit served so preciously, either sliced into thin naked supremes on top of a fragile salad, or as I've chosen to serve it in the recipe I'm sharing with you today – broiled with a sugary crust, each shining bite precisely carved out with a sharp little spoon.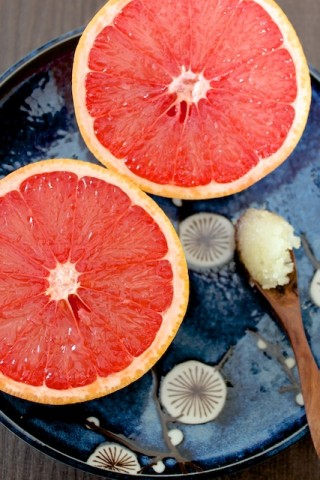 But you guys know I can't just broil a grapefruit and be done with it, right? I've gotta find a way to insert one of my favorite asian flavors in there somehow. This is a common springboard for me as far as recipe creation goes – I take an already delicious food and make it marvelous with a fun new flavor.
This time, I've used spicy grated ginger to balance with the sweet sugar and bitter grapefruit. I debated for a long time wether or not to feature ginger as one of the highlighted ingredients in The Japanese Pantry, and ultimately decided to let it play a supporting role instead. It certainly shines in this recipe though.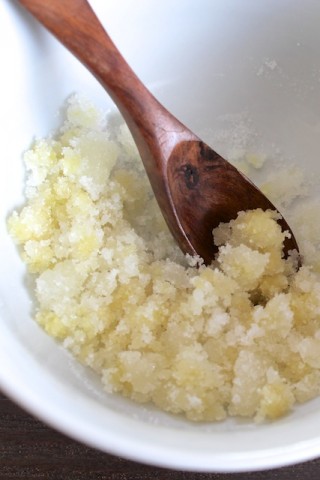 I loved the smell of the ginger sugar as I was making this. The fresh wetness of the grated ginger soaked right into the sugar, lightly dissolving it into the texture of wet sand. It makes a grainy slushing sound as it mixes together, like the sound of walking through melting snow.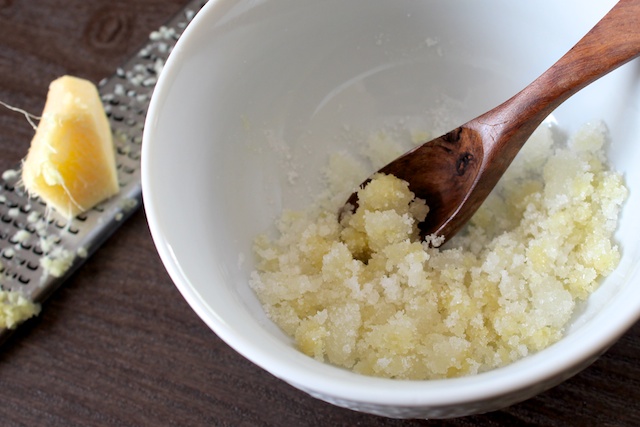 I ended up broiling this in a toaster oven. I tried it once before in a regular oven and the fruit was too far from the heating element, it just kind of melted rather than caramelizing. This time though, the toaster oven crisped the topping up nicely and just barely browned the edges. I love how the fruit blisters in the heat and bulges up out of the rind. The ginger flavor was definitely present but not at all overpowering.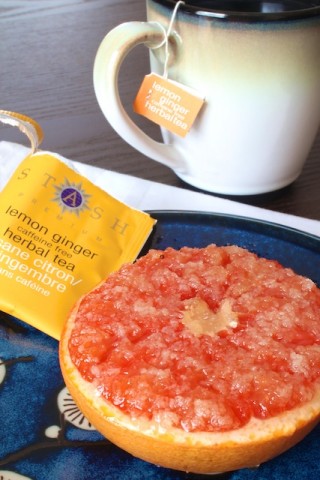 I must confess though, that even with this typically "precious" presentation, it was not eaten daintily. I hacked it up with my blunt little spoon before turning it inside out and biting the rest off in big chunks until only a ragged pithy peel was left. It definitely satisfied my desire for summery flavors. I see myself having this bright little breakfast weekly until my beloved berries are finally ready.
Broiled grapefruit with ginger sugar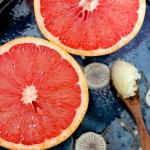 Gingery sugar encrusts juicy bitter grapefruit for a sweet and lightly spicy treat.
Prep Time: 3 minutes
Cook Time: 12 minutes
Total Time: 15 minutes
Ingredients
1 medium

red grapefruit

2 tbsp.

white sugar

1 tsp.

freshly grated ginger
Cooking Directions
Slice grapefruit in half, remove any large seeds, and place cut side up on a heat safe dish or tray lined with aluminum foil.
In a small bowl, mix together ginger and sugar until it is the texture of wet sand.
Top each grapefruit half with half of the sugar mixture and pat with the back of a spoon to spread it out to the edges.
Toast in a toaster oven for 12 minutes or until bubbly and lightly browned. (The toast setting on my toaster oven only goes up to 6 minutes, so I just left it in for 2 cycles.)
Are there any spring and summer foods you're desperately craving?