I'm about to have a real problem on my hands…
I still have leftover matcha bars in my kitchen and I have two more desserts planned for testing next week. Crossing my fingers and hoping that every piece of this strawberry almond bark gets eaten this Easter weekend so that I don't end up with 4 desserts in my house, because I will eat them all if there's no one there to stop me. It's a mathematical certainty.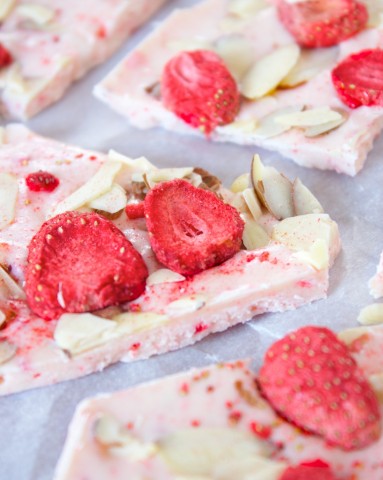 I LOVE sweets. I try my best to answer my cravings with fruit, but oftentimes I'll finish my apple or grapefruit or what-have-you and be left thinking, "Well that was good, but it sure wasn't cake. I wish it would have been cake." If it's not a cookie or worse, my body just does not consider it sugar. Does anyone else have this problem?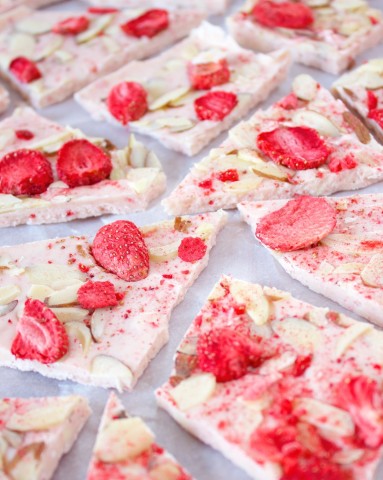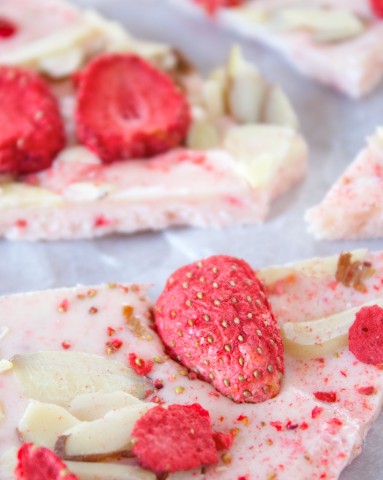 I like to think that eating a little sliver of this strawberry almond bark, with it's creamy white chocolate base and tart little berry bits, is better than downing two slices of birthday cake (which I totally did this weekend.) It has fruit on it, so it's healthy right? Haha. My brain can talk me into anything.
Strawberry almond bark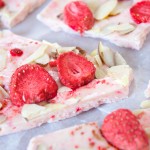 A pink and pretty strawberry almond candy that's quick and easy to whip up.
Prep Time: 10 minutes
Total Time: 10 minutes
Ingredients
1 (11oz.) bag of

white chocolate chips

1/4 cup

sliced almonds

1/2 cup

freeze dried strawberries
Cooking Directions
Pour white chocolate chips into a heat-safe bowl and microwave for 20 seconds, then stir. Continue microwaving and stirring in 20 second intervals until white chocolate is fully melted.
Crush half of the freeze dried strawberries into the white chocolate and mix through, then pour the mixture onto a wax paper lined baking sheet and spread evenly with a spatula.
Sprinkle over the sliced almonds and remaining strawberries and gently pat into the chocolate.
Refrigerate or freeze until hardened, then slice into irregular pieces. Store in an air-tight container in the refrigerator.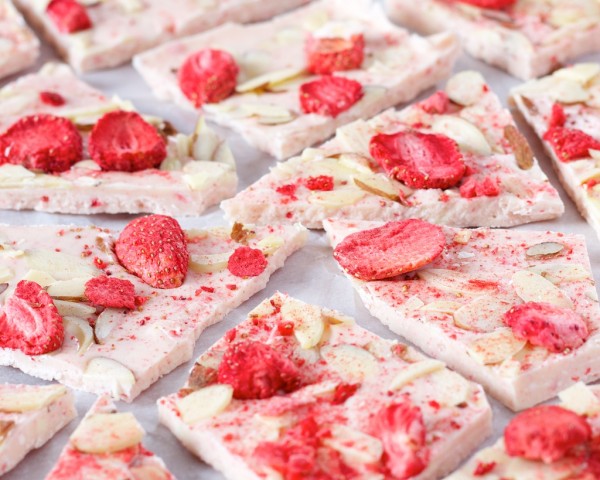 I'm taking the last of this bark to Easter lunch with family to try to unload it. There will be more birthday cake there, wish me luck.
Do you have an unbridled lust for sugar that cannot be tamed?