Oooohhhhhh, yeah. I made two recipes for the photo shoot with Jimi Filo. I spent so much time testing and retesting those matcha bars with strawberry jam until they were just right, that I forgot all about the duck soba!
Allow me to "un-forget" it, because it was really good and deserves its time in the spotlight.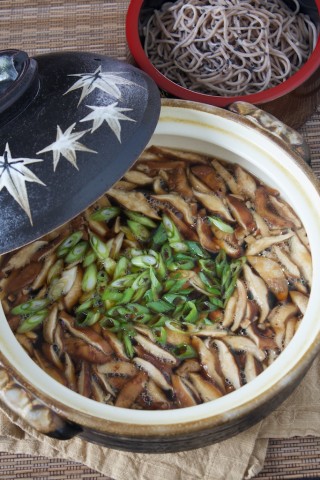 I had to retest this one as well, but thankfully I got it right on the second try. The first time I made it, I tried searing the duck thighs directly in the donabe and then shredding them to add back to the soup. Confession time: I had never cooked duck before. I just assumed it would behave similarly to chicken, but I found out very quickly that it's a bit different.
The duck didn't cook all the way through in the same amount of time that chicken would have. Also, the meat clung for its dear life to the bone and I couldn't get much of it off to use in the soup. I knew I was going to have to figure out a better way to cook the duck for this recipe to truly work.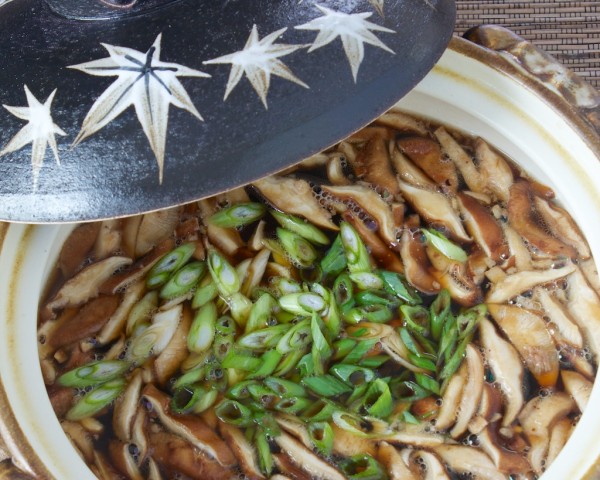 This time, I baked it. I put it skin side up in a deep baking dish and set it in the oven at 400F degrees for 40 minutes, the same way I roast chicken. It came out with golden brown crispy skin, fully-cooked but tender meat, and enough rendered duck fat to keep me in duck fat fries for the next few years.
The meat is still pretty clingy though, definitely not as easy to get off the bone as chicken, but this time I was able to pick the bones pretty clean and have plenty of duck meat for the soup. You've really got to get at it with your hands though, none of this dainty fork-shredding nonsense. It's gonna be quite an effort, but don't let that duck think he's bested you! You've gotta call that duck by the wrong name, emasculate him in front of his golfing buddies, and them make him do your taxes while you enjoy an ice cream cone in right front of him and don't offer him any.
Wow, that got weird.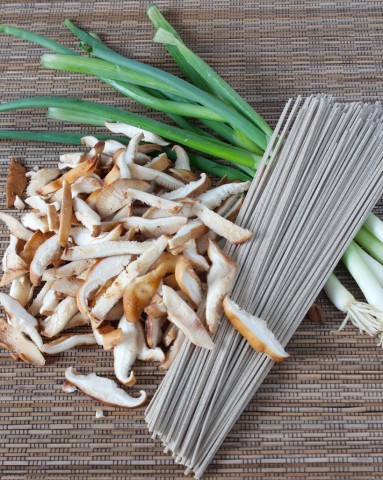 Here's the recipe for this ducky and delicious soup…
Duck soba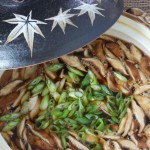 A hot soup of shredded duck and shiitake mushrooms in a salty broth is the perfect dip for cold soba noodles.
Prep Time: 20 minutes
Cook Time: 50 minutes
Yield: Serves 2 to 4
Ingredients
4

skin-on bone-in duck thighs

approx. 20

sliced shiitake mushroom caps (discard stems)

3 large

scallions (sliced thinly)

4 cups

water

1 and 1/2 tsp.

hondashi

2 tbsp.

soy sauce

1 tbsp.

mirin

4 portions of

dried soba noodles
Cooking Directions
Roast duck thighs skin-side up in a deep baking dish for 40 minutes at 400F degrees. Allow to cool completely.
Pull off skin and scrape off any remaining fat with a butter knife. Use your hands to pull the meat from the bones and shred. Discard skin but keep the bones.
Boil soba noodles according to package directions in a large pot of water. When done, drain and rinse under cold water then set aside.
In a clay pot or other heavy-bottomed pot, bring water, hondashi, soy sauce, and mirin up to a simmer along with the reserved duck bones.
Let simmer for 3 minutes or so then remove duck bones and add in the shiitakes, scallions, and shredded duck meat. Let come back up to a simmer for about 5 minutes to soften the shiitakes and scallions before serving with soba noodles on the side for dipping.
Jimi has also finished his own write-up of the the photo shoot, you can check it out here. This was a really cool experience and I hope we can work together again in the future.
Bonus cat shot taken by Jimi…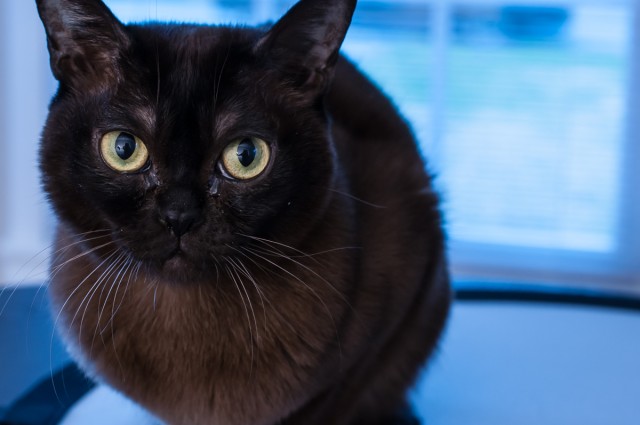 Silly kitten.
Have you ever cooked duck before?