I remember when I was a kid we had blackberries growing in our backyard. They were on the corner of the property, twisting and winding out of Dad's ever-growing pile of lawn clippings. I remember filling a mason jar with them and begging my Mom to bake them into a pie for me. She artfully dodged that bullet by instead making me a bowl of the berries in milk, sprinkled liberally with sugar.
I loved the tart berries with their sandy coating of sweetness swimming in a bowl of sugary milk- it was summer in a bowl.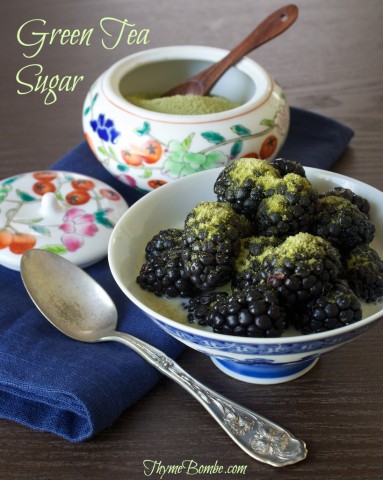 I saw blackberries at the market a few weeks ago and thought they were looking ripe enough to try. Berries are one food I will never buy out of season, they're a totally different and disappointing food when they haven't had enough sunshine yet to sweeten them up properly. I had no idea what I wanted to do with them, but for some reason that memory of sugared berries that I hadn't had since I was a child came to mind.
If I was going to do this I wanted to class the whole thing up a bit, make an "adult" version of my childhood treat. Green matcha tea sounded like the perfect grown-up sprinkling sugar flavor.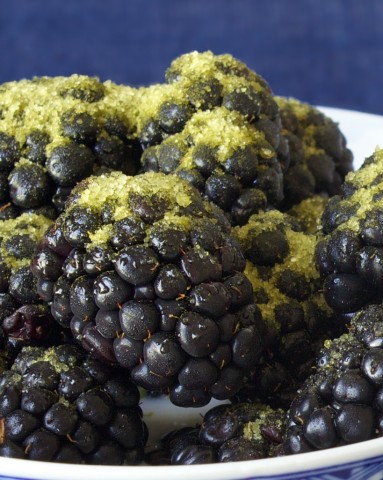 The flavor is still mostly sweet, with just a faint springy green flavor similar to the herbal flavor of mint. It's not bitter at all. The best part may just be the leftover sugary green tea milk at the bottom of the bowl.
The recipe is super simple: 10 parts sugar to 1 part matcha. Easy as pie. I'd recommend using a small measure such as a teaspoon. I made mine in tablespoons and it ended up being quite a bit of sugar. I'm sure I'll find something delicious to use the rest for.
Green tea sugar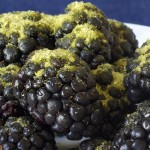 This springy green tea sugar is great for sprinkling over fresh fruit, or anywhere a little sweetness is needed.
Prep Time: 5 minutes
Total Time: 5 minutes
Ingredients
10 parts

white sugar

1 part

powdered matcha green tea
Cooking Directions
Whisk together sugar and matcha. Sprinkle on fresh fruit, buttered toast, or any way you use sprinkled sugar.
Store in an air-tight container in the refrigerator or freezer.
Of course you don't have to sprinkle it on blackberries either. I think it would be fantastic dusted over buttered toast, as a crunchy topping for donut muffins, or swirled into a lemonade. Just for fun-sies, I went ahead and used it to rim a glass of strawberry milk. Mmmmm!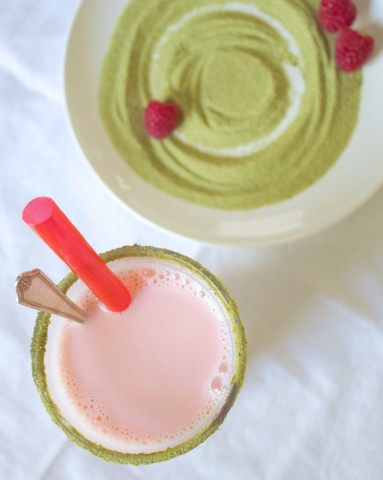 Matcha green tea is one of my very favorite flavors and I'm always looking for new ways to inject it into the foods I love. It seems every time I make a new recipe, I find myself wondering if it would work in a matcha flavor. If I've learned anything so far, the answer is always YES.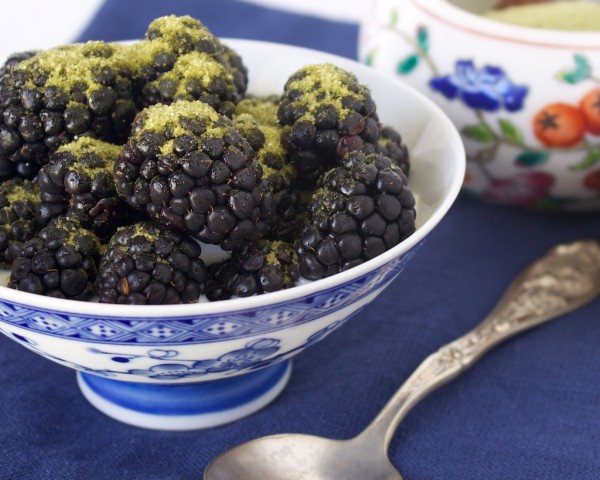 What would you sprinkle this green tea sugar on?