Inspiration can come from anywhere…
Last week I sat looking at a list of over 30 recipe ideas for the blog with no desire to make any of them. I like to cook what I crave, and though the ideas I had already were good, I just wasn't craving any of them at the time. I decided to poll followers of my blog's Facebook page for what flavors you guys are loving right now. There were lots of good suggestions, but the one that immediately got my recipe-inventing wheels turning was… Sriracha sauce!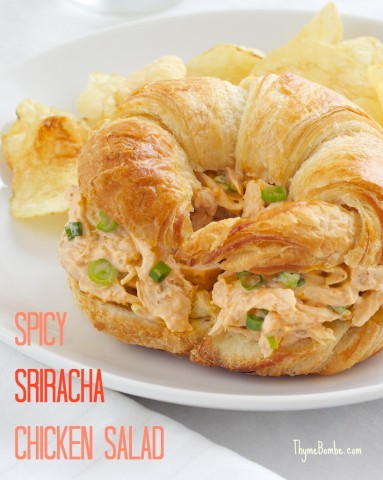 As soon as I heard the word I knew I wanted to make a chicken salad with lots of fruity spicy sriracha! I often mix sour cream and sriracha together to make a dipping sauce for panko-crusted chicken, so I knew this same concept would work perfectly in chicken salad form.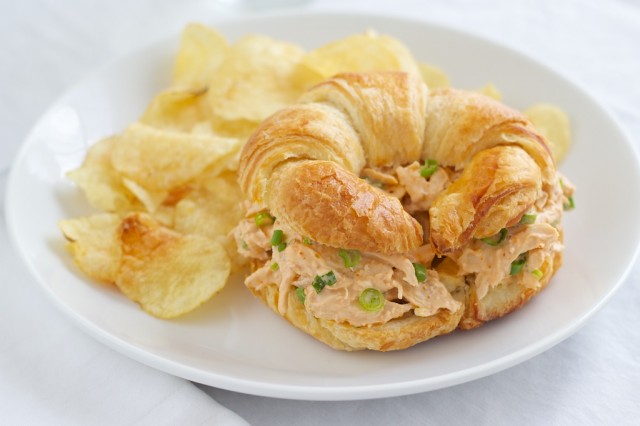 Sriracha is a Thai hot sauce made from chili peppers, distilled vinegar, garlic, sugar, and salt. You may have heard of it referred to as Rooster Sauce, due to the giant rooster that appears on the bottle of the most popular brand. Whatever you call it, it's a mild, fruity sauce that tastes great on almost anything. I love it on a burger or squeezed over fried rice.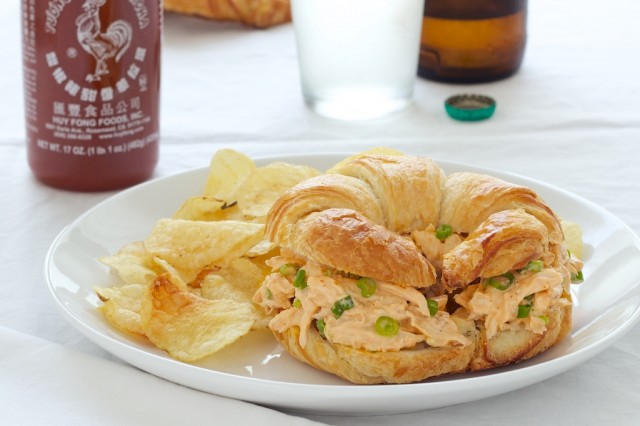 Spicy Sriracha Chicken Salad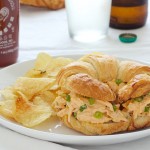 A spicy Thai take on chicken salad with the fruity flavor of hot Sriracha sauce.
Prep Time: 10 minutes
Cook Time: 40 minutes
Total Time: 50 minutes
Yield: Just over 3 cups
Ingredients
2 skin-on bone-in chicken breasts

(makes about 3 cups shredded roast chicken)

1/4 cup

sour cream

1 heaping tbsp.

Japanese mayo (or other thick style mayo)

2 tbsp.

Sriracha sauce

2

scallions (sliced thinly)

1 tbsp.

sesame seeds
Cooking Directions
Dry chicken breasts thoroughly with a paper towel and rub all over with a bit of olive oil. Bake on a parchment-lined baking sheet at 400F degrees for 40 minutes. Allow to cool completely.
Remove and discard skin. Use your hands to pull the chicken from the bone and tear into small pieces.
In a large mixing bowl, combine shredded chicken with all other ingredients and mix thoroughly. Serve on bread, a croissant, or over a salad as desired. Store in an air-tight container in the refrigerator for up to 4 days.
I ate that sandwich for lunch right after photographing it and was in spice heaven. It's definitely got a kick to it, but I didn't think it was overwhelmingly spicy. If you're sensitive to spice though, feel free to dial back the amount of sriracha you add. Start with just one tablespoon and taste it to see if you like it as is. And if you're a lunatic, add even more!
Thanks again for all the awesome recipe inspiration. Anyone else wanna chime in with a flavor you're loving right now? Who knows, maybe it'll end up inspiring my greatest recipe creation of all time! A recipe to crash Pinterest! If only in my dreams…