Last week, Jeff and I celebrated our 3 year wedding anniversary on May 1st. I said it last year around this time and I'll say it again – it feels like we've been together much, much longer than that, but I mean that in the sweetest way possible. My memories of the time before "us" are hazy and dull. The happiness I've experienced since we met has been bewildering. I didn't think this kind of love existed for ordinary people like us, and it just keeps growing and getting better and better.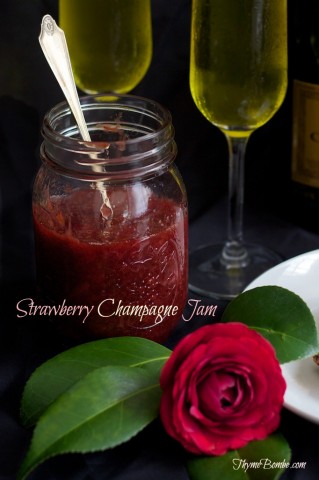 Enough with the mush.
We've had 2 bottles of champagne left over from our wedding that have been taking up space in our fridge for 3 frickin' years now, and though we would love to have the space back, we just can't ever find a good enough reason to pop such a special bottle. If we're splitting hairs, then I should mention that they're actually cava, a Spanish wine made in the style of champagne (it's not technically champagne unless it's made in the Champagne region of France.) I'm not a wine person, so I have no problem erroneously referring to them as champagne. Tastes like champagne to me.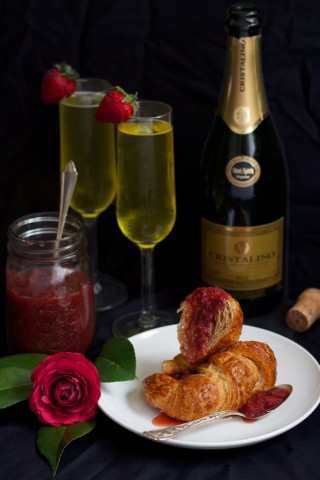 I had the idea for this recipe a few weeks ago and asked Jeff over dinner one night if he would be comfortable with letting me use one of our special bottles to make it. I could just see him debating it heavily in his head, and it was actually several days before I was given the blessing to use it. I figured there would be a lot of it left that we could sample later that night and reminisce together over, but somehow I ended up using the whole dang bottle! Whoops.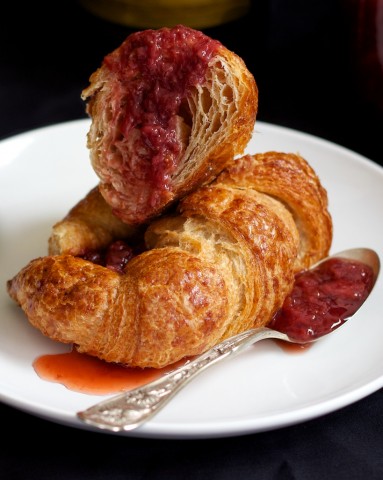 It turned out fantastic though. It's not really boozy at all, but there's a heavy white grape flavor with a bit of tingly something there, kind of like the enzyme-y tingle you get from honey. It's a bit on the thin side too but I thought it was fine that way, good for dipping a croissant in. It would be absolutely incredible as a topping for vanilla bean ice cream or paired with some really nice cheese.
Strawberry champagne jam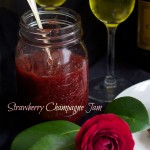 The classic marriage of strawberries and champagne in a luscious jam.
Prep Time: 10 minutes
Cook Time: 1 hour
Total Time: 1 hour
Ingredients
6 cups

strawberries (leaves removed and cut in half)

1 cup

white sugar

zest of

3 lemons

2 tbsp.

lemon juice

1 750mL bottle of

champagne (about 3 and 1/2 cups)
Cooking Directions
In a large bowl, stir together strawberries, sugar, zest, and juice then allow to sit for 1 hour covered with a kitchen towel.
Transfer contents to a large, heavy-bottomed stainless steel pot and pour over the champagne. Stir until foaming has stopped.
Turn on the heat to just above medium and allow to come up to a low boil. Stir frequently with a spatula and reduce heat if you feel anything starting to stick to the bottom or it could burn.
After 1 hour, test doneness by adding a small dime-sized dollop onto a frozen plate. Wait 20 seconds, then tilt the plate. If it runs freely, it needs more time; if it barely runs, it's done. Continue boiling jam until it passes the run test.
Finished jam can be canned or the majority frozen while a small amount is kept in the refrigerator for immediate use.
Obviously, a jam recipe that uses an entire bottle of champagne is not made inexpensively. This is certainly not something you're going to make on a whim unless you're just rolling in cash. It would, however, make for a very thoughtful and personal anniversary gift to give to a special couple in your life. I know Jeff and I will get much more enjoyment out of this jam than we were getting from that bottle taking up room in our fridge that we never had the heart to open.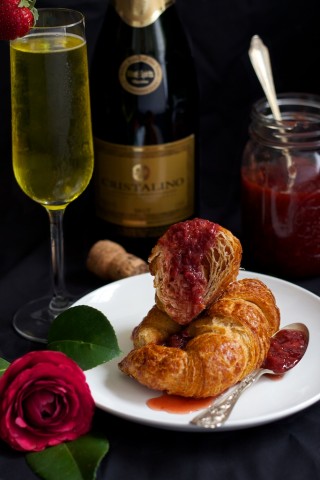 Just don't wait 3 years like we did.
Do you have a sentimental food item you can't bring yourself to indulge in?