Jeff and I have been craving potstickers lately. I used to make them all the time, so much so in fact that we got sick of them.

Now though, they're sounding good again.
Well, I bought some ground pork to use for the potsticker filling and didn't realize that I'd bought way too much until I got home. Ground pork tends to spoil pretty quickly, so I needed to come up with something to do with the other half of it right away. I decided to season all of it in the same way that I season the potsticker filling and then just roll the other half into meatballs.
With fresh veggies and some sweet and sour sauce, it became this…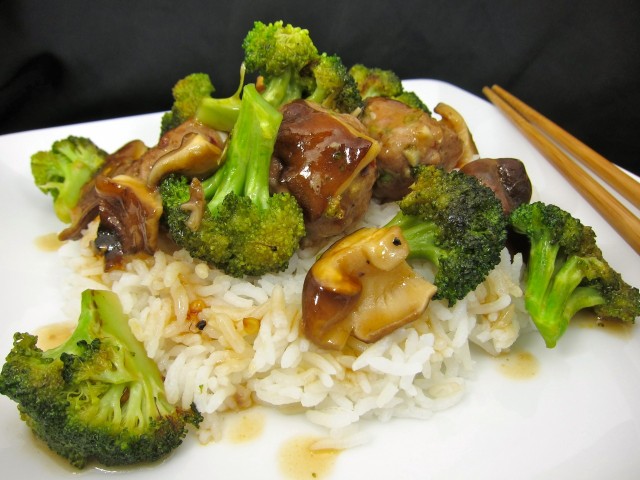 To make, I mixed ground pork with garlic, ginger, scallions, sesame seeds, and spices and rolled them into little meatballs. These got baked at 400 degrees for about 20 minutes.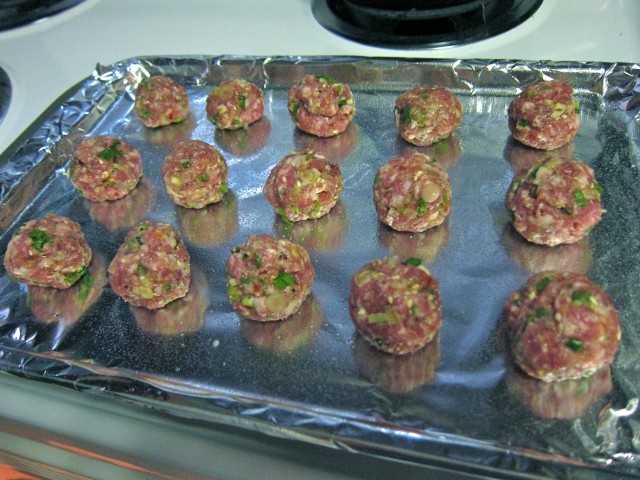 While those were baking, I sauteed broccoli and shiitake mushrooms in sesame oil with some red pepper flakes. When the meatballs were done, I added them to the vegetables and glazed everything with sweet and sour sauce.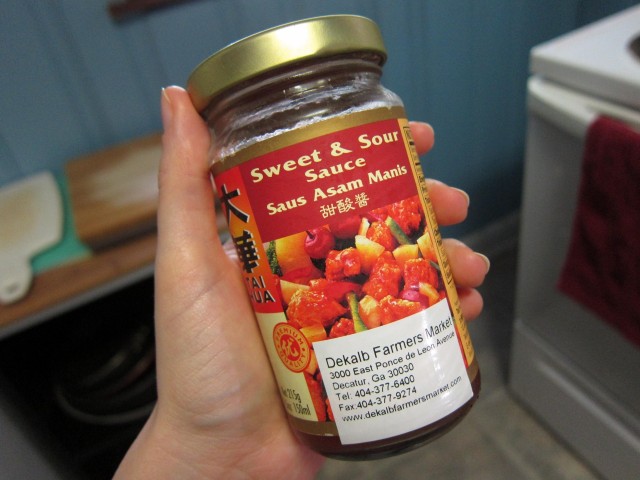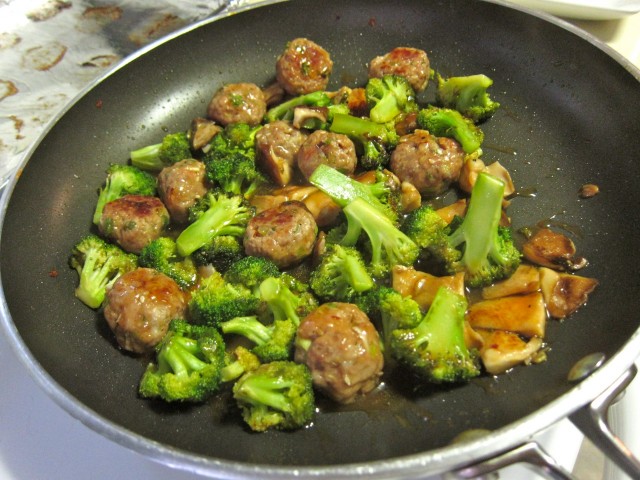 It was so good over hot rice.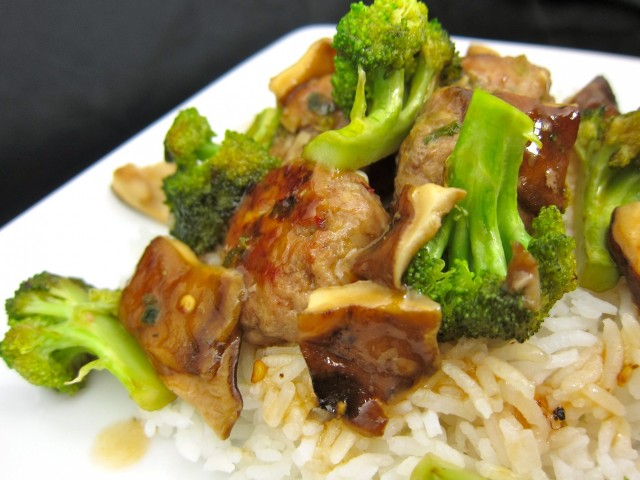 Sweet and sour pork meatballs
A new take on sweet and sour pork with flavorful pork meatballs and fresh vegetables.
Prep Time: 10 minutes
Cook Time: 20 minutes
Total Time: 30 minutes
Yield: 2-3 servings
Ingredients
1/2 pound

ground pork

a 1 inch piece of

ginger (grated)

3 large cloves

garlic (minced)

3

scallions (chopped)

1 tbsp.

toasted sesame seeds

1/8 tsp.

chili garlic sauce

1/2 tsp.

soy sauce

1 tsp.

mirin

1 small head of

broccoli (cut into florets)

about 6-8

shiitake mushroom caps (quartered)

1/4 cup

sweet and sour sauce

1/8 tsp.

red pepper flake
Cooking Directions
Mix ginger, garlic, scallions, sesame seeds, chili garlic sauce, soy sauce, and mirin into ground pork.
Roll pork into small meatballs and bake on a foil-lined tray at 400 degrees for 20 minutes.
Sautee broccoli and mushrooms in sesame oil and red pepper flake until cooked through.
Add cooked meatballs to vegetable saute and add sweet and sour sauce, stir to coat.
Serve over rice.
I love recipes like this that come out of nowhere. What started as a problem with too much ground pork turned into a really unique dinner idea.
Have you ever had a stroke of cooking genius?