I've been branching out with my cooking lately, trying to find a few new recipes to add to heavy rotation and some fun things that are slightly out of my comfort zone (read: not asian.) 😉
Monday night, we tried out a totally new dish for dinner called shakshuka. It's basically eggs poached in a spicy tomato sauce and eaten with crusty bread. It's of Tunisian origin, but has become a popular dish in many cultures and has endless variations.
It's pretty simple to put together too. You start by toasting the spices in oil…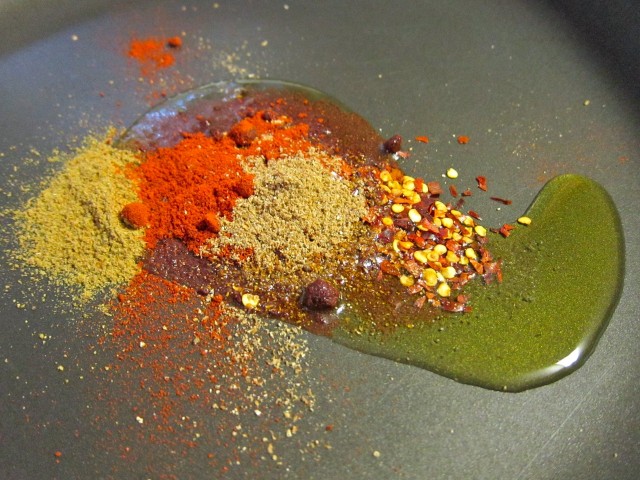 Next, add diced onion and garlic and allow to soften in the spices.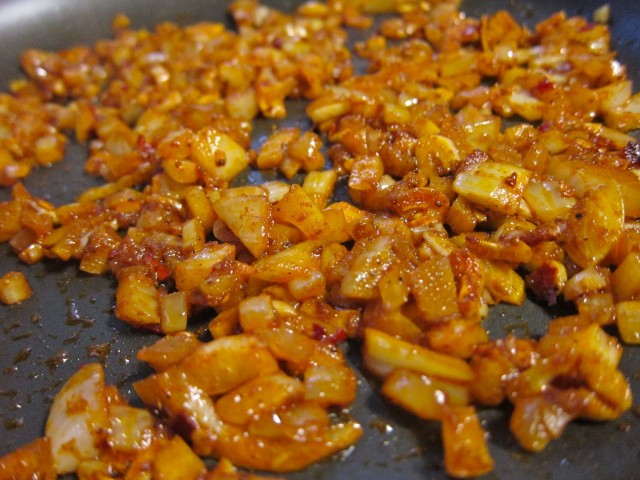 When the onions are soft, add a huge can of whole peeled tomatoes and mash em' up.
While the sauce was warming up, I got some bread ready to toast. I drizzled on olive oil and then seasoned it with salt and pepper before placing under the broiler.
Last step is to poach the eggs. You can crack them right into the sauce and just let them go until they're as done as you like. I kept them a little runny cuz that's how we like em'.
The original recipe calls for feta sprinkled on top, but I chose to use goat cheese and a handful of peppery arugula.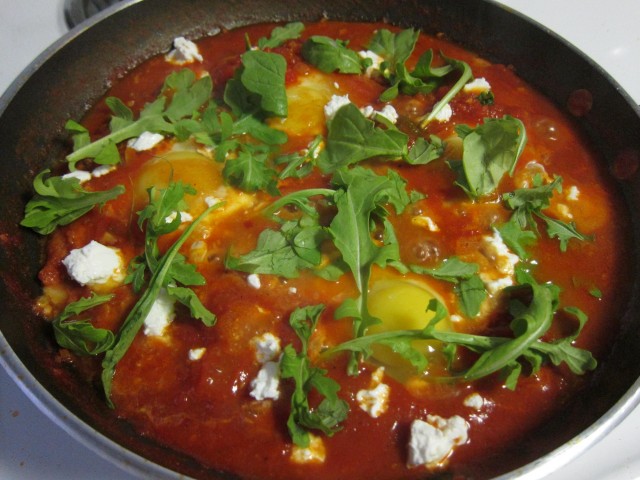 Use the toasted bread to scoop it up!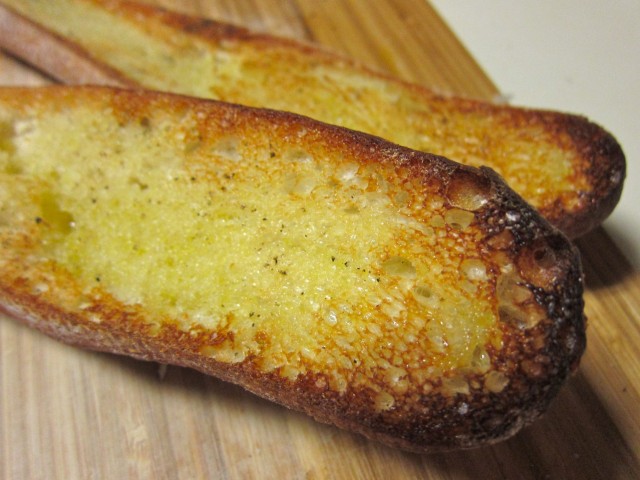 Shakshuka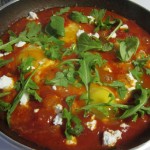 A north African dish of eggs poached in a spicy tomato sauce with crusty bread for dipping.
Cook Time: 30 minutes
Total Time: 30 minutes
Ingredients
4 to 6

eggs

1 28oz. can

whole peeled tomatoes

5 cloves of

garlic (minced)

half an

onion (diced)

1 tbsp.

paprika

1 tsp.

red pepper flake

1 tsp.

cumin

1/2 tsp.

ground coriander

salt and pepper

to taste

top with

goat cheese and arugula

bread

for dipping
Cooking Directions
Toast spices in olive oil. Add in onion and garlic and allow to soften.
Add canned tomatoes and mash into sauce. Add salt and pepper to taste. Heat through.
Crack eggs into sauce and allow to poach to desired doneness, at least 5 minutes.
Top with crumbled goat cheese and arugula.
Serve with toasted bread for dipping.
Protip: Let the shakshuka cool off a bit before eating. Jeff and I both burnt our hands on runny molten-hot tomato lava. It was totally worth it though, this recipe is delicious!
Who knew I could cook North African food?
What's your favorite "ethnic" dish?