I've started lifting weights again now that Jeff and I finally bought a small set of adjustable weights for the house. I've noticed that now that my body is constantly breaking down and rebuilding muscle that I am craving protein much more, which makes sense, but has led to some really unusual dinners lately.
I left the farmer's market the other day with 4 huge short ribs, something I haven't bought in over a year. I got home and suddenly thought to myself, "How did I talk myself into buying all this meat?! What am I gonna do with all of it?!" As you may know, Jeff and I are not vegetarians, but meat is never a requirement and is rarely the focus of the meals I make. So to come home with several pounds of beef ribs as an impulse buy kinda made me chuckle at myself a little.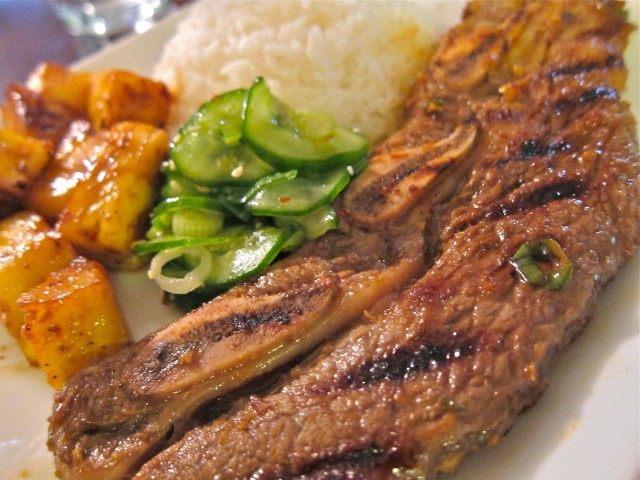 Well, I had them, might as well make them awesome right?
I started making a flavorful marinade by heating up some garlic, ginger, scallions, and red pepper flake in sesame oil to release their flavors.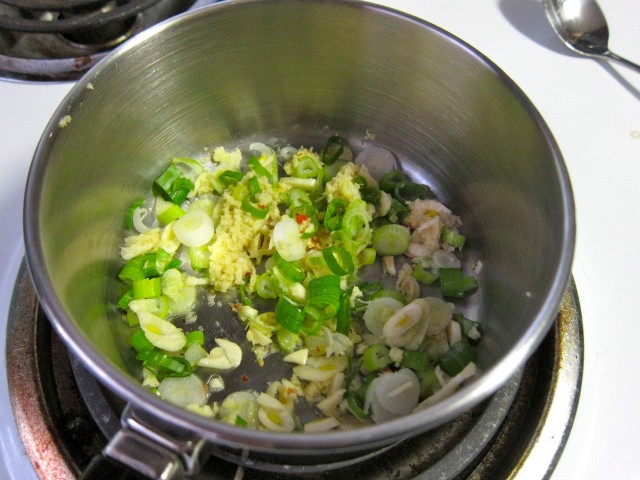 Then I added soy sauce, rice vinegar, mirin, and lemon juice. That got poured over the short ribs and left to marinate for about an hour.
I got a grill pan searing hot and sizzled the ribs on it, about 5 minutes on each side.
When those came off, I added some cubed pineapple to the grill pan and drizzled the leftover marinade over them. When the pineapple was nice and hot, it was time to eat!
I served it with jasmine rice and some of the spicy cucumber quick pickles that I made the other day.
This cut of meat has a lot of fat on it and several bones to work around, so there are really only a few good bites of meat on it. That's why I bought 4 for just the 2 of us and it really was just the right amount. We ended up having about one and a half each and then Jeff took the last one to lunch the next day.
Garlic and ginger short ribs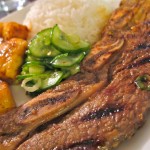 Short ribs coated in a flavorful asian marinade.
Prep Time: 1 hour, 10 minutes
Cook Time: 10 minutes
Total Time: 1 hour, 20 minutes
Yield: 2 to 4 servings
Ingredients
4 medium-sized

flanken-cut short ribs

3 large

cloves of garlic (sliced)

a 1 inch piece of

ginger (grated)

2

scallions (sliced)

a pinch of

red pepper flake

2 tbsp.

mirin

1 tbsp.

rice vinegar

1/4 cup

soy sauce

the juice of

1 lemon

sesame oil
Cooking Directions
In a small pot heat garlic, ginger, scallions, and red pepper flake with sesame oil until fragrant.
Add liquid ingredients and allow to heat up but not boil.
Pour over short ribs in a sealable container, shake to coat and leave to marinate for 1 hour.
Grill short ribs on a very hot grill pan coated in sesame oil for about 5 minutes on each side.
This was a delicious combination of flavors. The ribs were so garlicky and flavorful, and the pineapple was bursting with sweetness.
Do you like fruit in savory dishes?