I've been entertaining the idea of this recipe in my head for ages. Long before berry season I dreamed of these little bite-sized treats and couldn't wait for my favorite fruit to ripen so that I could make these over and over throughout the warmer months. Strawberries have been tasting sweet and ripe for a few weeks now, but for some reason I've had a really hard time getting myself to finally make this recipe that I so longed for all winter.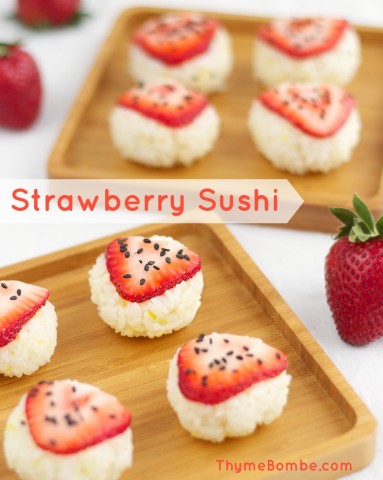 What it took was a visit from a far-flung friend. Hannah of Wayfaring Chocolate has been staying with me for the Atlanta leg of an epic travel adventure/ global slumber party that she's about 10 months into now. It has been so much fun to spend time with someone that before only existed in pictures and writing. Blogging is so wonderful in that it has allowed me to create many such friendships with kindred spirits I might never have had the chance to meet in "real life" otherwise. And now that she's in my house, I must look productive! Cook all the things!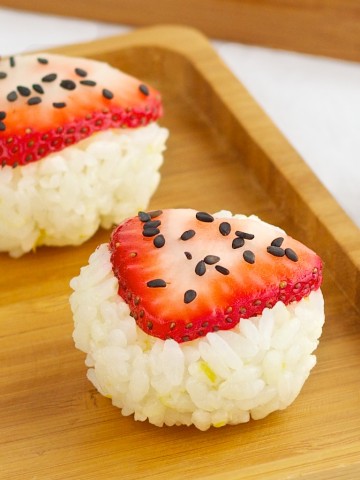 We both enjoyed sampling these sweet little strawberry sushi. The rice is just lightly sweetened with sugar and zinged up with the subtle tartness of fresh lemon juice and zest. The texture of the thinly sliced strawberry on top is strangely but appropriately reminiscent of fresh sushi-grade fish – firm but giving way to softness and a burst of bright flavor.
Strawberry sushi
A simple to make sushi featuring fresh strawberries pressed into balls of lightly sweetened sushi rice.
Prep Time: 15 minutes
Cook Time: 25 minutes
Total Time: 40 minutes
Yield: Makes 12 to 14
Ingredients
1/2 cup

short grain rice (sushi rice)

the zest of one

lemon

1 tsp.

lemon juice

1 tsp.

sugar

5 or 6

medium-sized strawberries

black sesame seeds for garnish

if desired
Cooking Directions
Prepare the rice: Rinse rice under cool water until water runs clear. If using a rice cooker, follow the instructions for making one cup of rice using the provided measuring cup.
For stovetop rice: Rinse 1/2 cup of rice and bring to a boil with 3/4 cup of water in a medium sauce pot. As soon as water boils, turn heat down to lowest setting and place the lid on the pot. Allow rice to cook on lowest setting for 10 minutes, then turn off the heat and allow to continue steaming for an additional 10 minutes. Do not remove lid at any time during cooking or steaming.
Transfer rice to a dish and fluff it with a rice paddle or spatula using cutting and folding motions.
Add zest, juice, and sugar and incorporate using the same cutting and folding motions.
Slice strawberries into thin slices. Place a slice in the center of a sheet of plastic wrap and top with a small ball of rice. It helps to dip your hands in water before handling the rice to keep it from sticking as much.
Pull the plastic wrap up around the ball of rice and twist to form a tightly packed ball. Repeat until all the rice is used.
Brush the top of each strawberry with a lemon wedge and sprinkle over sesame seeds to garnish.
These sushi are extremely easy to make. They are made in the temari-zushi style where all the ingredients are compacted into a little ball shape that is meant to resemble an object of Japanese folk art. A temari is a toy ball covered in ornate patterns of colorful thread and sometimes scraps of luxurious kimono fabric. These days, this intricately crafted object is much more art than toy – a collectible piece made by talented artisans while the toy versions are mass produced out of less expensive materials.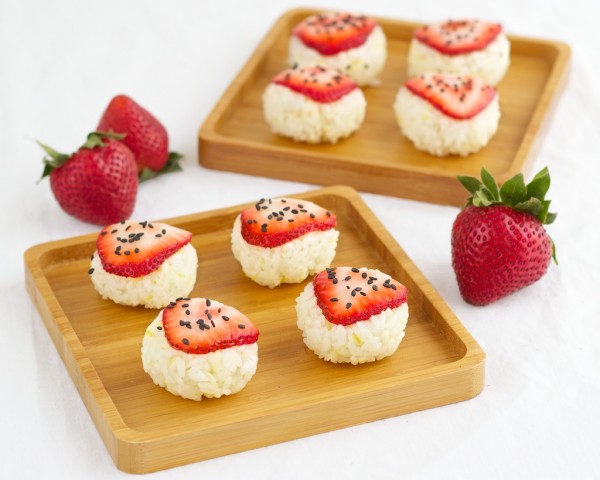 I use the plastic wrap method to make them. Just lay down a square of plastic wrap, place a slice of strawberry (or whatever topping you're in the mood for) in the center of the plastic, add a small handful of rice, and then twist the plastic wrap up around it to compact the whole thing together. You can use as much or as little rice as you prefer. It helps to keep them bite-sized so that you can pop the whole thing in your mouth in one bite and not have to worry about them falling apart upon biting into them. If you make it too big, just pinch off a bit of rice and twist the temari back together again.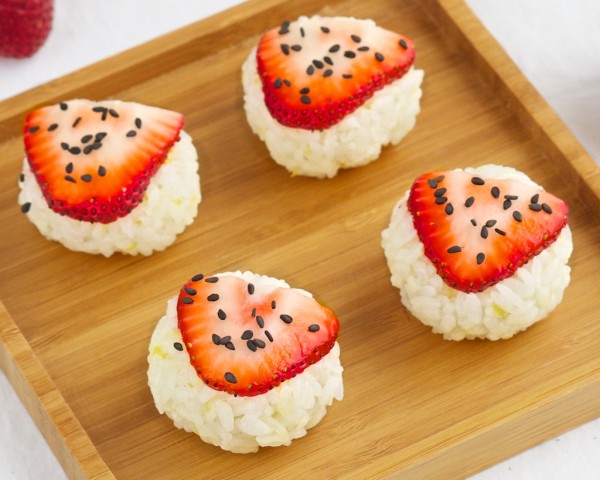 Hannah and I both loved these, and I was inspired to try out another long-dreamed-about recipe with her yesterday which also turned out delicious but needs a bit of tweaking before I can debut it here. Her visit is coming to an end soon (sadness!) but we've managed to cram in tons of great food memories that I'll share with you soon too. Making food with friends is so much more fun!
Have you ever made sushi at home?
What flavor dessert sushi would you make?