I've had two asian pears sitting in my fruit bowl for over a month. Every week they would get softer and softer as I tossed in another load of avocados or bananas that caused them to ripen at great speed. It was finally now or never, use the pears or toss them.
I decided to use them up in a coffeecake. I have been craving coffeecake. It's the crumbs I was after, really. Just give me a big bowl of coffeecake crumbs and a spoon, I'll entertain myself from there.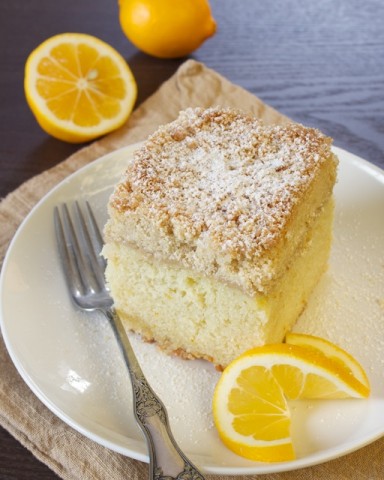 Well, I absolutely wrecked my kitchen making an asian pear coffeecake, only for it to turn out not so great. The flavor of the cake (and the crumbs!) was spectacular, but the pears were nigh undetectable and they were so watery that the center of the cake refused to finish cooking no matter how long I left the thing in the oven. It was time to start over.
"So pears are out, what else have I got?" Lemons, now there's an idea! Oooo! And ginger!
And so it was born. And WOW is it good.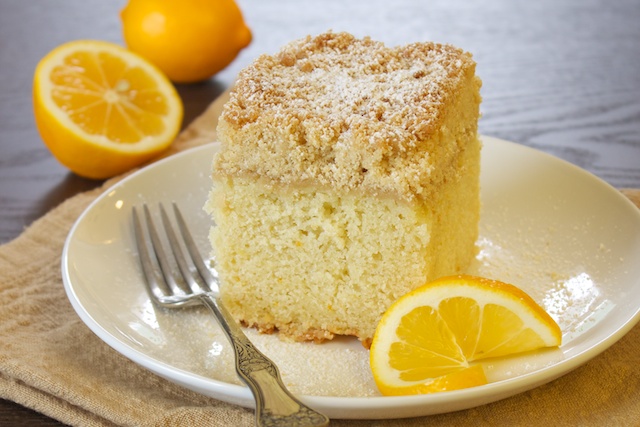 The cake is dense and buttery. The flavor of the lemons and ginger is subtle, more aromatic, less tart and spicy. The crumbs are crisp and golden and are a delightful texture contrast against the soft cake. I dusted mine with a pretty snowfall of powdered sugar, but they are just dandy without.
This is the kind of cake you expect to eat with a rich cup of coffee (it is a coffeecake after all,) but the gentle summery flavors would pair just as well with a light cup of tea, even a tall glass of iced tea with a squeeze of lemon. It's a great breakfast pastry for segueing into the warmer months.
Lemon ginger coffeecake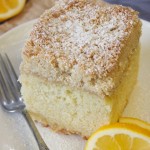 This buttery rich coffeecake is lightly scented with the aromas of fresh ginger and zesty lemon. A perfect pastry for warm weather breakfasts or afternoon tea.
Prep Time: 20 minutes
Cook Time: 1 hour, 25 minutes
Total Time: 1 hour, 45 minutes
Yield: Serves 9 to 12
Ingredients
For the

crumb topping:

1 and 1/4 cups

all-purpose flour

1/2 cup

brown sugar

1/4 cup

white sugar

2 tsp.

dry ground ginger

1/4 tsp.

salt

1 stick

melted unsalted butter

***

***

For the

cake:

2 and 1/2 cups

all-purpose flour

1 tsp.

baking soda

3/4 tsp.

baking powder

1/2 tsp.

salt

1 stick

unsalted butter (softened)

2 large

eggs

1 and 1/4 cups

plain unsweetened yogurt

1 heaping tbsp.

freshly grated ginger

2 tbsp.

lemon juice

the zest of

one lemon
Cooking Directions
Start with the crumb topping: Mix all ingredients except for the butter together in a stand mixer on low speed, then pour in the melted butter and mix until fully incorporated. Set aside for later.
For the cake: Cream together softened butter and sugar until light in color, then add eggs one at a time, then yogurt mixed on low speed.
Scrape down the sides with a spatula and add the lemon juice, zest, and grated ginger. Mix through.
In a separate bowl, combine all dry ingredients and whisk to combine. Add to wet in three stages, mixing in between each.
Pour batter into a buttered and floured 9-inch square baking dish. Dish should be deep.
Top with crumbs and bake at 350F degrees for 1 hour. Cover the top loosely with a sheet of aluminum foil with a few holes poked in it and continue baking for an additional 20 to 25 minutes, this will allow the center of the cake to finish cooking without the crumbs burning.
Allow to cool completely in the baking dish before serving. Store covered in plastic wrap.
I don't know about you, but I like a coffeecake that is piled high with crumbs. The crumbs are the whole point, in my opinion. So if you start making this recipe and it looks like you've made an absolutely absurd amount of crumbs, don't second-guess it. Just go with it. Pile all of them on and thank me later.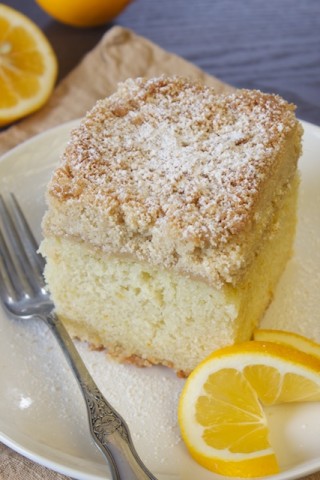 Craving satisfied.
Do you love lemon desserts as much as I do?