I am so bad about remembering to take photos of the prep work that goes into making a dish.  You'll just have to trust me when I say that it wouldn't have been that interesting anyway.  This recipe is so easy that I don't even really consider it cooking, it's more of…assembly.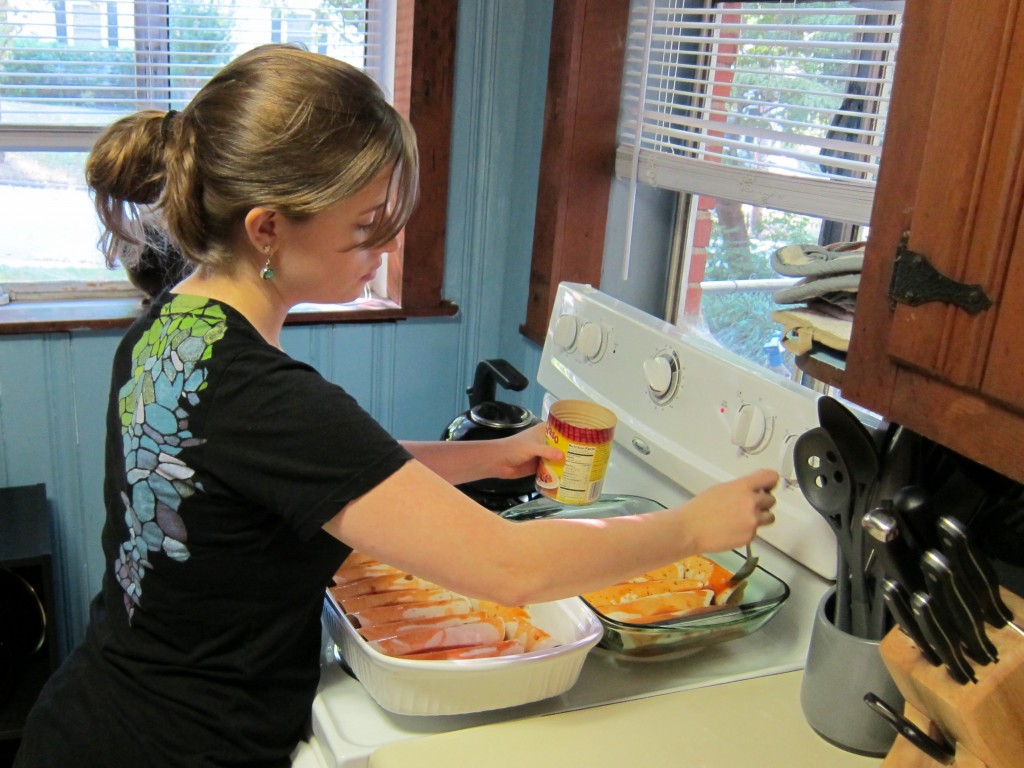 What would have proceded these finished dishes full of ready-for-baking enchiladas was really just a bowl full of mashed beans, a stack of tortillas, and a jar of pickled jalapenos.
Assemble, pour on enchilada sauce, sprinkle on cheese, and bake til bubbly.  It really is that simple.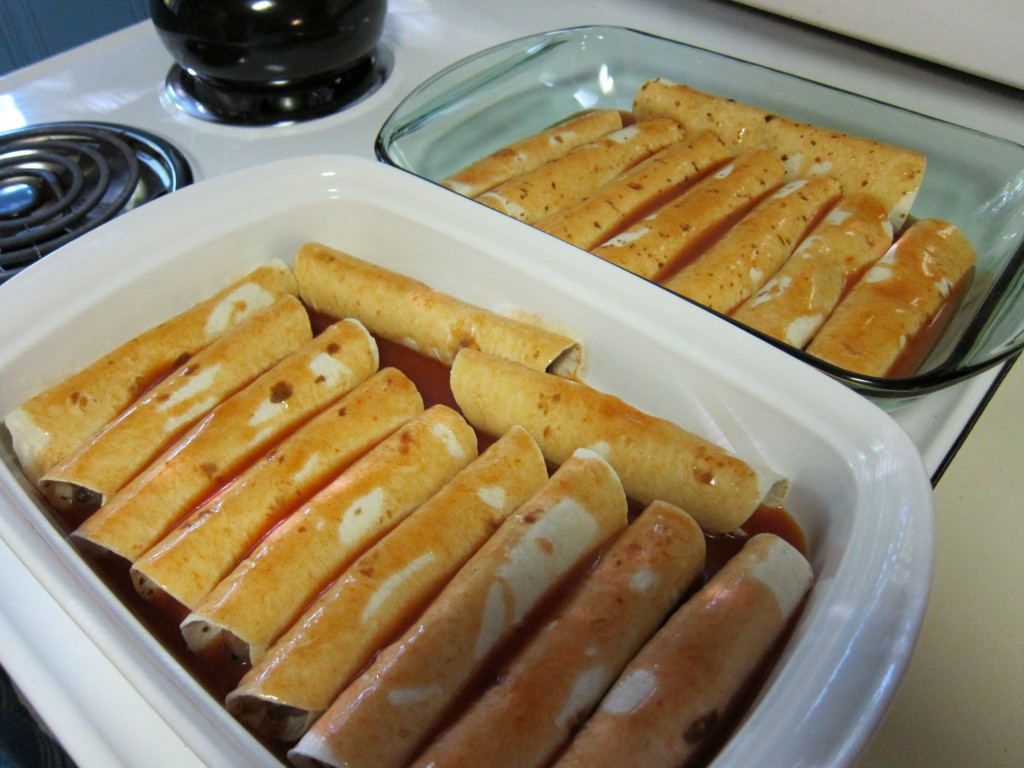 Our cat Liam is an infamous cheese-nabber, so I was surprised to see him begin to lick his lips even before the cheese made an appearance!…
I left a few of them cheese-less for myself…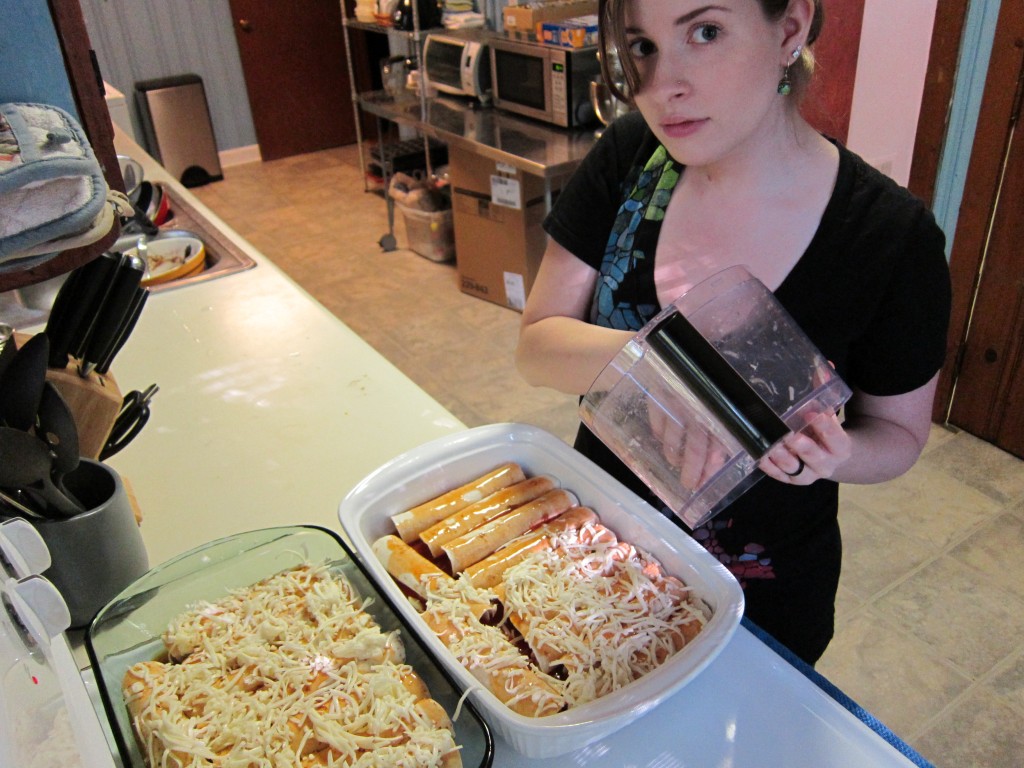 Got a little cheese under my nail though, better take care of that…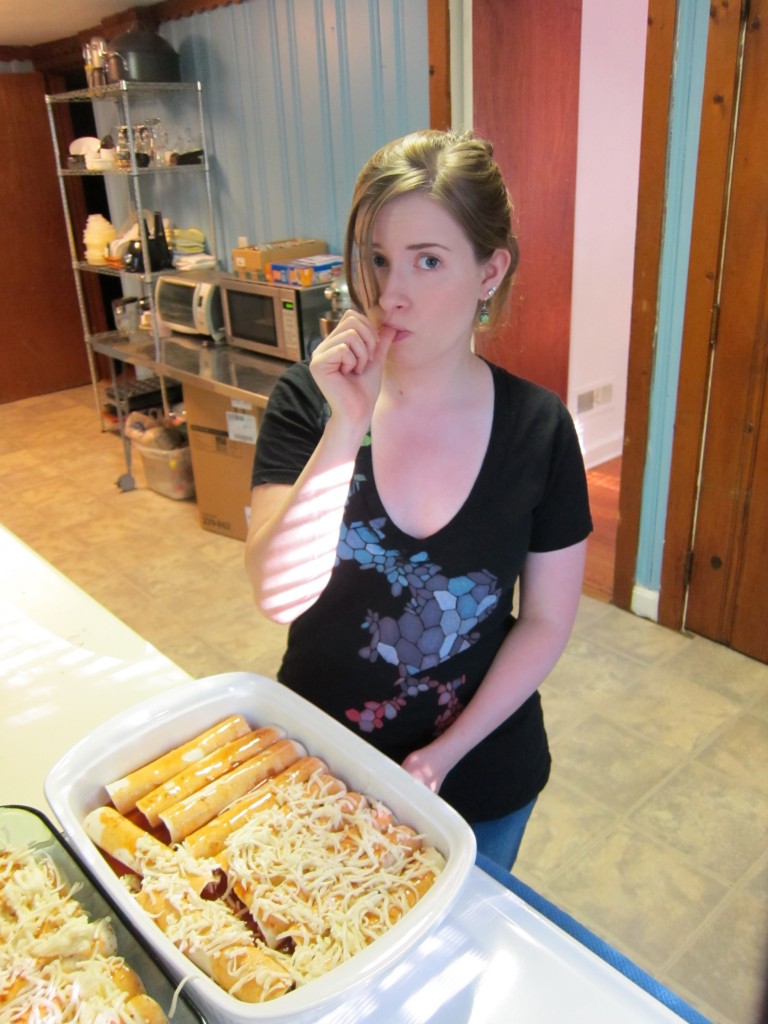 And here's the finished product…enough enchiladas to feed us for weeks.  I made so many so that Jeff could take some to work for lunches and so that I could freeze a few portions for some future night when I just couldn't stand the thought of cooking something.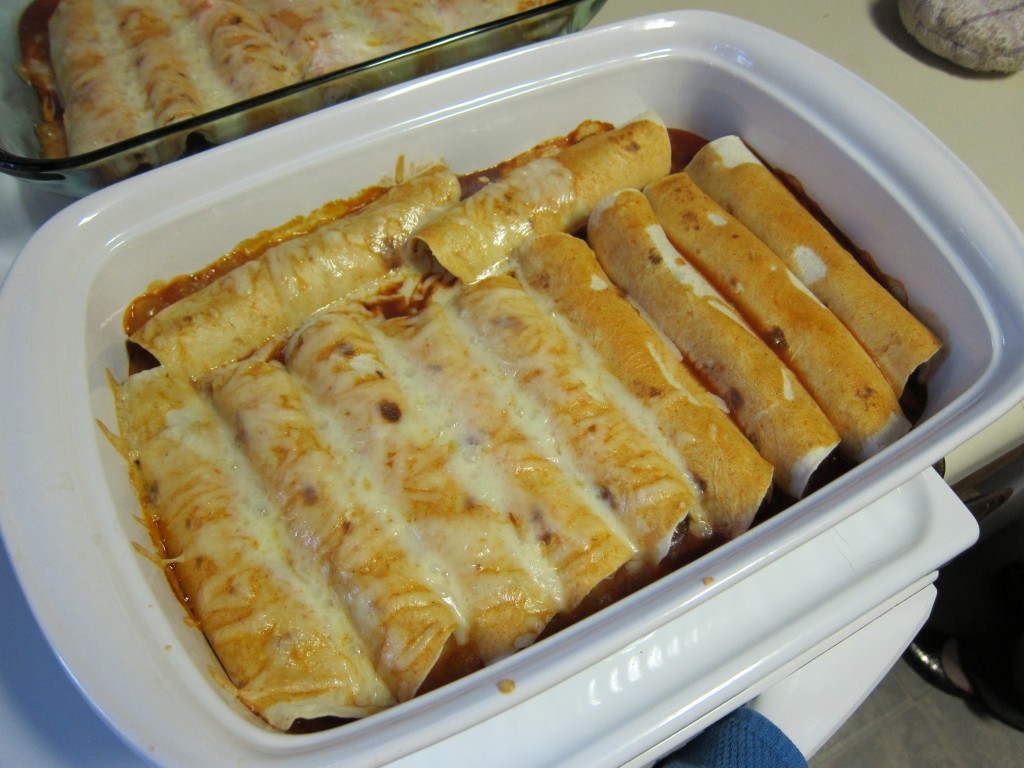 This is Jeffs' cheesy plate, with avocado and extra sour cream, cuz he could seriously eat the stuff straight out of the tub.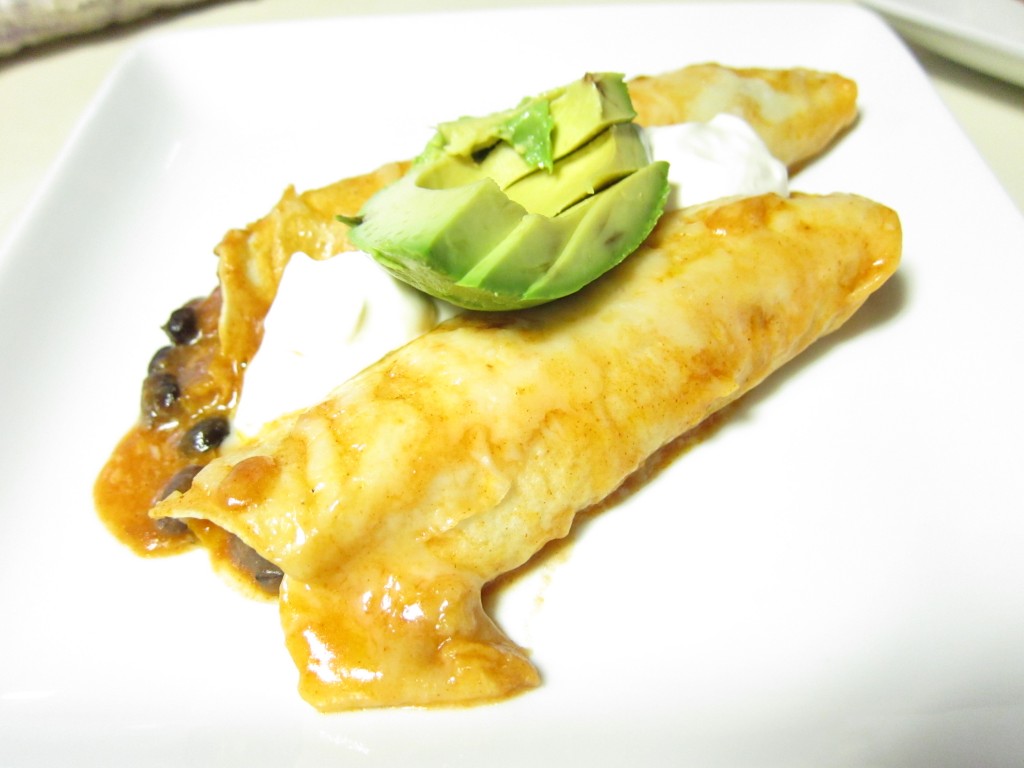 And this is Lucas when the realization hits him that he's not getting any…
After dinner we were both in the mood for an adult beverage, so we cracked open a beer to share…
We both really enjoy Hitachinos' line of beers.  This one, Nipponia, was extremely flavorful for being so light in color- really reminded me of an Octoberfest style, which is exactly what I'm in the mood for these days.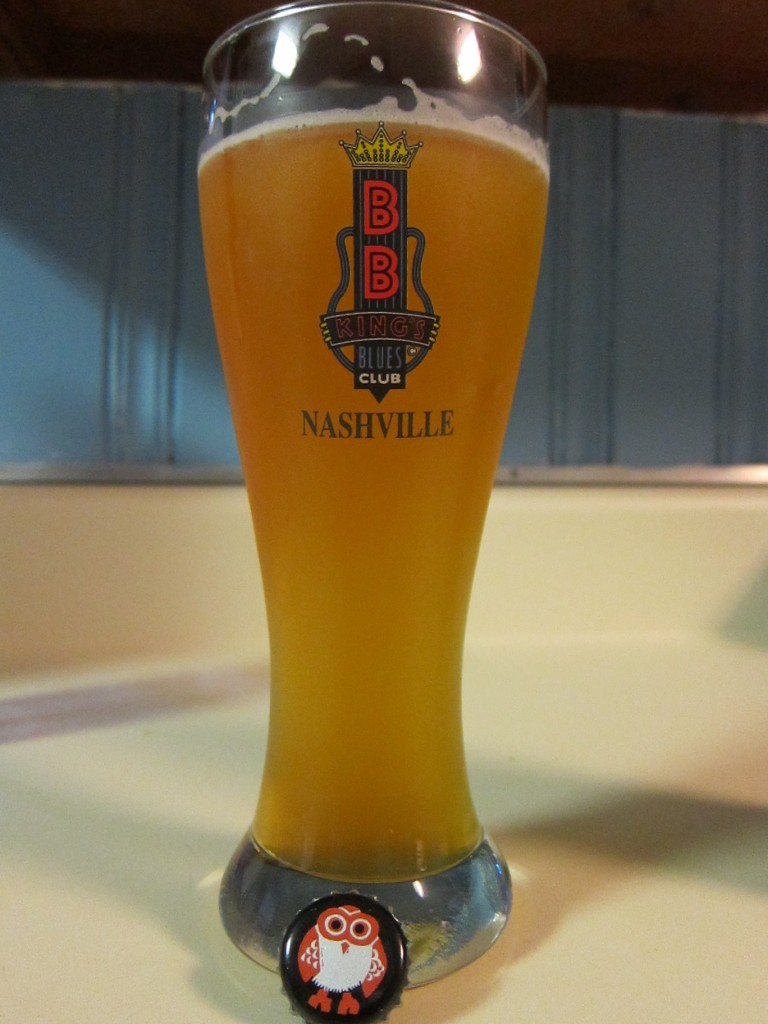 So how does beer fit into a healthy lifestyle, you ask?  Well, for one thing, we don't drink every day.  We also don't overindulge like we used to years ago.  Also, I feel like sometimes the guilt produced by consuming "less healthful" things can be more destructive than the food itself.
Jeff and I get a lot of pleasure out of patroning bars, learning about beer, sampling beer, and collecting bottles for special occasions-very much in the same way that many people do with wine.  We don't just guzzle beer to get a buzz, we want to savor and enjoy each glass and learn something about the brewery or style in the process.
I've read before that one theory for why many of the French are able to consume a high fat diet and remain at a normal body weight is partly due to the fact that they simply don't feel guilty about the pleasurable foods they consume.  I'm sure there are many other factors, but it is well established that stress can contribute to weight gain.
So, I do consume a mostly healthy diet, but when I do eat or drink something that isn't as healthful, I try to allow myself to truly enjoy that rare pleasure.  I don't want to ruin the joy of sipping on a dark, sticky, Belgian beer with anxiety and guilt.
I also don't want to just put off the guilt until later- by restricting my diet the next day.  If these indulgences really are consumed only rarely, then there is no reason to have to make up for them later-and that can be a dangerous habit to get into anyway.
Are there any "less healthful" foods that you just can't live without? How do you deal with any negative feelings you may have when you consume these foods, or are you able to just let it go?