Ok, so now that I've had a day to spend wallowing in my victory recovering, I can fill you in on my awesome blogger meet-up that I went to on Friday!
I met up with the girls at Eclipse di Luna, a Spanish tapas restaurant in Dunwoody.
From left to right we have: Emily, Lee, Kelly, Tina, and myself.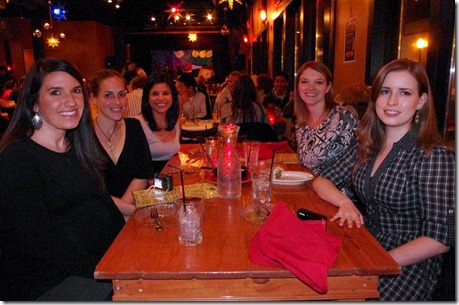 All the pictures from that night are Tina's, you can check out her own re-cap here.  The ones that I took turned out pretty awful from the low lighting in the restaurant.  I believe they call that "ambiance."
No matter, I nearly forgot to take photos at all with how much fun we were having gabbing about blogging, our relationships, Tina and Em's imminent due dates, and Lee and I's races the next morning.  While I was running my 5K, Lee was rocking out a half marathon! I wonder if some day I'll ever feel like that distance is within my abilities, who knows?
Anyway, you wanna know what we ate, right?
There were so many delicious options to choose from!  While we didn't get a picture of everything we ordered for the table, here's a few that we did catch before they were scarfed down:
We also had tuna tartare, hummus with veggies, a crusty bread smothered in tomato-garlic butter, and a caprese-like tomato salad.
Everything was super tasty and it was easy to pass around and share the smaller plates.
All and all a great evening with a wonderful group of girls.  I think we all agreed that this type of thing should occur more often.
Thanks ladies for a fun night!