Split pea soup is one of those divisive foods for many people, you either love it or you think it looks and tastes like baby food.  I happen to love the stuff.  My husband, on the other hand, is totally grossed out by it.
More for me! 😀
I like to make mine extra thick like a spread so that I can eat it on toast like this…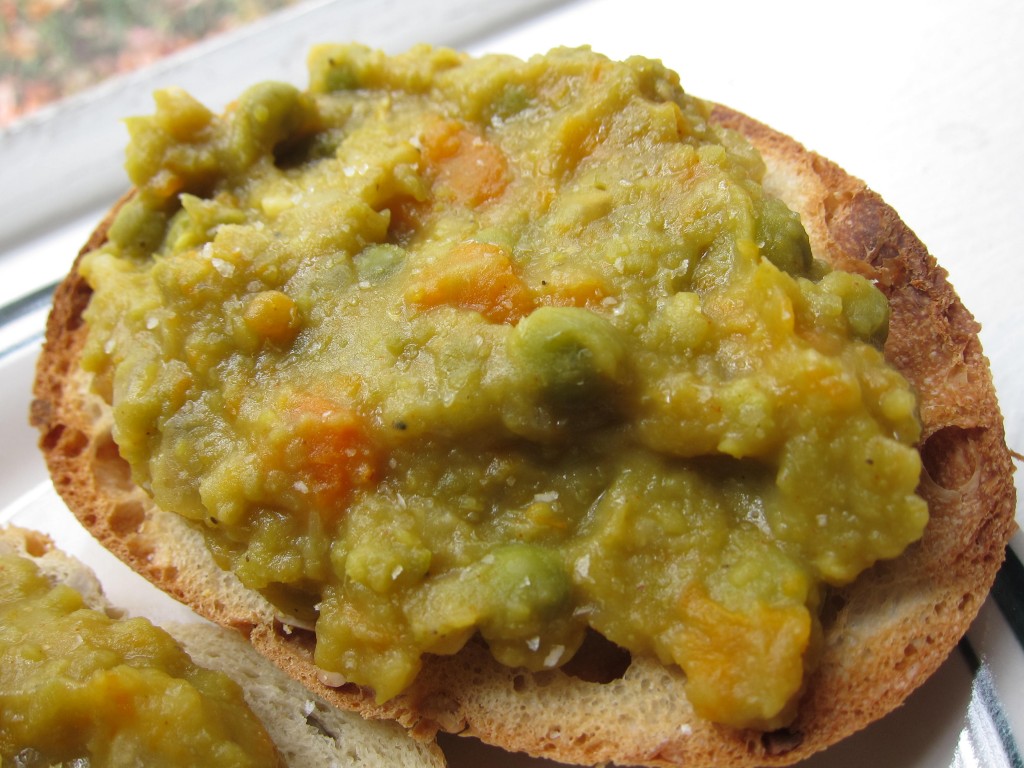 And when I want to eat it as a soup, I just add a little water to my bowl and microwave it, adding more water until it's the desired consistency.
Two foods for the work of one! Amazing!
Here's the easy peasy recipe:
1/2 lb. dried green split peas (1 and 1/2 cups?)
6 cups water or vegetable stock
1 cup or so frozen peas
1 cup or so frozen carrots
4 cloves of garlic, minced
half an onion, diced
2 tbsp. salt
1 tsp. black pepper
1 tbsp. paprika
(BTW, I never measure any of that stuff when I make it.  I promise that you can ball-park these quantities and have it still come out excellent; the only thing that can screw it up is way too much salt or way too little liquid.  I'm gonna get you to stop measuring when you cook if it's the last thing I do!)
All of that gets thrown into the slow-cooker and stirred up.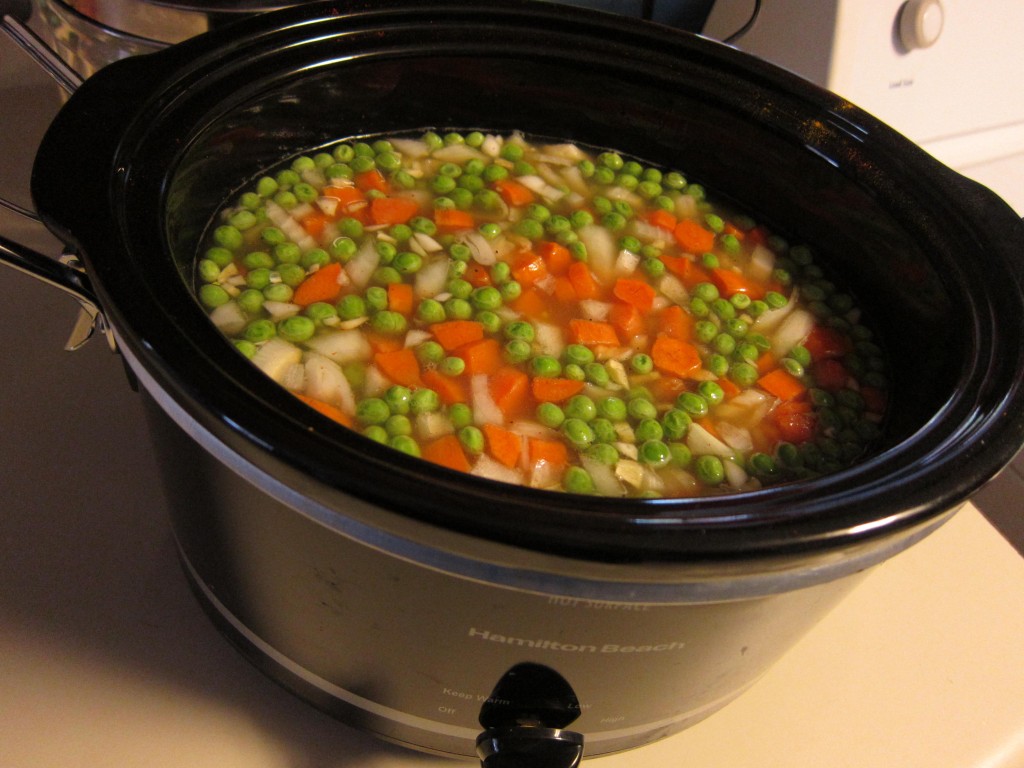 The split peas will tend to sink to the bottom, that's ok…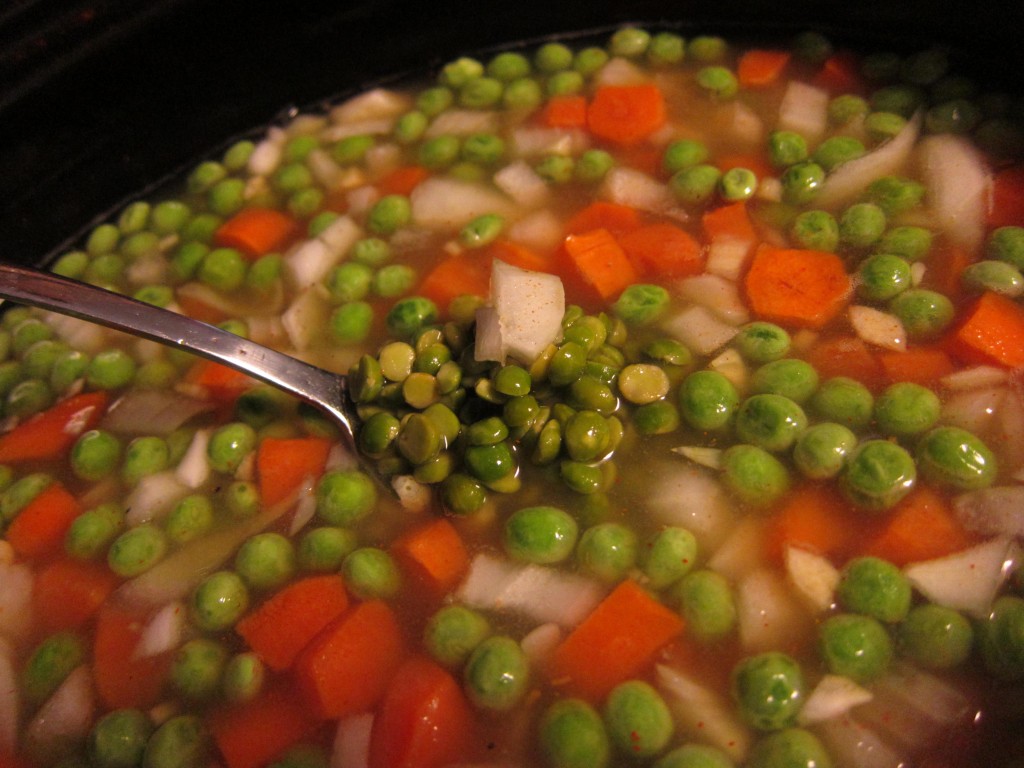 Cover it and turn it on high for 6 hours or low for 8 hours. I like to stir it once or twice throughout just to make sure that everything stays incorporated.
When it's done it'll look like this…
If I'm not gonna eat it right away, I take it off the heating base and let it cool with the lid on overnight on the countertop.
Simple tasty lunch!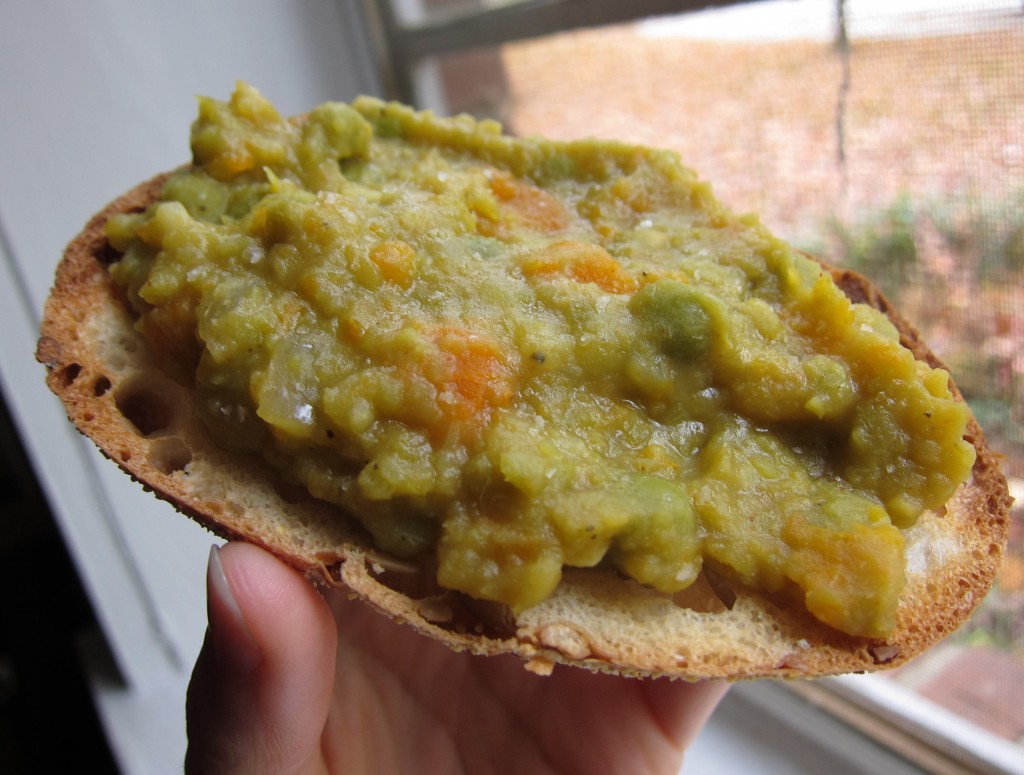 And I get a whole pot of this all to myself! Mwaahaahaa!
Slow-cooker split pea soup and spread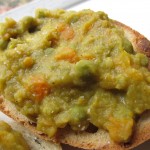 A versatile split pea soup recipe made with the ease of a slow cooker.
Prep Time: 10 minutes
Cook Time: 6 hours
Total Time: 6 hours, 10 minutes
Yield: About 6 cups
Ingredients
1/2 lb. dried green split peas

(about 1 and 1/2 cups)

6 cups

water or vegetable stock

1 cup or so

frozen peas

1 cup or so

frozen carrots

4 cloves of

garlic (minced)

half an onion

(diced)

2 tbsp.

salt

1 tsp.

black pepper

1 tbsp.

paprika
Cooking Directions
Put everything in the slow cooker and stir.
Cook on high for 6 hours or on low for 8.
Serve as a spread on toast or dilute with water to desired consistency for soup.