Q: What do vegetarian zombies eat?
A: GRRAAAAAAIIINNNSSSS!!!!
I crack myself up. 😉
Anyway, that's what I wanted this morning too.  I was really in the mood for some kind of hot cereal; oats just weren't going to cut it. This is what I decided on after rummaging through my bulk storage containers…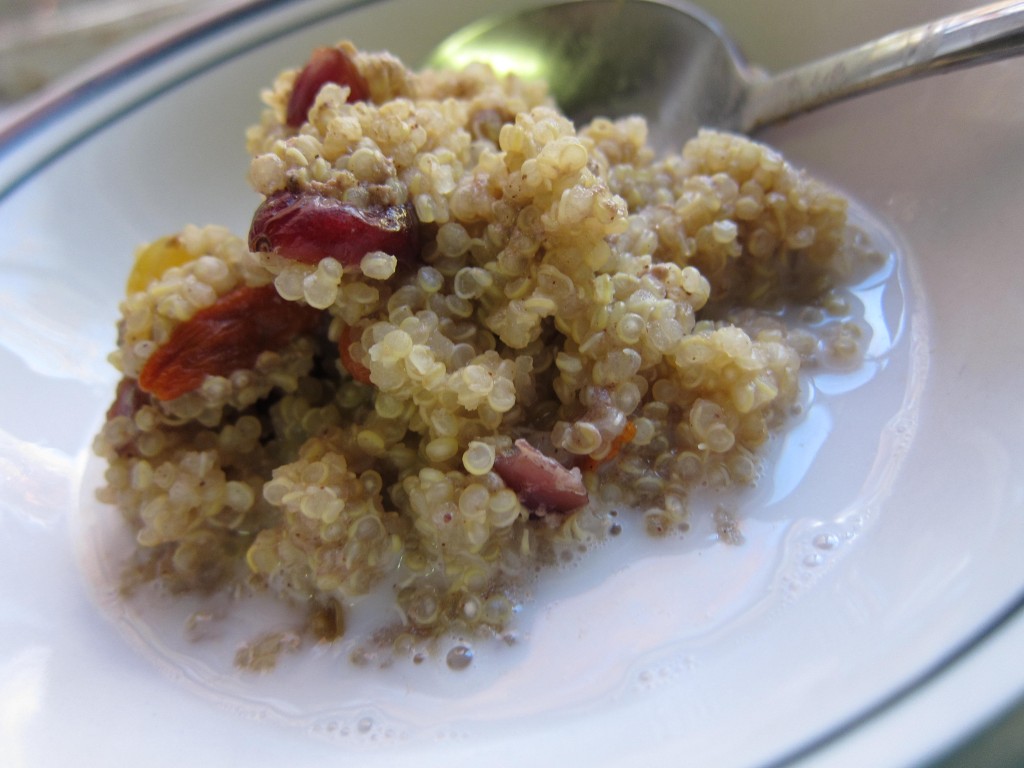 Don't you just love the little tails on cooked quinoa?  I know I do.
It all started with chucking these few things in a pot…
1/2 cup quinoa
1 cup almond milk
sprinkle of cinnamon
1 tbsp. maple syrup
various dried fruits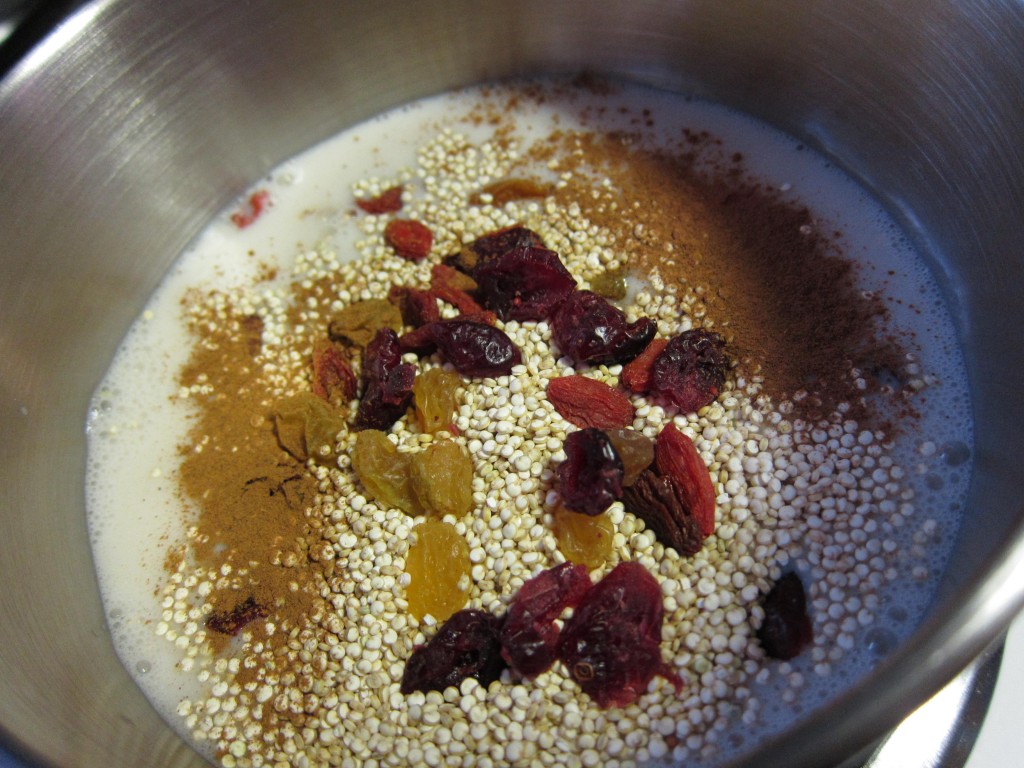 After mixing…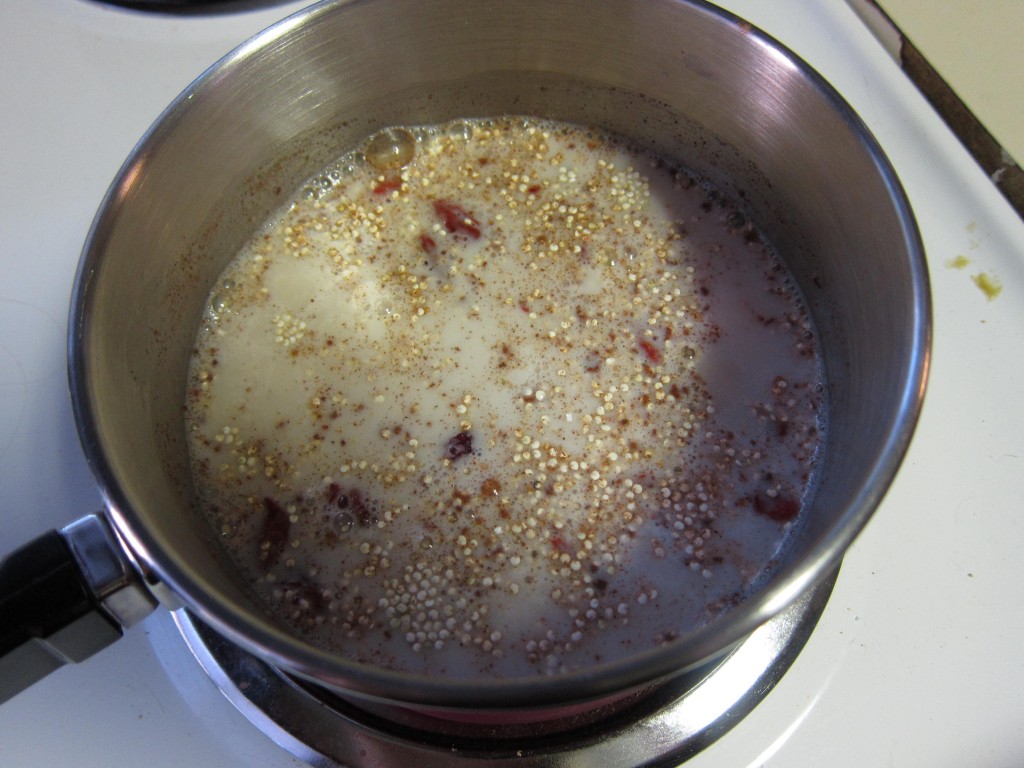 I let it come to a boil uncovered then turned it down to low and put the lid on. It cooked on low for about 15 minutes, then I turned off the heat and let it sit covered for another 10 minutes.
While I was waiting, I attended to the needs of this rather insistant individual…
Did you miss him? He and Liam have been spending most of their time sleeping in a pile due to the colder weather, so he hasn't been in my face as much recently. I had to pick him up and rock him to get him to calm down this morning though. He loves to be held!
By the time Lucas was sufficiently soothed, breakfast was ready!
I poured a little more almond milk in my bowl to make a sauce…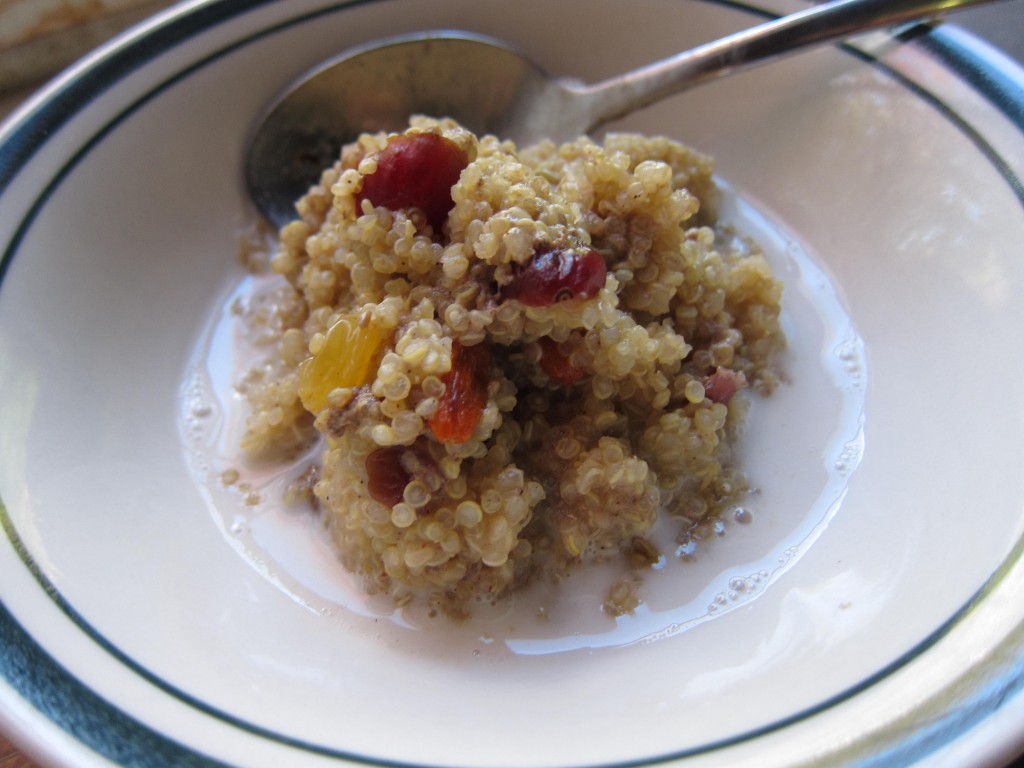 It was sweet and warm and satisfying, just what I needed.
Maple cinnamon breakfast quinoa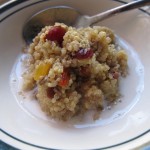 A hot breakfast cereal made from quinoa with the flavors of maple and cinnamon.
Prep Time: 5 minutes
Cook Time: 25 minutes
Total Time: 30 minutes
Yield: About a cup
Ingredients
1/2 cup

quinoa

1 cup

almond milk

1 tbsp.

maple syrup

sprinkle of

cinnamon

as much dried fruit

as desired
Cooking Directions
Add everything to a pot and allow to come up to a boil uncovered.
As soon as it boils, cover and turn the heat down to low.
Cook on low for 15 minutes, then turn off the heat and allow it to sit for another 10 with the lid on.
Serve with a drizzle of almond milk if desired.
Time to finish my tea and get on with enjoying the weekend!