Can you guess which one of these bad boys got roasted and baked into a yummy bread today?
If you guessed the kabocha squash, and not either of those other shady-looking hooligans up there, you win!
Mmmmm, sweet and fluffy bread…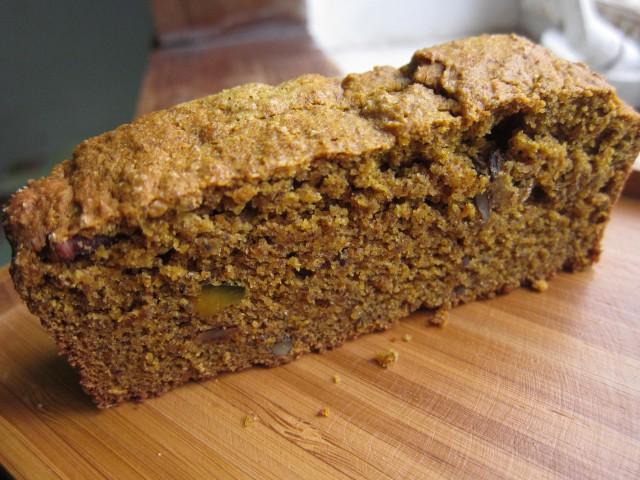 I have been racking my brain for what to do with that kabocha for weeks now. Then I remembered the vegan pumpkin bread that I made a while back and thought, "Hmm…I wonder how that would taste with kabocha instead?"
First, I made kabocha puree with the exact same method I use to make pumpkin puree.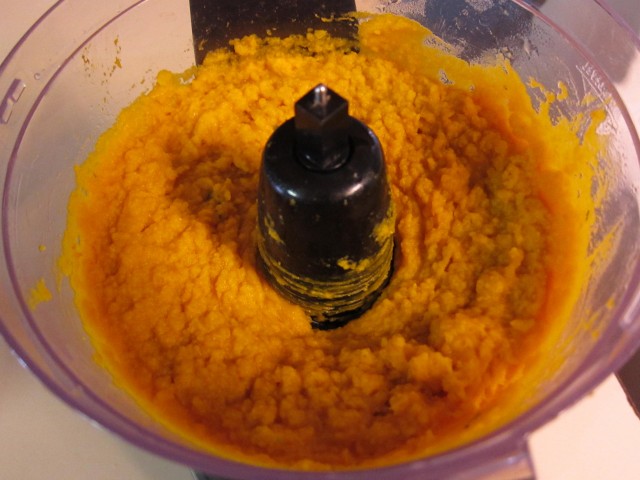 I followed the same recipe as the pumpkin bread, but here are the ingredients again anyway:
1 cup kabocha puree
1/4 cup softened Earth Balance
1/2 cup brown sugar
1/4 cup white sugar
1 cup gluten-free all-purpose flour
1/2 cup flax meal
1 and 1/2 tsp. baking powder
1 tsp. baking soda
1/4 cup almond milk
1/4 tsp. salt
1/2 tsp. nutmeg
1 and 1/2 tsp. cinnamon
Lucas took great interest in the whirring sounds coming from the stand mixer.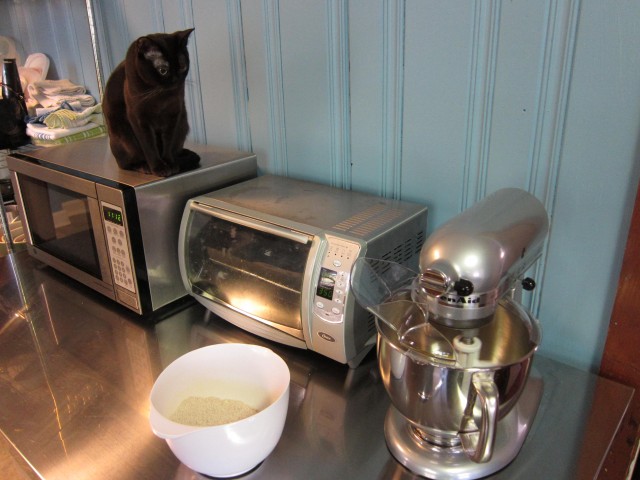 He was very suspicious and glared at it with malice as I added my dry ingredients to the wet.
When the batter was mixed I tossed in a few handfuls of pecan pieces, somewhere between 1/2 cup and 3/4?  I'm not sure how much really. It usually won't affect a recipe to add as much mix-ins as you like.
Those got stirred in by hand…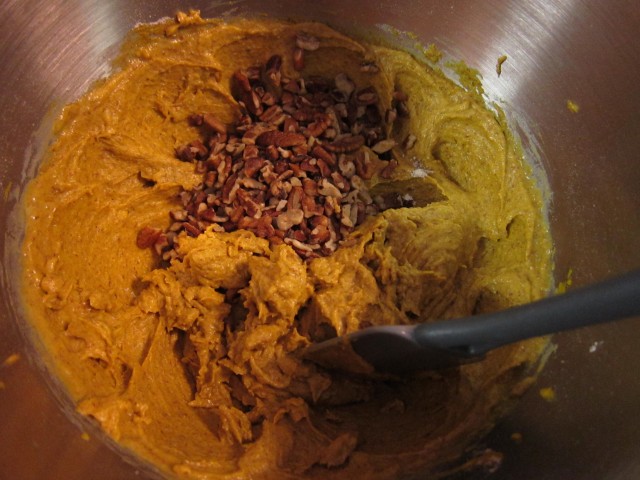 The mix was scooped into a buttered and floured loaf pan.  I sprinkled a bit of sugar on top before baking it at 350 degrees for 45 minutes.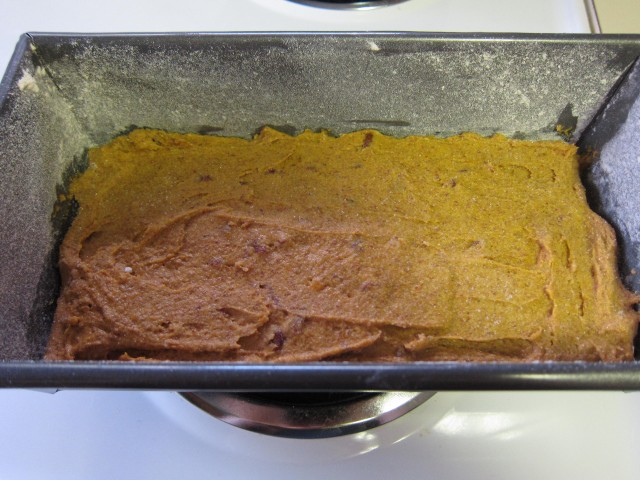 Out came this hot, fluffy pillow…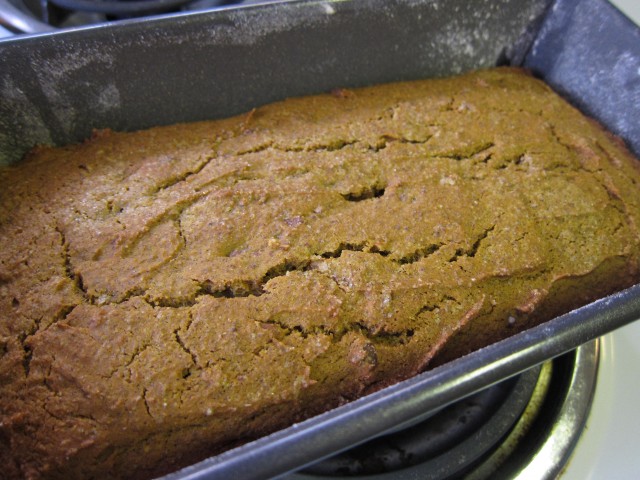 I let it cool to the touch before turning it out onto a cooling rack.  Then, the slicing!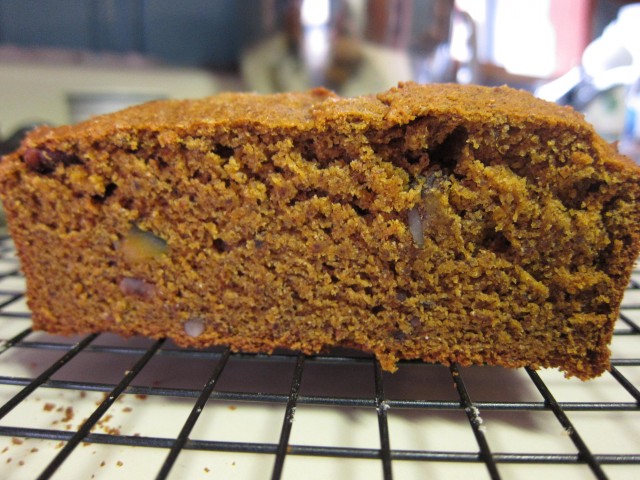 Yum! This one was even better than the pumpkin bread. The texture was fluffier and lighter and the flavor was more earthy and intense.
Kabocha pecan bread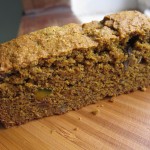 A fluffy autumnal vegan snack bread with flavors of savory kabocha and nutty pecans.
Prep Time: 15 minutes
Yield: 1 loaf
Ingredients
1 cup

kabocha puree

1/4 cup

softened Earth Balance (or butter)

1/2 cup

brown sugar

1/4 cup

white sugar

1 cup

gluten free all purpose flour

1/2 cup

flax meal

1 and 1/2 tsp.

baking powder

1 tsp.

baking soda

1/4 cup

almond milk

1/4 tsp.

salt

1/2 tsp.

nutmeg

1 and 1/2 tsp.

cinnamon

3/4 cup

pecan pieces
Cooking Directions
Cream together butter and sugars with a mixer.
Mix all dry ingredients together and add to the creamed butter and sugar.
Slowly pour in almond milk while mixing on a low setting.
Stir in pecans by hand.
Pour batter into a buttered and floured loaf pan, top with a sprinkle of sugar for added crunch.
Bake at 350 degrees for 45 minutes.
Turn out and let cool on a rack completely before slicing.
Store in refrigerator.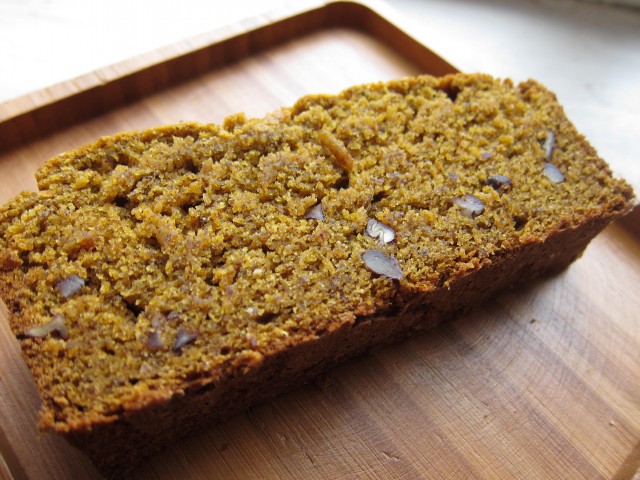 Thinking very seriously about whipping up some of that cinnamon "cream cheese" frosting that I used on my apple bars to top this with!