Wanna know a secret???  Jeff is younger than me! 😀  We're about 9 months apart, so in the winter we get just under 3 months of being the same age. I honestly never even think about it until this time of year rolls around.
For his birthday, we decided to just hit up somewhere really nice for dinner and grab cocktails somewhere after. Here's how it all went down…
Abattoir (French for slaughterhouse) is a restaurant we've been meaning to visit for a long time and have just been waiting for the right occasion. Jeff and I are both interested in offal, the innards and other animal parts that are normally wasted in pursuit of the more standard cuts, and Abattoir happens to specialize in just that.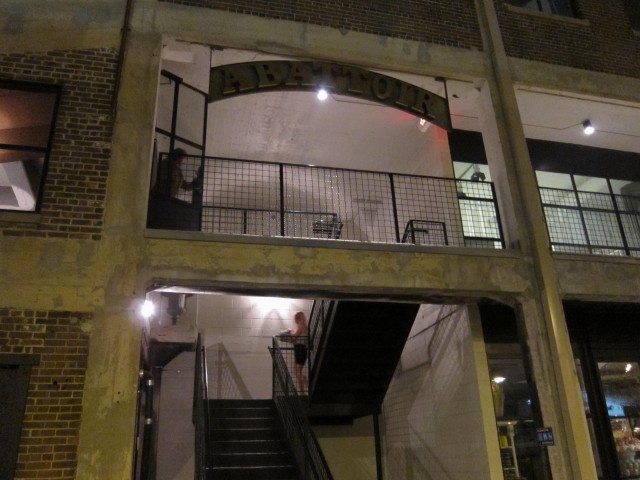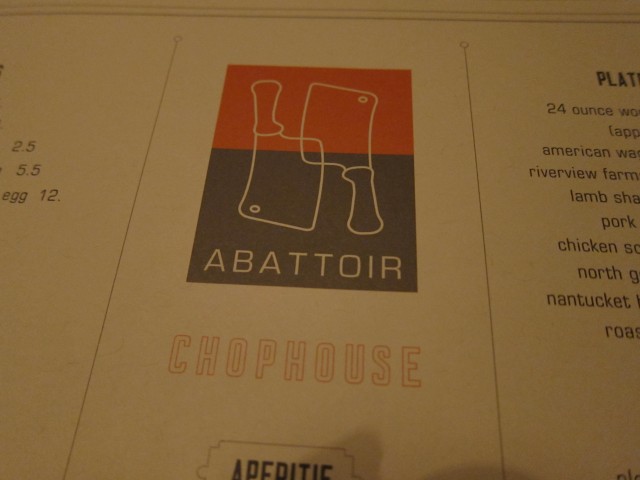 The dining room had a real rustic farmhouse type feel and was very casual and welcoming.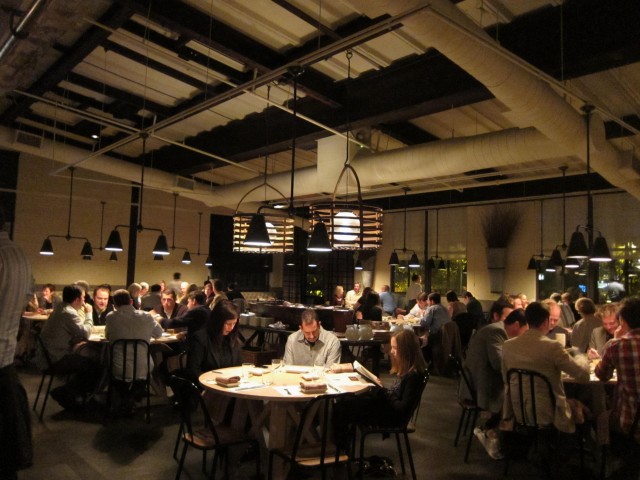 Jeff was super-excited to try everything on the menu!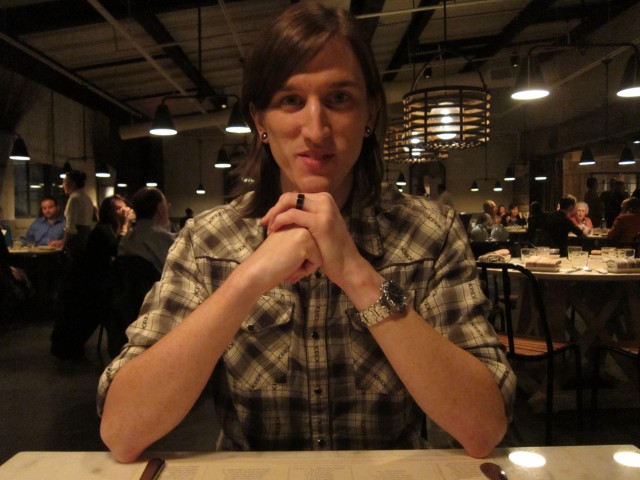 Of course we started the evening by ordering a few adult beverages.  Jeff had a vieux carre cocktail and I opted to try a gluten-free beer called Estrella Duara, just out of curiosity.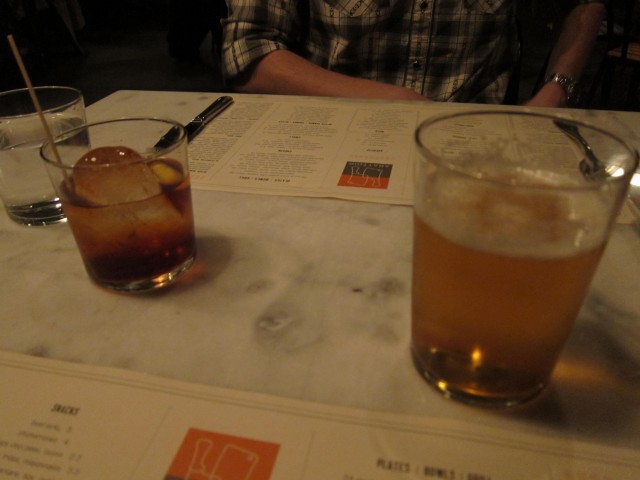 I was really impressed that when we were brought a loaf of bread for the table, the woman bringing it (who I believe was a manager) asked us if we were able to have bread since she noticed I ordered the gluten-free beer. I thought that was really helpful and attentive to the dietary needs of customers, very nice.
We decided to try to order tapas style since there were so many dishes we wanted to try. We were particularly intrigued by the "food in a jar" section of the menu.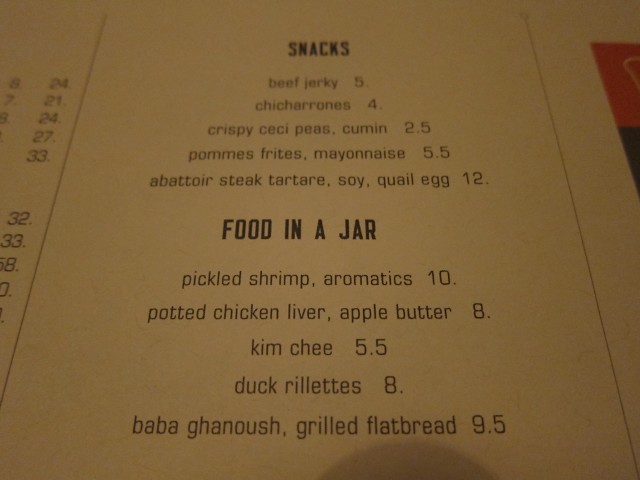 We settled on the duck rillettes, which is essentially a duck pate in a jar that is sealed with fat to preserve it. We spread it on crispy pieces of toast and it was sooooo good.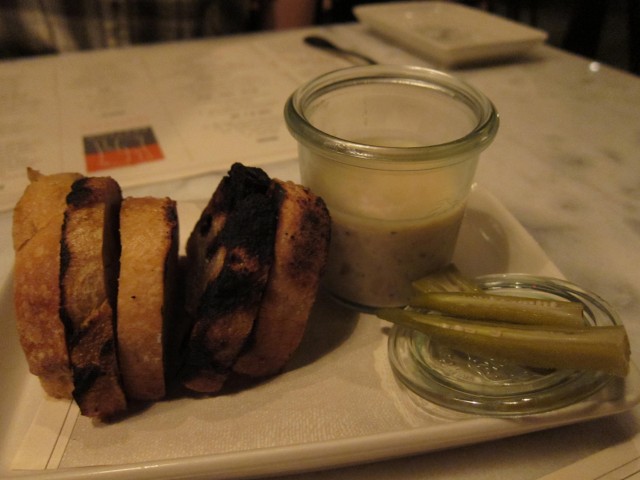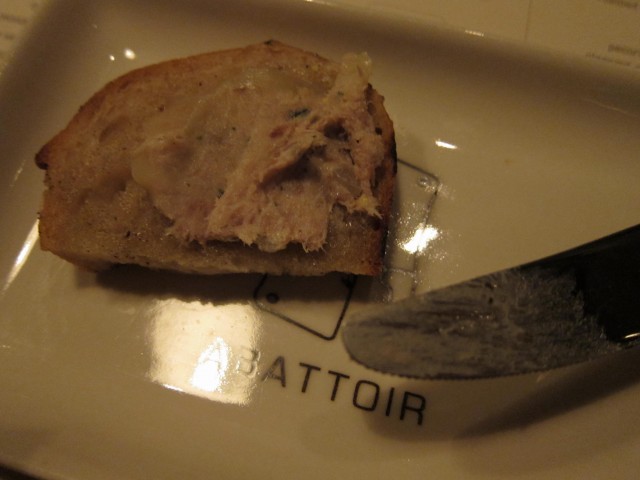 Next were the barbequed sweetbreads with a brussels sprout slaw.  Holy crap these were insane!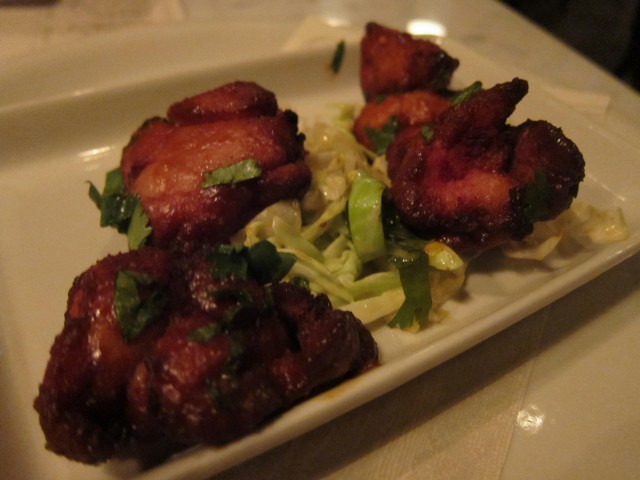 Jeff has tried sweetbreads once before on a business trip where he got to go to a famous molecular gastronomy restaurant. It was my first time trying them though so I didn't know what to expect. I thought they would be kind of squeaky and fatty, but they were just soft and pleasant and the salty and tangy sauce was perfect on them.
After that we ordered an apple salad and a steak tartare. The salad was easily one of the best I've ever had with both roasted and dried apples and an acidic vinaigrette.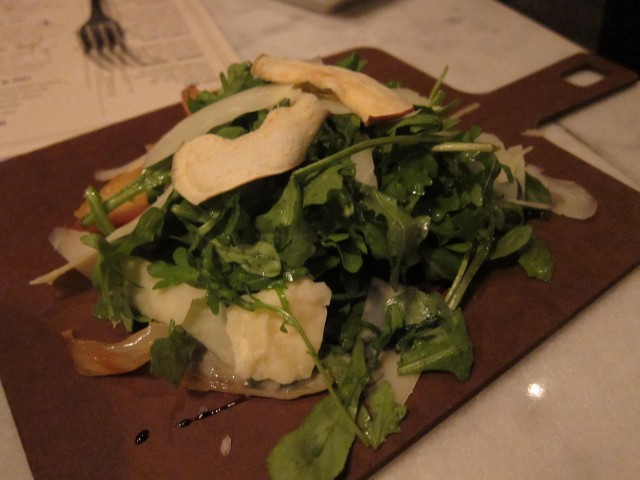 The steak tartare was so soft and so oniony!  You know how much I love onions, so this was just too perfect for me.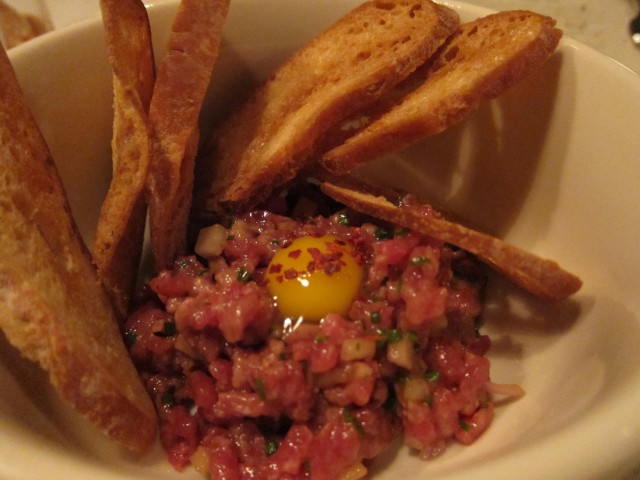 Jeff was losing his mind over it, he talked about this tartare for days afterward!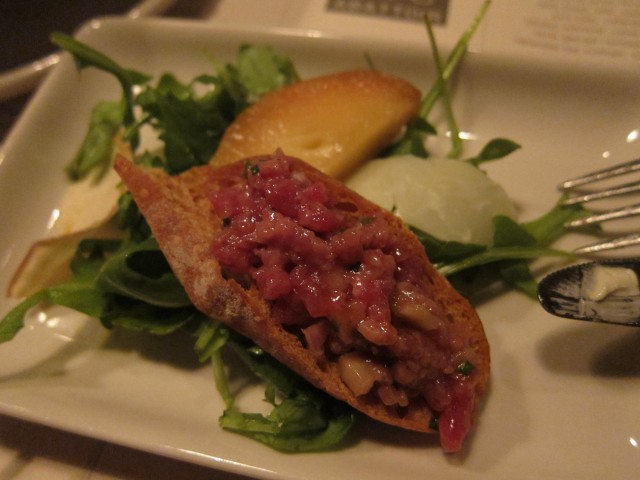 We wanted one more item so we got the pork fritters with pepper relish served over collards.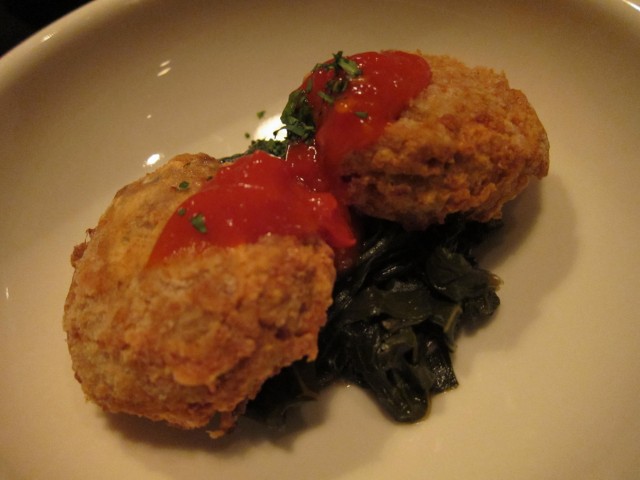 These were heavy but still delicious. We were both stuffed but had to order dessert. We got the maple panna cotta with caramelized bacon cookies.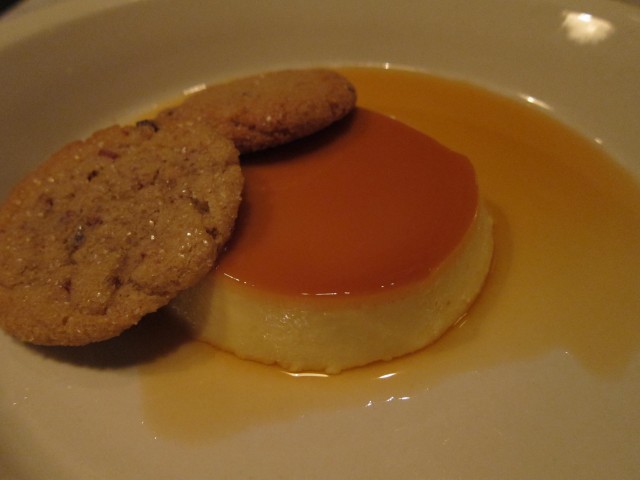 Oh WOW.  One of the best desserts I've ever eaten! I was so full but just couldn't keep my spoon out of it.
We had to give up with the finish line in sight, too full!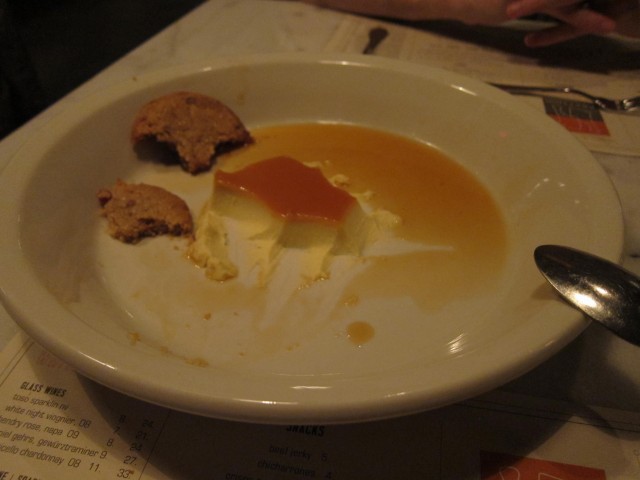 The sight of these little gems that came with the check was still welcome even after failing to finish our dessert.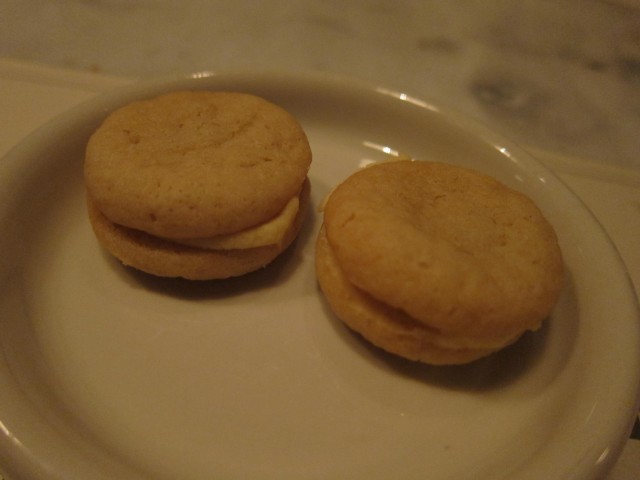 Somehow we found room for them.  

Abattoir was super-awesome, it's not every day we go to a restaurant where every single item we order is so astoundingly good. The staff is really friendly and helpful and the atmosphere is very relaxed for such fine dining.  We'll be back!
We left from there and drove back to Decatur to meet some friends for drinks at Leon's. John and Emily were waiting for us, it took them over an hour to get a table! Poor guys.
See! I took pictures of people this time! My friends do exist!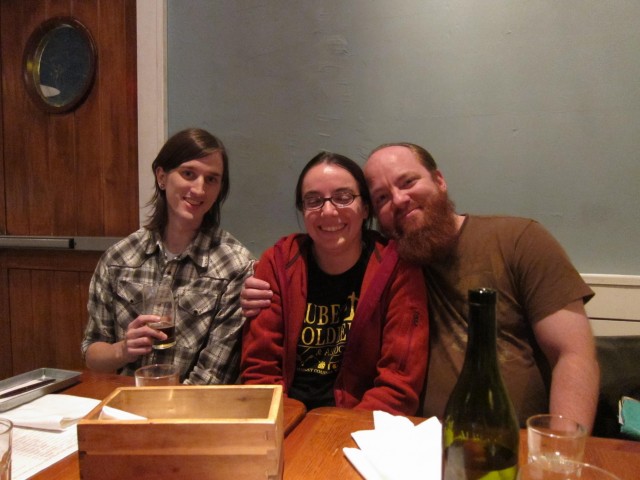 Sorry I snapped it when your eyes were closed, Em!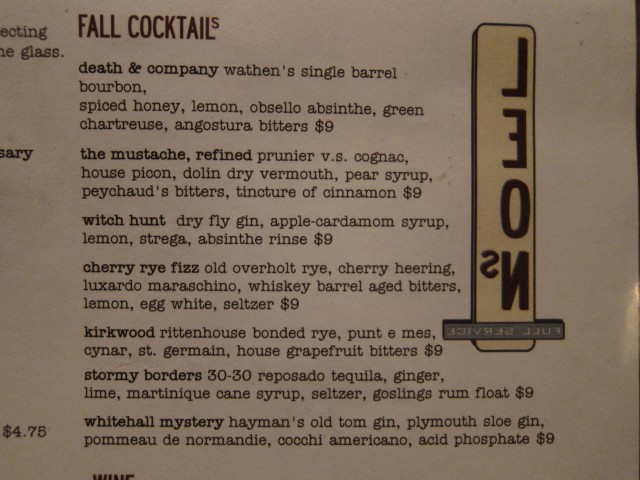 I love Leon's. They always have the coolest seasonal cocktails to choose from. I started with Death & Company and switched to a Witch Hunt afterwards because John recommended it. Both were really good.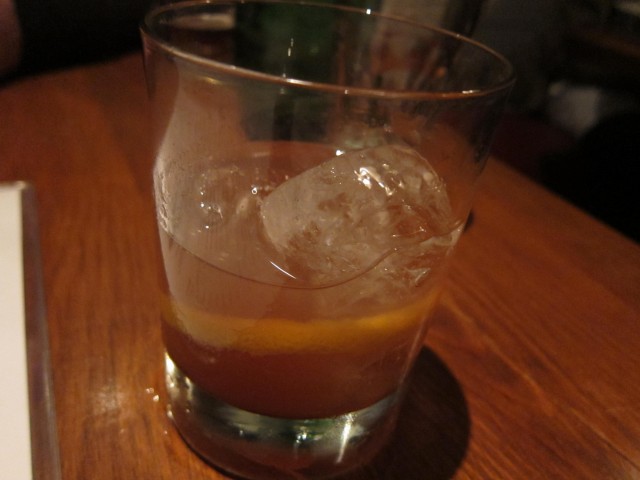 We hung around for about 2 hours and laughed and drank too much. It was a great time and Jeff said he had a wonderful birthday.
I love a good excuse to laugh it up and stay out too late, don't you?