(For another raw vegan treat, check out my recipe for raw nectarine dream cookies!)
Oooooo! These are so good!
I just love the combination of orange and pistachio together! These bars are so soft and citrusy, they remind me a bit of lemon Larabars, and yet they're totally different from any Larabar I've ever had.
Here's what you'll need for these little emerald gems:
3/4 cup raw cashews
3/4 cup raw pistachios
1/2 cup chopped dried apricots
1 tsp. agave nectar
1 tsp. coconut oil
1 tsp. chia seeds
zest and juice of a small orange such as a clementine or satsuma
desiccated coconut for dusting
Start by pulverizing the nuts in a food processor…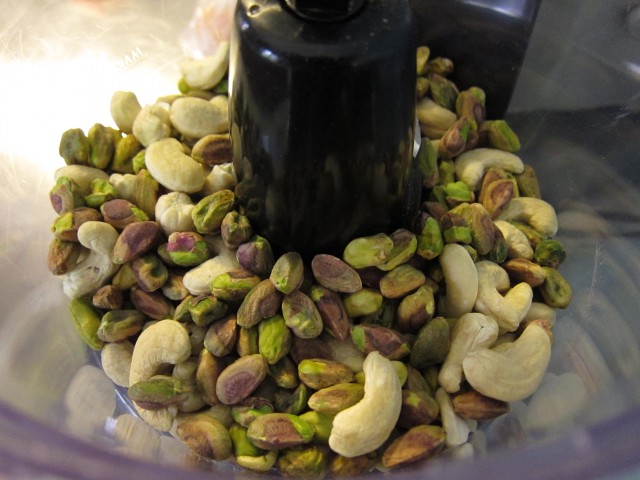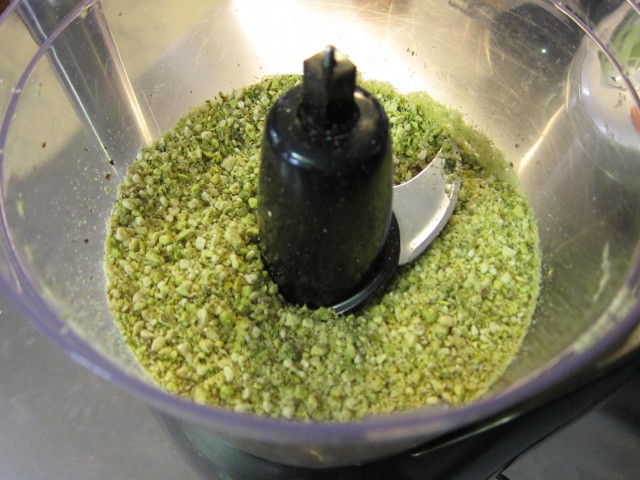 Then add the chopped apricots…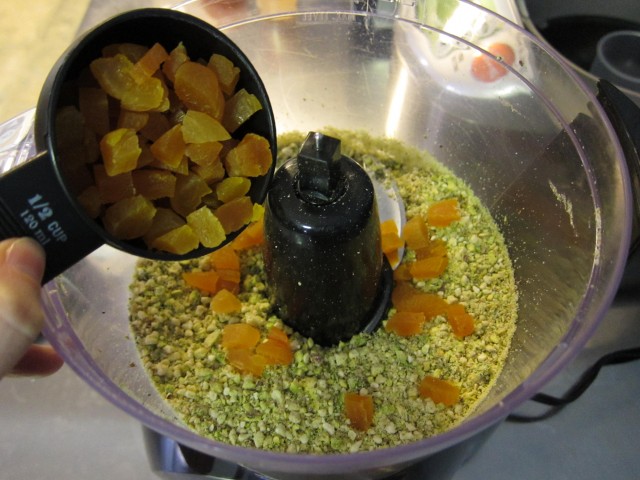 Then grate over the orange zest and add the remaining ingredients…
Blitz it til it pulls away from the sides and looks fully incorporated…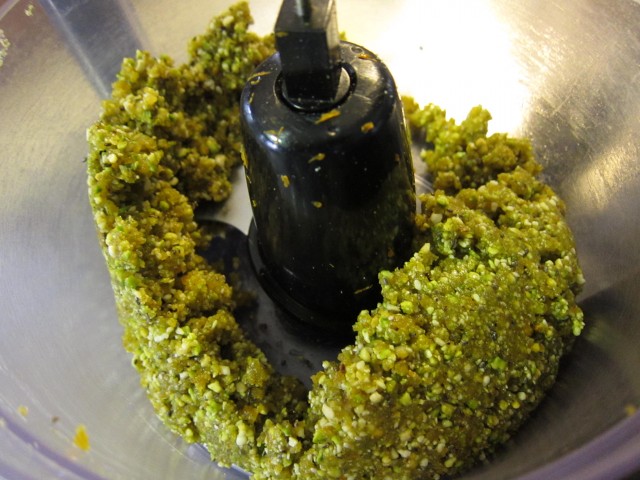 So green!
Now you need to mold it into bars. I lined a loaf pan with wax paper to help pull the bars out with later and then poured some desiccated coconut in the bottom so they wouldn't stick to that.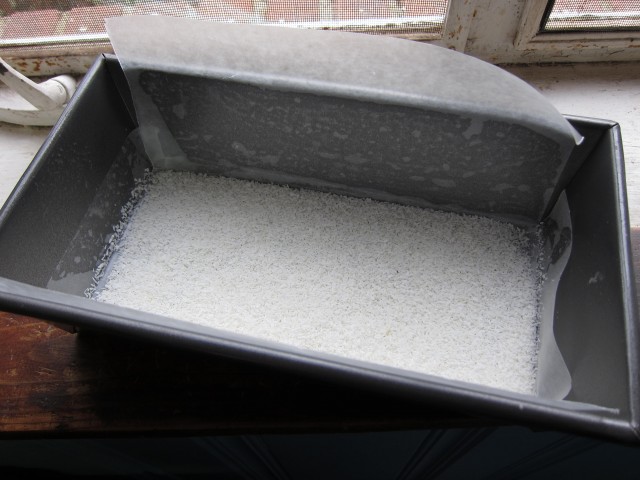 It took a while to press it all out flat in the pan, just keep working at it until you get it to reach the edges.
My loaf pan was just a bit too big so these didn't quite make it all the way to one side. After spreading it out I topped it off with more coconut.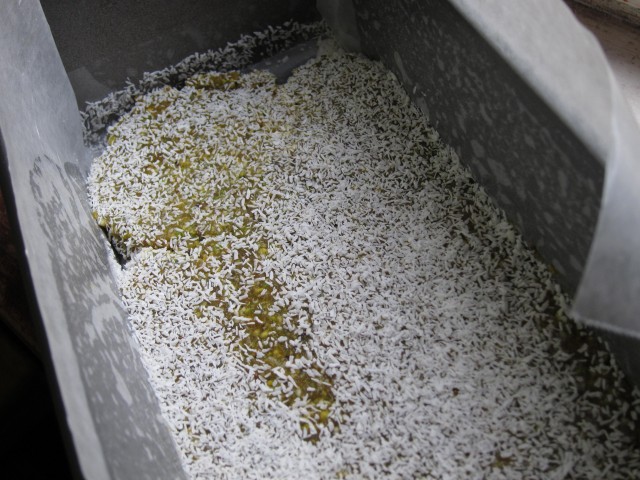 These should get popped in the freezer for a while to make them easier to cut. I chose to cut mine into little squares.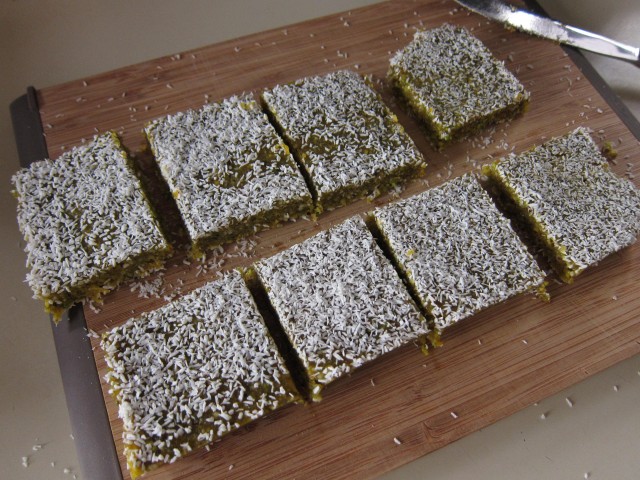 They are delicious! The bright orange flavor really stands out and contrasts with the earthy and slightly bitter green pistachio flavor. They taste so springy and fresh!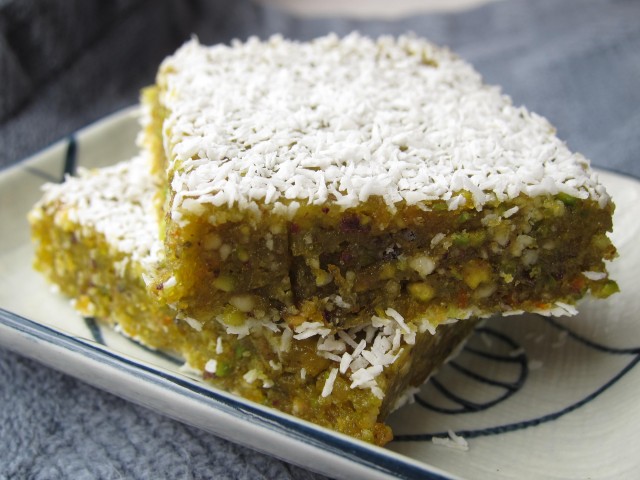 I've been keeping them in the fridge since they have orange juice in them that could go bad if left out. It also helps them to hold together better being that they're very soft at room temperature. They are even more refreshing nice and cool right out of the fridge anyway.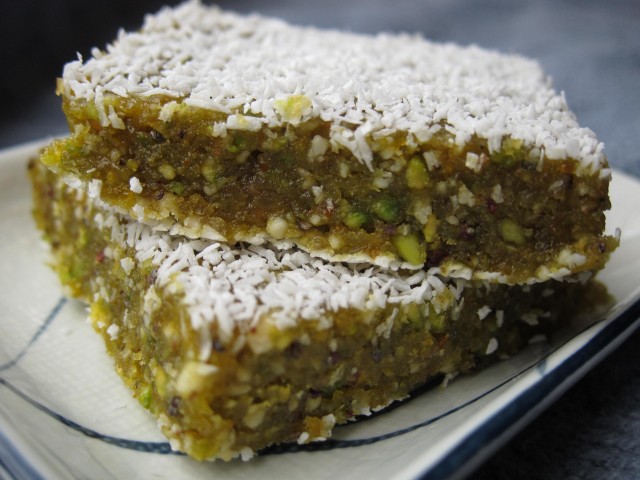 Raw vegan orange pistachio bars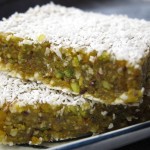 Bright citrusy orange zest accents these nutty raw pistachio bars.
Prep Time: 20 minutes
Yield: about 10 squares
Ingredients
3/4 cup

cashews

3/4 cup

raw pistachios

1/2 cup

chopped dried apricots

1 tsp.

agave nectar

1 tsp.

coconut oil

1 tbsp.

chia seeds

zest and juice of a small orange

such as a clementine or satsuma
Cooking Directions
Pulverize nuts in food processor until very small.
Add all other ingredients and pulse to incorporate.
Press mixture into a wax paper lined baking dish with desiccated coconut.
Sprinkle more desiccated coconut on top and press in lightly.
Freeze until firm then turn out and cut into squares or bars.
Keep refrigerated.
What is your favorite snack bar/granola bar/protein bar?