Sorry I've been absent for a while.
I don't normally like to apologize for not posting any given day because sometimes life just happens and I don't want to start filling up my blog with dozens of posts that all start with an apology. But, at the moment I'm not sure how many more days are going to pass without me posting, so I thought I'd at least give you a heads up on what's going on with me this time.
I have been VERY sick for the past couple of days. Something I ate on Friday sent my body into a rebellion. I haven't been able to eat much of anything and even fluids are difficult to keep down. My hunger has returned now but eating still just doesn't feel good.
I've been surrounding myself with various fluid options to keep hydrated…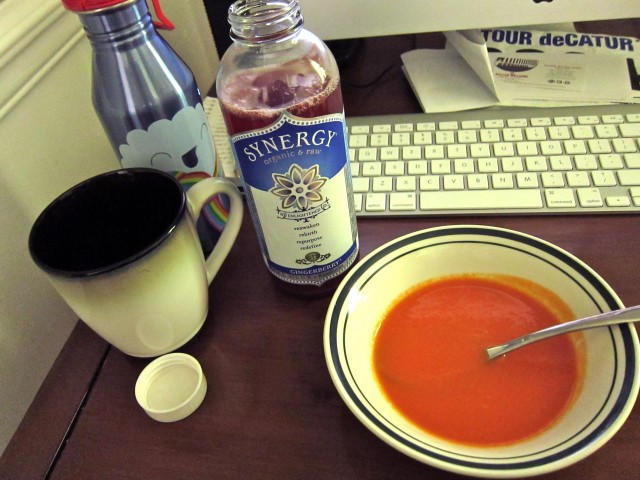 Man, kombucha has been a life-saver. It's really helping to replace some of the healthy bacteria that I've lost from not being able to keep food down. And Jeff has been making me a tummy-calming ginger tea with lemon and salt to replace electrolytes.
So for now, I'm concentrating on getting myself better for our trip to Seattle this weekend and refining our itinerary. I'm gonna try to get a few posts up before then but right now I'm just not cooking anything exciting or going anywhere fun to report about. I do have some fun posts scheduled for the week that we're gone, so next week will be back on track regardless.
What foods or drinks do you rely on when you're sick? No really, I need suggestions!