Pike Place Market, like the Space Needle, is so synonymous with Seattle. Every picture or video I've ever seen of it though is always of that same fish counter where they throw whole fish back and forth between the customers. That's cool and all, and they were doing some of that when we went, but it didn't even come close to being the coolest thing we saw at the market.
Being a foodie, I was much more thrilled with the absolutely gorgeous produce!
And sure, there's fish too…
There were so many unusual foods that I have never seen in any Atlanta market, like ereyngii mushrooms and halibut cheeks. I would lose my mind and the entire contents of my wallet if I shopped there regularly!
There were also vendors of all sorts. You couldn't walk ten steps without hitting a tulip stand.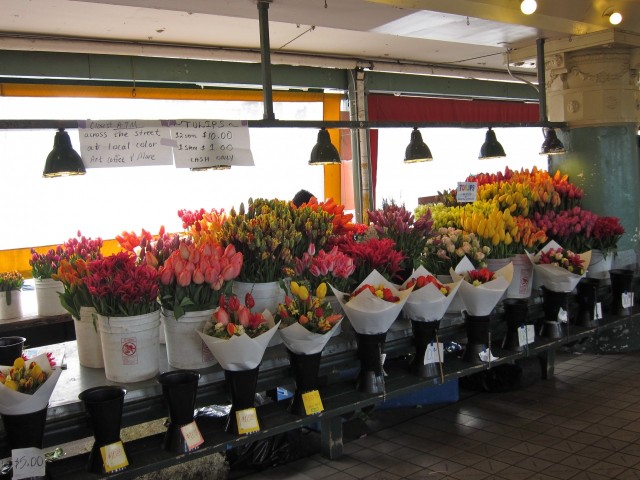 And of course there was plenty of other various and sundry weirdness…
Hand-made ocarinas and cats in sweaters, two things I did not expect to see!
Also, the first Starbucks ever in existence is right outside. We just peeked our heads in but didn't buy anything. Strangely, we didn't patron a single Starbucks the entire time we were in its hometown.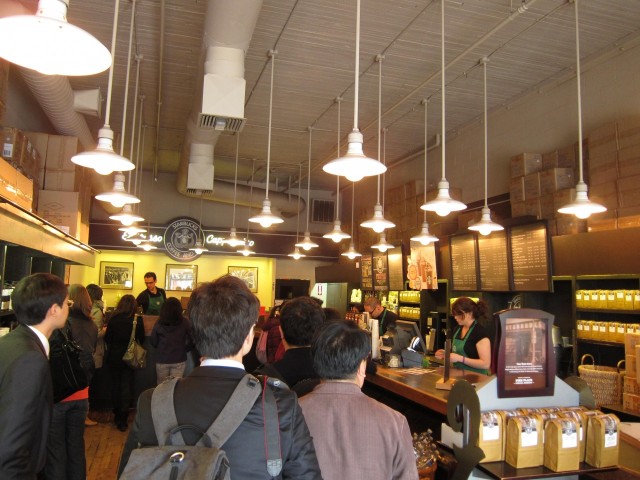 We got a recommendation from a local to go see the Chittenden Lochs. I wasn't sure what to expect from it, I'm not really into boats and other nautical stuff like that. We were gonna be in the neighborhood one day though so we decided to check it out anyway. So glad we did!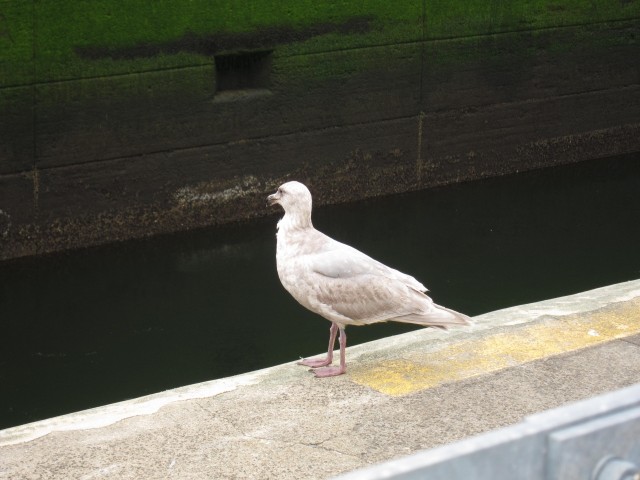 Here you can see side by side how the water level changes to raise and lower the ships. These are two different boats, but you get the idea. It actually happens really fast too, in less than 5 minutes the loch fills with around 12 feet or so of water!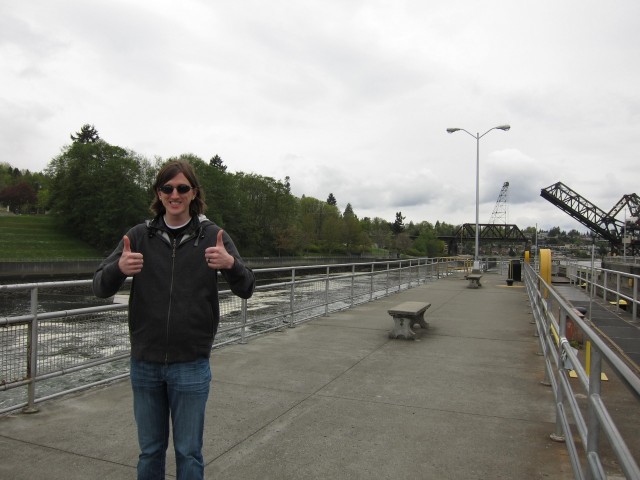 And then there was the dam and fish ladder…
Apparently when it's the right season, tons of fish shoot out of those pipes backwards! We didn't see any fish, but it was still cool to be there next to the immense sound of the crashing water.
The fish ladder was inside, and it was so dark that none of my pictures came out. I had no idea what a fish ladder was but apparently it simulates an uphill against-the-current swim for salmon so they will instinctively use it to pass the dam and continue on their journey.
Really cool way to take advantage of an otherwise gloomy day. If that isn't a Pacific Northwest experience I don't know what is.
So, Jeff and I aren't really into doing too much touristy stuff on vacations. We try our best to just do what we would do if we actually lived in that place, like go to bars and restaurants and walk around a lot. And that was the bulk of this vacation too.
That means that next up is: Food and drank!