The very first night we were in Seattle we trudged sleepily to a bar a few blocks away called Cyclops. That place set the tone for the whole trip.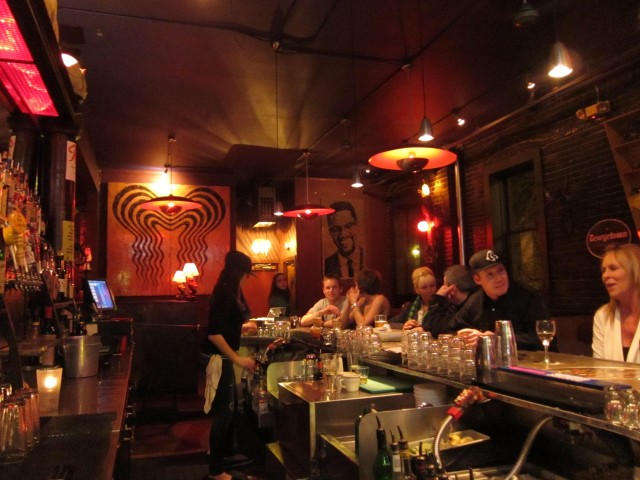 This is my kind of bar. Funky, friendly, dimly-lit, good music, and good food. I love weird places like this. There were two cases on the wall full of panther statues. WTF?
The sweet potato fries with chipotle jalapeno dipping sauce were incredible, as was the beer!
We chatted with a couple of locals for a few hours and were given so many great recommendations for how to spend our trip. We ended up using a couple of their tips and found a lot of fun things that we wouldn't have otherwise. Everyone in that town is so nice! People seemed genuinely interested in making sure we had a good time.
The next day, when we took a break for lunch during our walk through the Japanese gardens and Arboretum, we headed to a unique little vegetarian restaurant called Cafe Flora.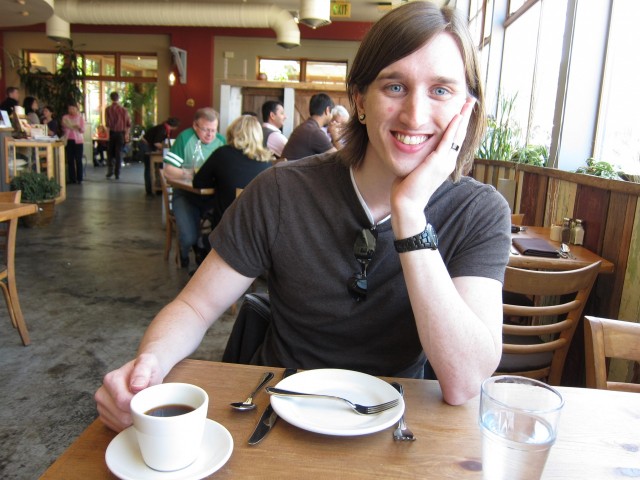 Jeff and I were losing our minds over these rosemary biscuits topped with mushroom miso gravy that we shared for an appetizer.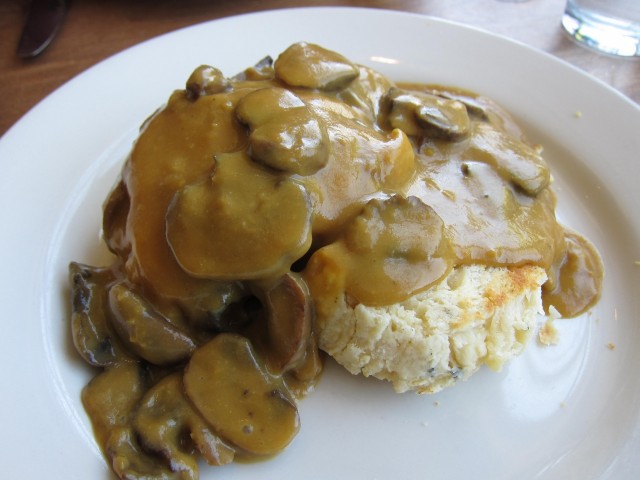 OMG I cannot wait to recreate this at home! We were scraping every last drop off the plate!
Jeff got an omelet filled with sweet potatoes and beans and topped with a spicy chipotle sauce. It was killer! I got an open-faced brie and baked apple sandwich with pistachio pesto. Crazy good even if it was a little heavy.
If we lived in Seattle, I'd wanna go to Cafe Flora all the time. Their cocktail and dessert menu was calling my name but we had gardens to go see.
That night was to be our anniversary dinner. I got dressed up in my wedding dress and we headed to Shiro's for what was to be some amazing sushi.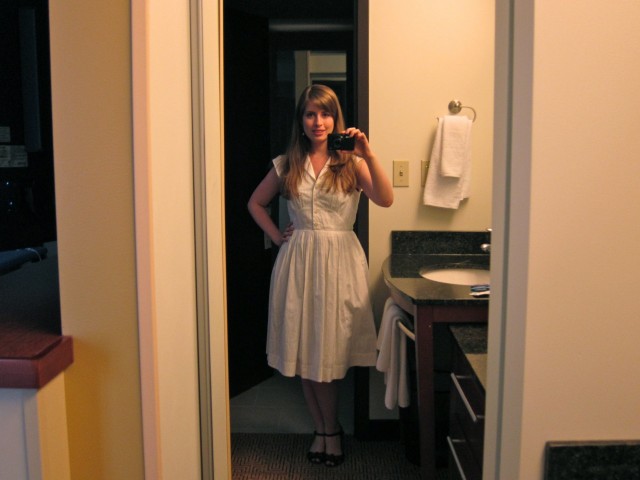 We started off with a bottle of sake and some kumamoto oysters. I thought I didn't like oysters, so when the chef presented us with these, I was a little wary. They were "holy crap" awesome though. I am officially an oyster convert!
The chef started cranking out pairings of nigiri starting with two kinds of tuna and a duo of salmon, one with sea salt and one with onion and sweet sauce. The fish was really fresh, you could tell it was caught recently. I loved the salmon pairing, I'd never had it prepared that way and was really surprised.
We also had geoduck and scallop, then fresh raw shrimp.
And where there's shrimp there are shrimp heads! They chef introduced us to our next course before frying them up right in front of us. I love crunchy shrimp heads!
He talked to us about our honeymoon a bit and let us know that the head chef and owner, Shiro, was from Kyoto. We got to chat with Shiro for a minute about how lovely Kyoto was which was really nice. While we were talking, the chef was busy making this…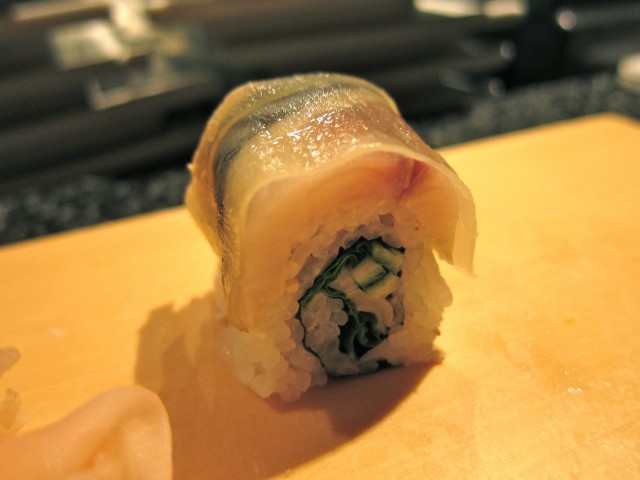 I recognized immediately that this was a very Kyoto-style piece of maki sushi. It had fresh cucumber and shiso on the inside and mackerel covered in a thin slice of daikon with a tiny shiso leaf in between. The ingredients and the level of detail all signified Kyoto-style sushi. I thought it was really cool that he made that special roll when he heard us talking about Kyoto!
Jeff got his wish for incredibly fresh uni. You almost never see it presented nigiri-style like this, the uni has to be of perfect quality to pull it off or it will just look messy. And I've never seen octopus presented like this either, kinda creepy but also really pretty.
It was a fantastic anniversary dinner. We knocked back two bottles of sake and a glass each of shochu too!
The next morning, I could feel the after-effects of all the food and drink we had the night before. This would require caffeine and sugar to cure!
We hit up the famous Top Pot donuts.
I had already done my research ahead of time to know exactly what I wanted. I got the glazed old-fashioned donut and a latte, Jeff got a huge creme-filled one and regular drip.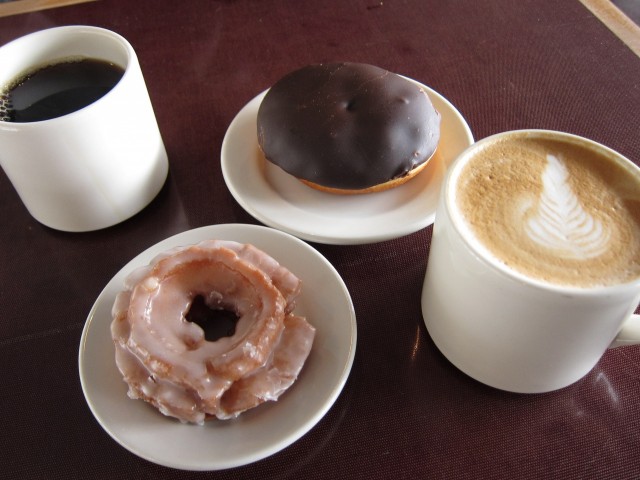 Oh…..wow. Easily the best donut I've ever had. Perfect texture and the icing was sweet but not too sweet and kind of milky-flavored. Amazing.
That was a pretty meager breakfast though, so we were ready for lunch shortly thereafter. We ducked out of the drizzling rain and into a cute little Thai restaurant.
Jeff poured us some hot tea to warm up.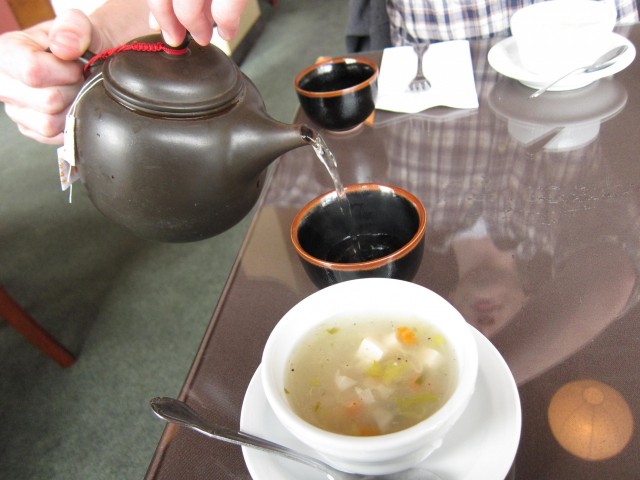 I got a really tasty green curry with pillowy fried tofu. Perfect food to warm us up from the cold rain.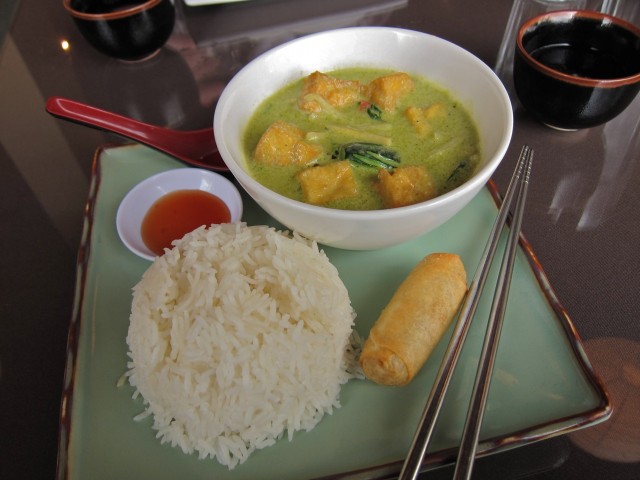 That night we ventured to Capitol Hill to a bar and restaurant called Smith. It was an unusual place with old portraits and taxidermy hanging from the walls.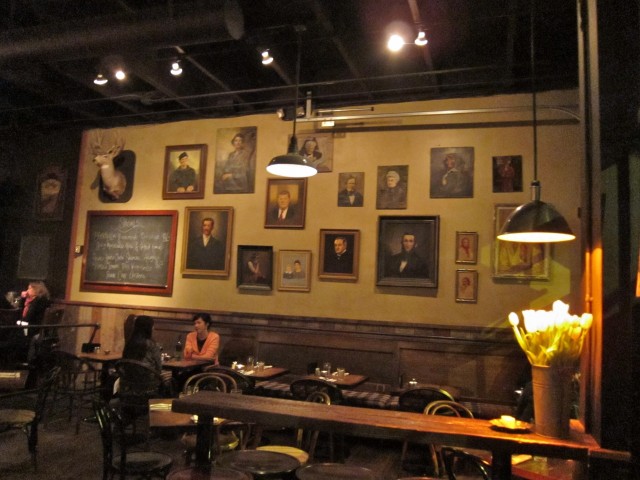 They specialize in old prohibition-era cocktails. I got a rye manhattan and Jeff had a local red ale. That was a very boozy manhattan, and I was needing food to counteract the buzz.
Jeff got a cuban sandwich and I got the charcuterie plate with local honey, spicy mustard, cornichons, buttered marcona almonds, two kinds of cheese, and two cured meats. It was fantastic!
Stay tuned for the last of my Seattle recap….more food!