Whew! The wedding was this past weekend and now I can finally say that I'm done with cake decorating for a while (I have another one to do in September.) I'll show you the week-long process I went through to make it next time, but for now let's wrap up our Boulder vacation with more delicious food!
If you know me, you know that I love Japanese food. Every time we go on vacation I try to find the best sushi restaurant in the area for us to try. This time, I found two that I could not choose between, so we went to both!
First up was Amu Izakaya. An izakaya is a casual restaurant that focuses on sake and beer with an extensive menu of small dishes, few of them being what most people would consider sushi.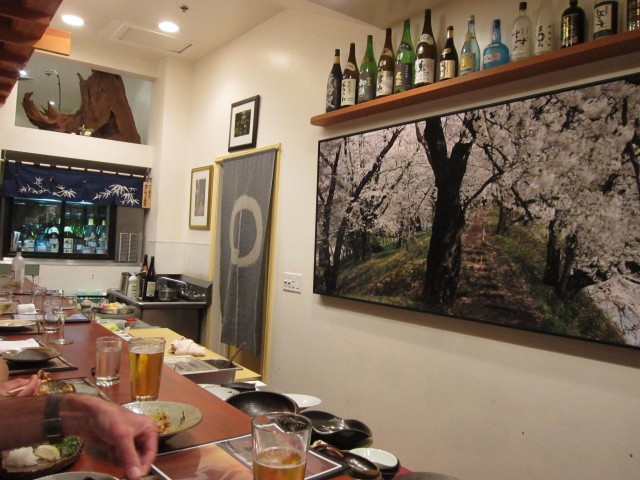 We started off with a small bottle of sake which was served to us in this gorgeous earthenware pottery. Now I really want one of these for the house!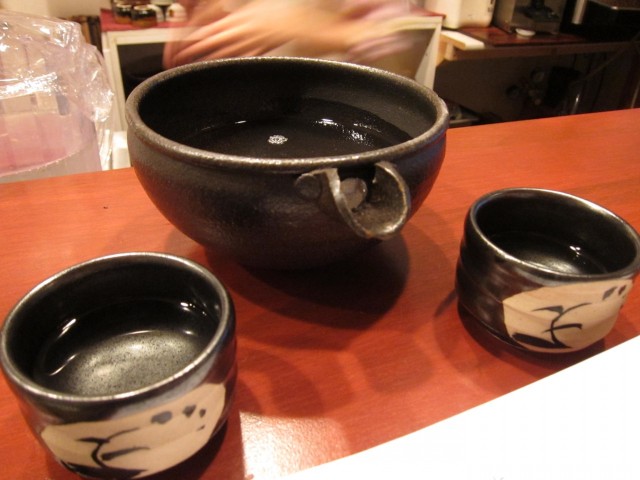 We ordered lots of small dishes to share, starting with a fluke sashimi and snapper carpaccio in yuzu cream with salmon roe. I'd never had fluke before but loved the clean lemony flavor. The snapper was soft and bright-tasting.
We had two kinds of Pacific oysters, one was Kumamoto but I can't remember the name of the other. Both were excellent and still chilly on their bed of ice. We also shared some grilled eel with the skin still on. It was fatty and soft and delicious.
Then our favorites of the night, gindara misoyaki and a green tea soba with duck soup for dipping. Gindara (black cod) is my very favorite fish but I can rarely find it anywhere to prepare at home, so it's become a treat I just have to have anytime we see it on the menu. This one was fall-apart perfect with it's little ribbon of crispy skin and thin salty miso glaze.
The duck soup was out of this world with big chunks of duck floating in the rich broth. The soba were cold and springy, chewy and sweet. Easily the best soba dish I've ever had.
Finally, dessert. I've had mochi ice cream once before and didn't care for it. Apparently I just had a bad one, because these little mochi ice creams were so addictingly good! There was only a thin skin of mochi incasing the creamy, not-too-cold ice cream in flavors of green tea, red bean, and pistachio. The pistachio was the clear winner for both of us.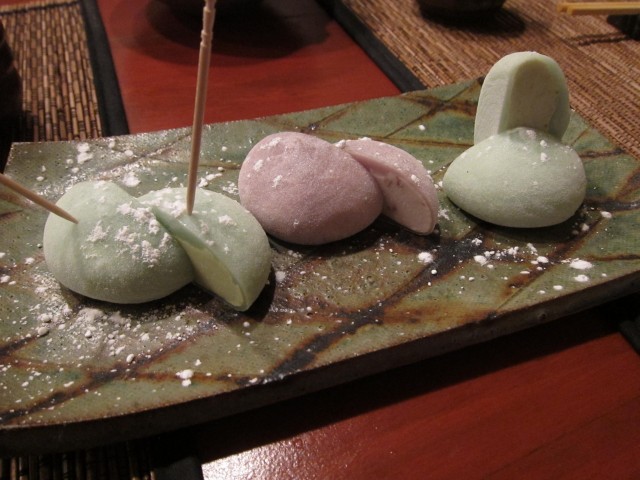 Amu is the kind of authentic izakaya experience I wish we had in Atlanta. There are a few very good ones in Atlanta, but none as classy and traditional as Amu. Definitely check this one out if you have the chance.
Before I show you yet more Japanese food, here's a few shots of one of the best lunches we had on the trip at a Latin restaurant called Aji.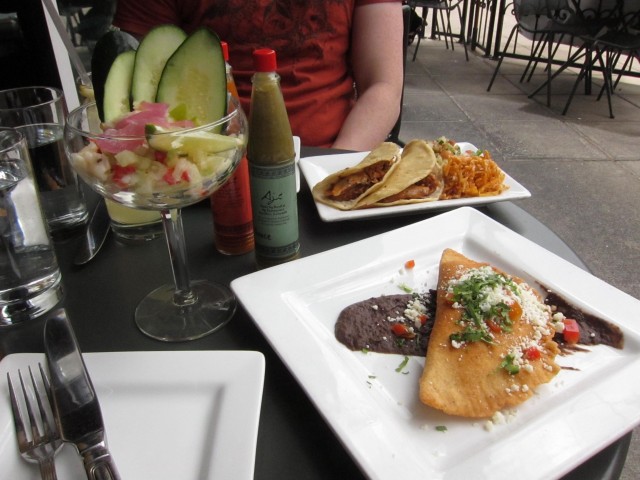 We decided to share a bunch stuff because there were too many yummy things on the menu to choose from. We had a snapper ceviche with pickled red onions, a pork empanada with a corn masa crust, and duck taquitos with a spicy slaw. All of these were excellent and we had a hard time deciding wether to order something else or just get more of these!
We did eventually decide to split the enchiladas though, and it was definitely the right choice. They were filled with crisp grilled vegetables and topped with the freshest guacamole, salsa, and thin tomatoey enchilada sauce. I could have eaten ten of these if I weren't so stuffed.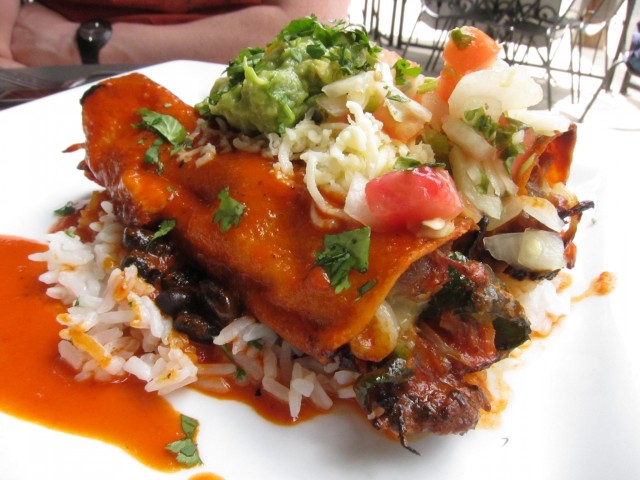 And onward to our sushi dinner! We hit up Sushi Tora after reading many reviews claiming that it's the best sushi in Boulder
We started with the tempura mushrooms that were amazing. There were shiitakes, oyster, and a few enoki mushrooms, all lightly fried and served with bitter green tea for dipping. I could not stop eating them. Usually mushrooms soak up too much oil when fried, but these were still fresh and springy with a deep earthy flavor.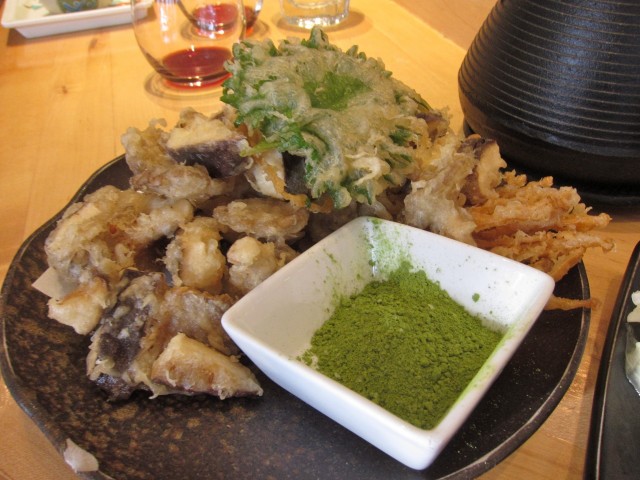 We got two snapper nigiri in a yuzu pepper vinaigrette that were outstanding. And any time monkfish liver (ankimo) is on the menu we have to have some. This was a particularly good bit of it too, firm but creamy with a slight peanut butter flavor.
Various maki rolls that were all really tasty and cut to the correct size. I have a pet peeve about sushi that is prepared too large to be eaten in one bite. Very happy to be able to inhale these as intended. 😉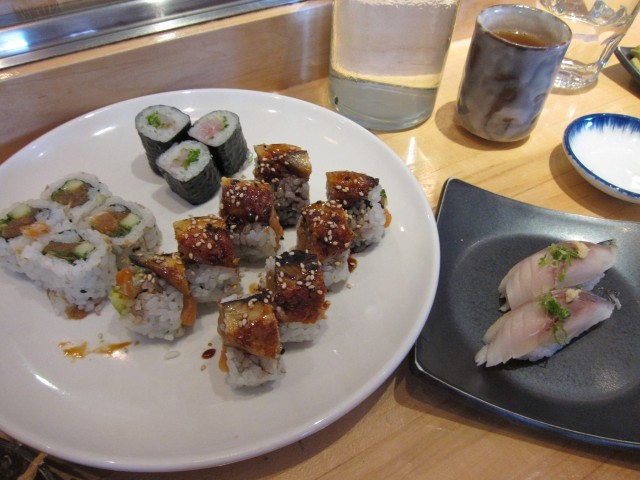 Jeff got an uni gunkan. I can't stand the stuff. I used to try it every time we went out for sushi hoping that I just hadn't had the good stuff yet, but it always makes me gag. Tastes like ice cold runny peanut butter and fish flavored snot if you ask me.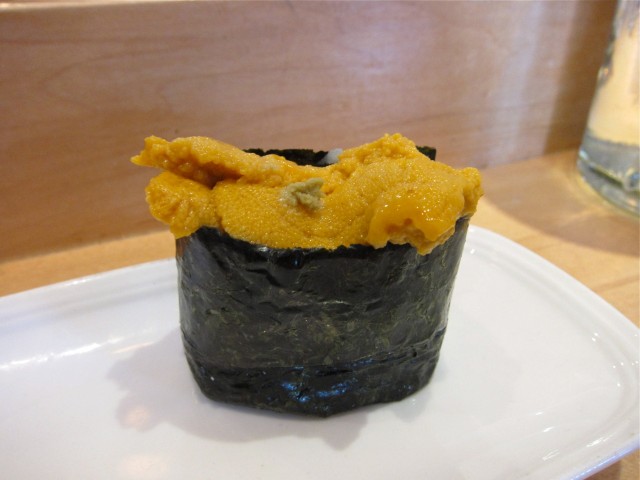 And because why not, more mochi ice creams! This time we got blueberry and salted cherry blossom. The blueberry was crazy good, and the cherry blossom tasted mostly like vanilla but with a faint almost rose-like aroma in the back of the throat.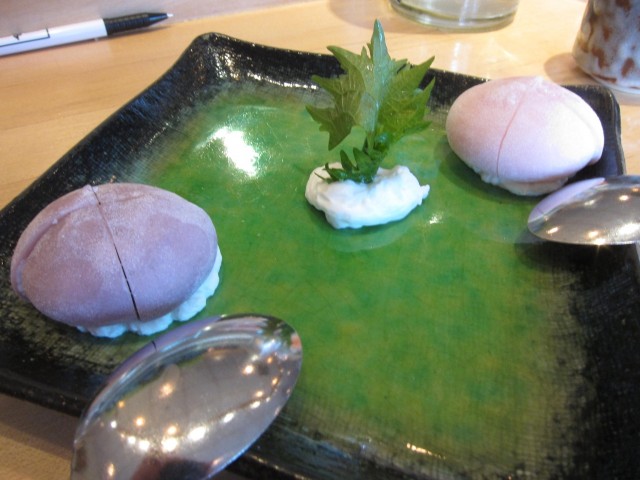 Sushi Tora definitely lived up to the hype. So glad we were able to find two excellent Japanese restaurants in Boulder.
Well that wraps up the trip. Overall, we enjoyed ourselves a ton and really liked Boulder, but we didn't quite fall in love with it the way we did with the Pacific Northwest. I happen to love rainy gloomy weather, so a city like Seattle is actually a good match for me. It's kinda funny to say that I would miss the rain in such a sunny and beautiful place as Boulder, but that's just what I like.
Ok! I cannot wait to show you the wedding cake process from last week. I'm still editing the photos from the wedding, but I should be able to show it all to you soon.
If you had to pack up your life and move to another city of your choosing, where would you go?