Time to wrap this vacation up!
On the day that we visited Pike Place Market, we stopped into an adorable little hole in the wall Japanese restaurant for lunch. Mmmm…beer and miso soup.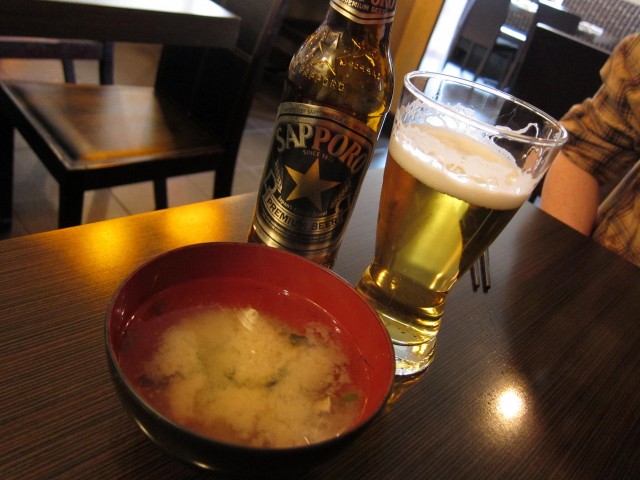 We both wanted big bowls of hot food rather than sushi, so I got an oyakodon and Jeff had pork katsudon. Love those daikon pickles!
That night we were craving Mexican food. Something I noticed about Seattle was that there are a ton of high-end Mexican restaurants. Really cool, something we don't have too much of in Atlanta. We headed to Barrio to get our margarita fix…
This margarita was insane. I got the fresh jalapeno margarita and it was probably the single spiciest thing I've ever had! I've had jalapeno margaritas before too, but none in the past were as crazy-hot as this one. This was like something you would only drink on a dare, I had a hard time getting through it.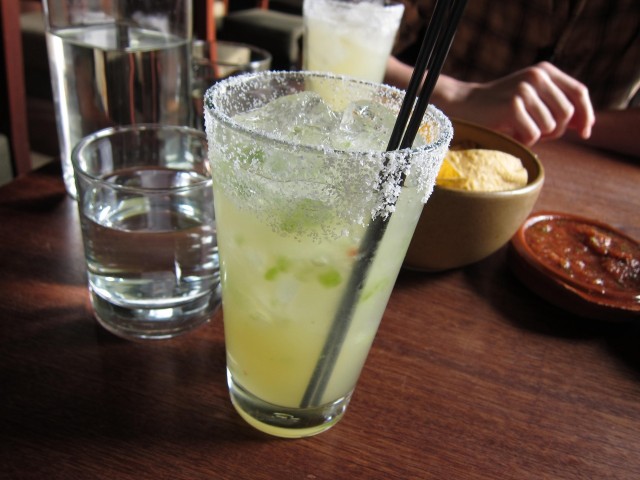 The food was wonderful. Jeff got some braised chicken tacos with hand-made corn tortillas that were fantastic. I had pork enchiladas with golden raisins and almonds. Really unusual and really good. You could tell that all the sauces were made in house and simmered for a long time.
I think one of the most fun meals we had was at Anthony's on the pier. As we were walking along the waterfront towards downtown we were stopped in our tracks by the delicious smell of golden fried fish.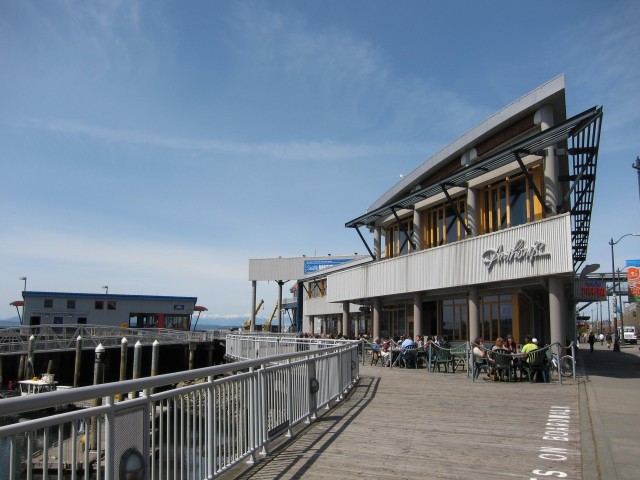 Now, I almost never eat fried food, so when Jeff suggested we stop I wasn't really feeling it. I am so glad I shut up and let him choose lunch because it was great! I got the fried clam strips and fries and he got fresh fried cod. It was such a nostalgic type of flavor, reminding me of family vacations to Florida as a kid.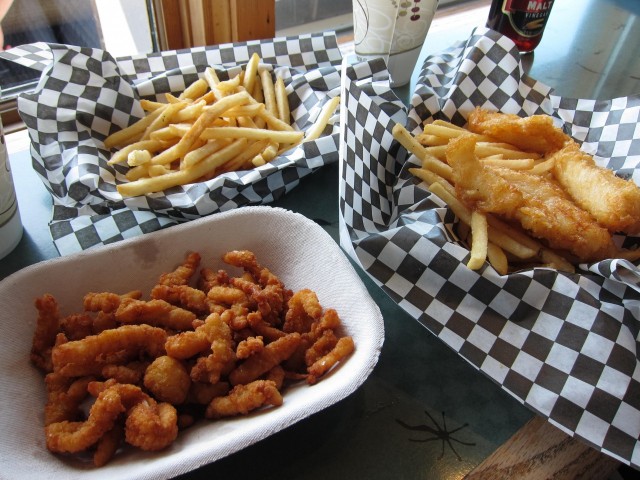 The sun was shining bright and the breeze was cool and crisp as we munched on our lunch on the patio by the marina. This little guy was begging hard for scraps!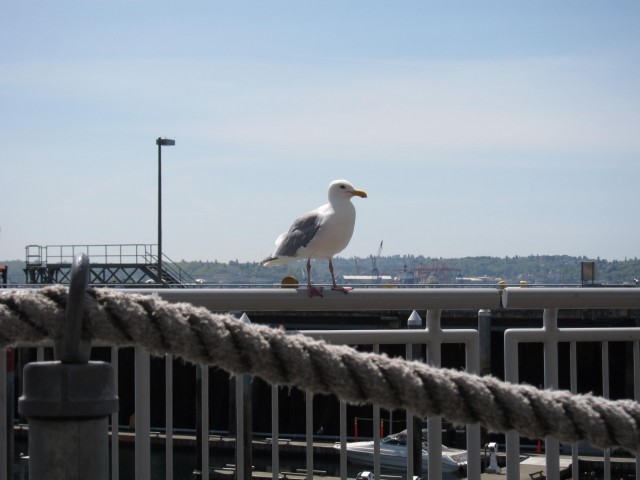 On the way back to the hotel, we passed by a tea shop that looked interesting. I am so glad we stopped in, Jeff was losing his mind over all the walls and walls of teaware! He was like a kid in a candy store, and we did end up picking up a few new pieces for the house.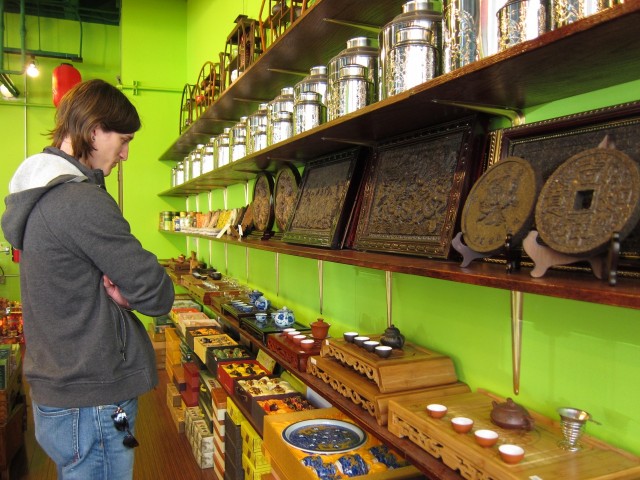 We also got to enjoy a tea tasting…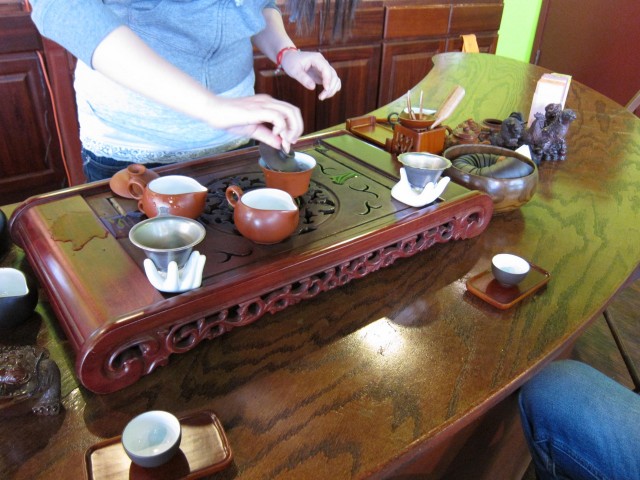 I could not believe they were willing to let us sample this 12 year old pu-erh! It was dark and earthy, just how I like it.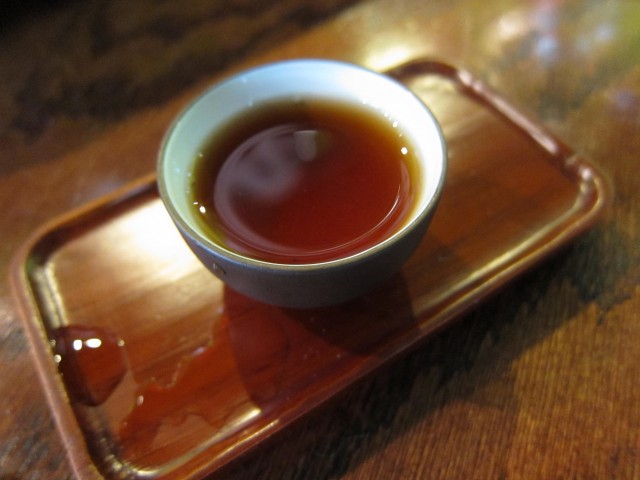 Speaking of tea…..we headed to Miro Tea in Ballard that night on the hunt for dessert. This place was so cool, somewhere I could imagine working from and hanging out at all the time. We really wanted to purchase some of the art on the walls but it was pricey.
This is the greenest most grassy matcha latte I've ever had! And we were both swooning over the light-as-air vanilla cheesecake.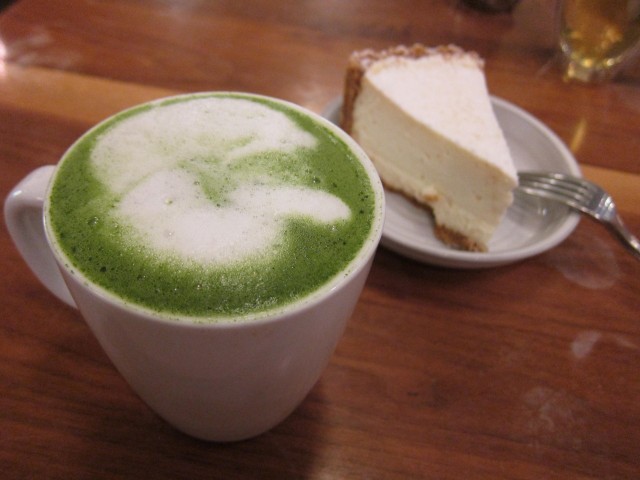 We even came back two days later for breakfast. I had been eyeing this lemon poppyseed butter crepe from the last time we were there. It did not disappoint!
While in Ballard that evening we were wanting to stop in somewhere for just one drink before catching the bus home. We spotted this bar called Hazelwood that specializes in pre-prohibition era cocktails which I adore. Apparently several bars in Seattle are all about these types of hand-crafted specialty cocktails. I liked that.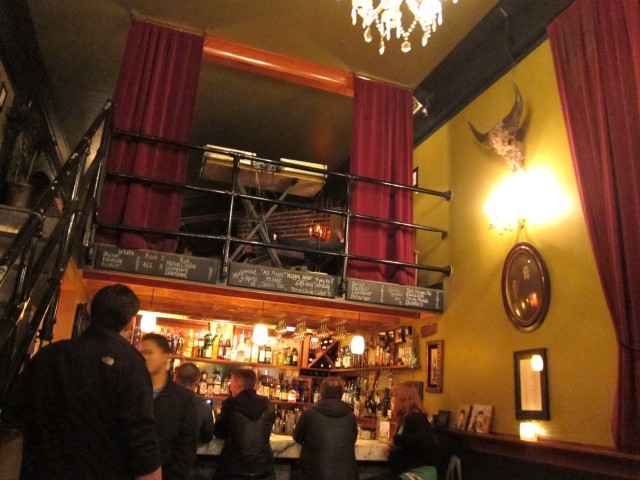 I had the fresh ginger bourbon, gingery and boozy! What was only going to be one drink each turned into two. We were having so much fun at Hazelwood listening to the DJs hilarious selection of 90's classics and dancing it up with the locals in the small space, that we actually missed our bus home…..several times. When we finally cashed out of there we caught the last bus of the evening. Just in time!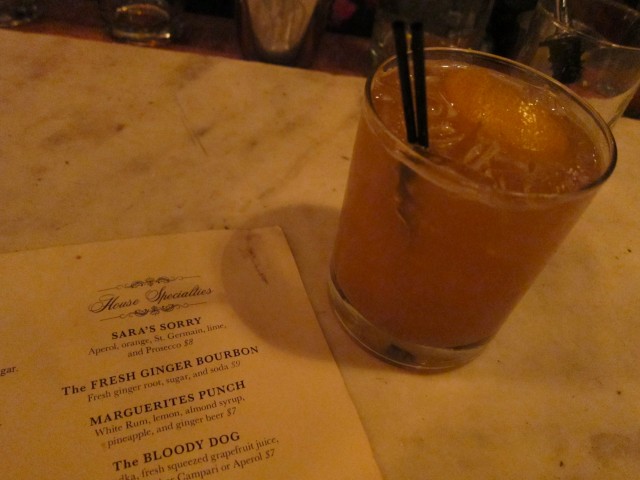 Little bit fuzzy the next morning. You know what that means…..coffee and donuts! The perfect mini-hangover cure.
I got the unglazed old-fashioned this time which was possibly even better than the glazed one. Jeff got a very pillowy chocolate frosted. I was too dehydrated for coffee so I stuck to juice.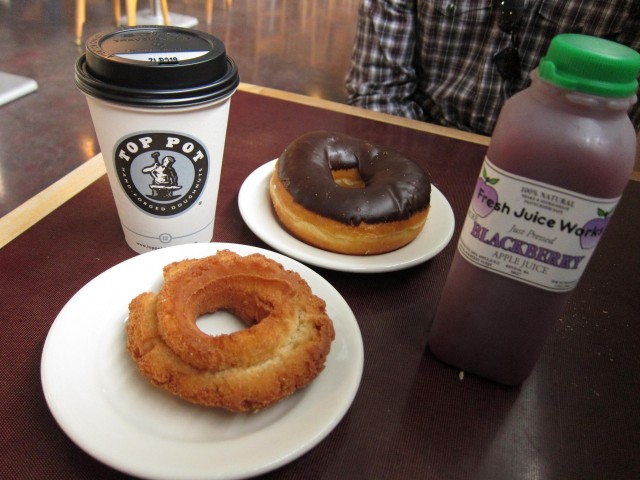 And we headed to lunch almost immediately afterward. We checked out Homegrown, a sandwich shop that specializes in fresh ingredients and a "sustainable" ethic. All of their packaging is recyclable and they even compost! The turkey and avocado sandwich was wonderful. I wish we had a Homegrown in Atlanta, I'd be there all the time.
And then the dinner I had been looking forward to all week: Umi Sake House.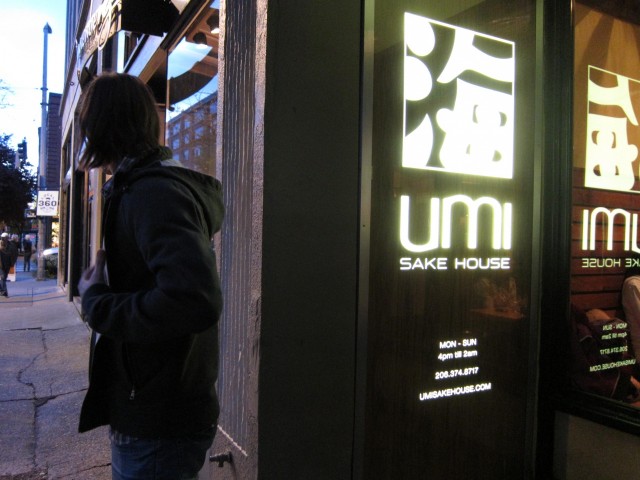 Umi's sake list is intimidating. We ended up going with a flight of five so that we could try more without spending $$$. We both pretty much agreed on which were our favorites.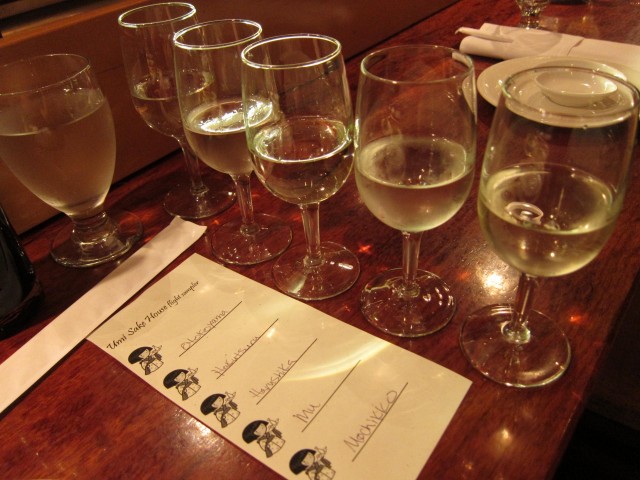 For an appetizer we got the gindara kasuzuke. Gindara is black cod, a very prized fish in Japanese cuisine. Kasuzuke is a type of curing process done with kasu, which is the rice mash byproduct of making sake. The flavor was so unusual! It was a really special dish, something I'd like to try to make at home sometime if I can get my hands on some kasu.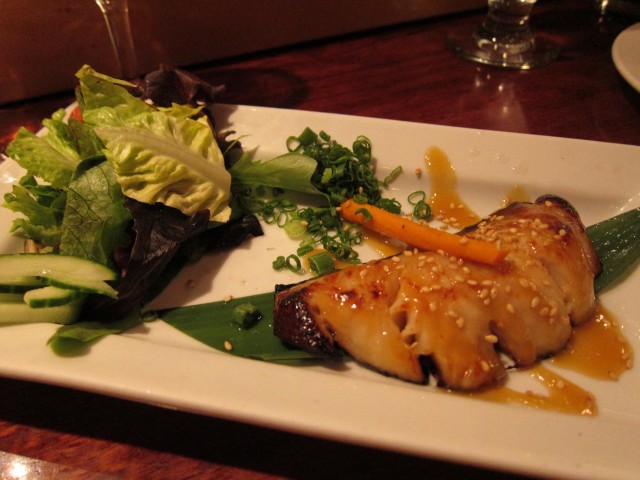 And two maki rolls, a super crazy spicy one and one with a creamy scallop salad inside. Both were amazing. I normally don't like these types of fancy Americanized maki rolls but the fish was just so unbelievably fresh that there was nothing to not like about em'!
And agedashi tofu, fried tofu in a salty dashi broth with toppings. So good! I loved the grated daikon with it the best.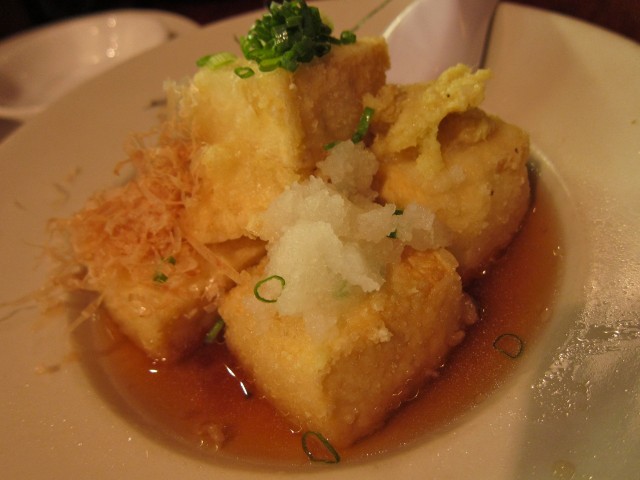 It was hard to choose dessert, I wanted several things on the menu. We settled on a scoop of black sesame ice cream. I was not expecting to get anything this fancy!
OMG it was so good! The caramel sauce had a toasted sesame flavor too. Incredible.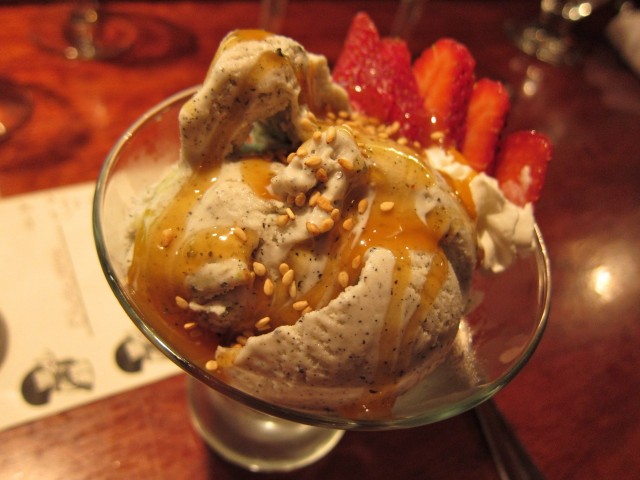 More thai food the next day for lunch, at Thaiku in Ballard. My pad thai was a little weird with raw sugar in it that you had to mix in. Jeff's basil pork with fried egg was outstanding though. Thaiku had a really interesting cocktail menu that featured a couple of Chinese medicinal herb ingredients. Their bar wasn't open during lunch though, so we missed out on that one.
Our last meal in Seattle was at Serious Pie, an upscale pizza joint. We started with these absolutely killer fava bean crostini with crispy guanciale bacon.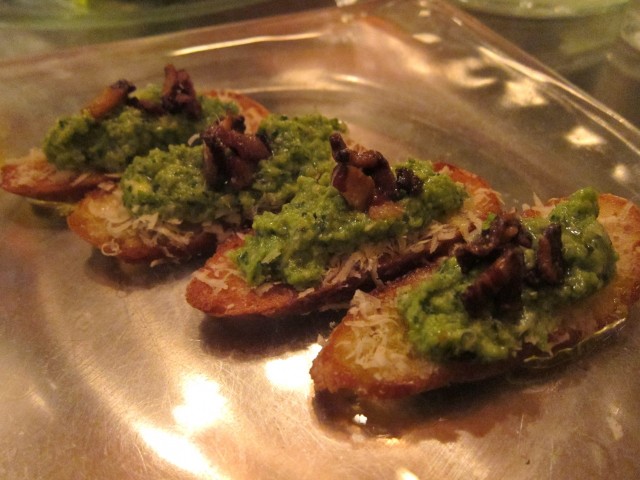 Sorry the picture of this pizza is so blurry, I really wanted to eat it and barely got a shot at all! It was the guanciale and soft egg pizza. Super thin slices of guanciale (I think that's bacon from the jowl area rather than the belly) and two eggs cracked on top and barely set in the brick oven. Best…pizza…ever. I could just the crust and be blissfully happy.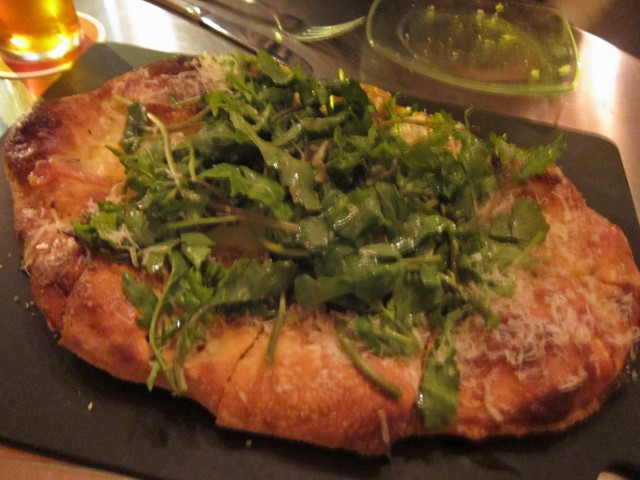 And dessert. A vanilla panna cotta topped with rhubarb compote and crushed pistachios. Delicious and not too sweet.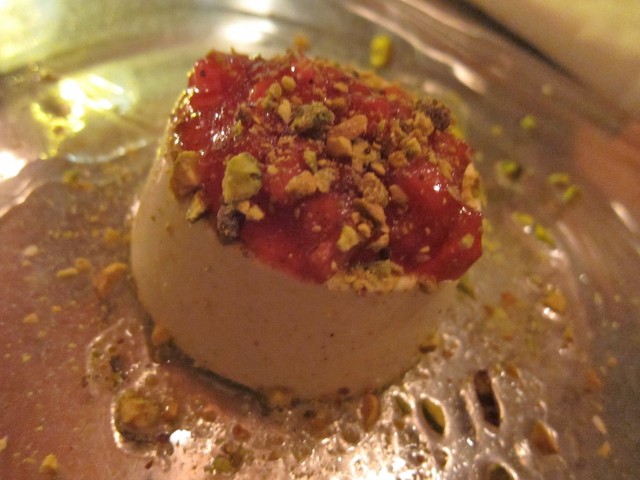 We were so well fed by Seattle. We didn't have a single "blah" meal while we were there. I haven't had so many outstanding meals in a row since Japan.
I'm so glad we chose to spend our anniversary in Seattle. That city is now one of my favorite places in the world (that I've seen at least.)
What is the best dish you've had in another city and where?