Last night's dinner was good n' green!
I made roasted yukon gold potatoes to go with a couple of Trader Joe's chicken and turkey pesto sausages on a bed of the most delicious creamy green pea and parmesan mash.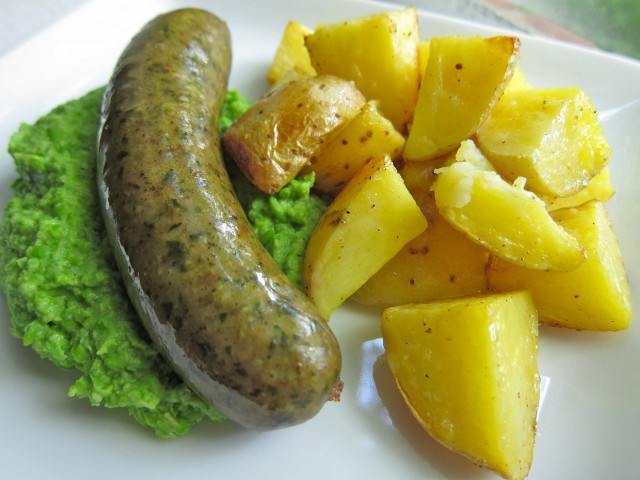 I loved this combination! Each bite of sausage or potato slathered with a bit of the green pea mash tasted so fresh and springy.
Sausage and potatoes can become a heavy meal easily, but these sausages were very lean and the potatoes were only lightly oiled. The bright green flavor of the peas cut through the richness well and complimented the basil pesto flavor in the sausage.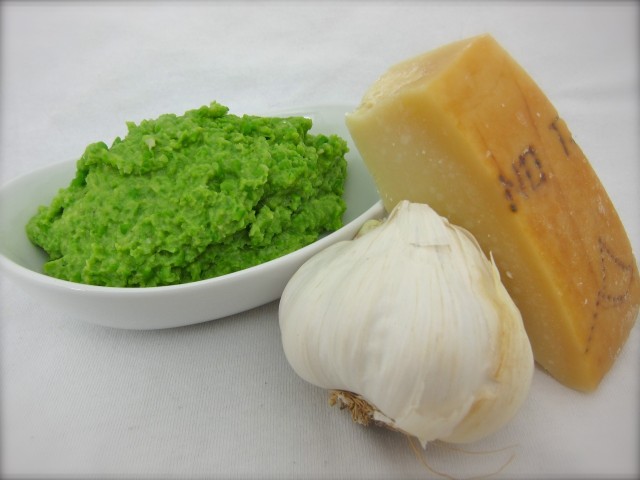 I snuck a few cloves of garlic in with the roasting potatoes to use in the green pea mash. That's a great trick, the garlic flavors the potatoes and then gets pureed into the mash. No waste and no extra roasting dishes.
Here's how I made it…
Creamy green pea and parmesan mash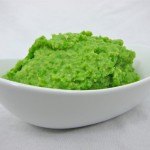 This bright mash of fresh green peas, sweet roasted garlic, and salty parmesan cheese is a fresh accompaniment to richer dishes.
Prep Time: 10 minutes
Total Time: 10 minutes
Yield: About a cup
Ingredients
1 cup

frozen green peas

1/3 cup

fresh grated parmesan cheese

1 tbsp.

sour cream

3 cloves

roasted garlic

1 tsp.

olive oil

salt and pepper

to taste
Cooking Directions
Heat frozen peas until boiling, drain and add to food processor.
Add everything but the olive oil and pulse to combine, scraping the sides once or twice.
Drizzle in olive oil while processor is running to fully incorporate.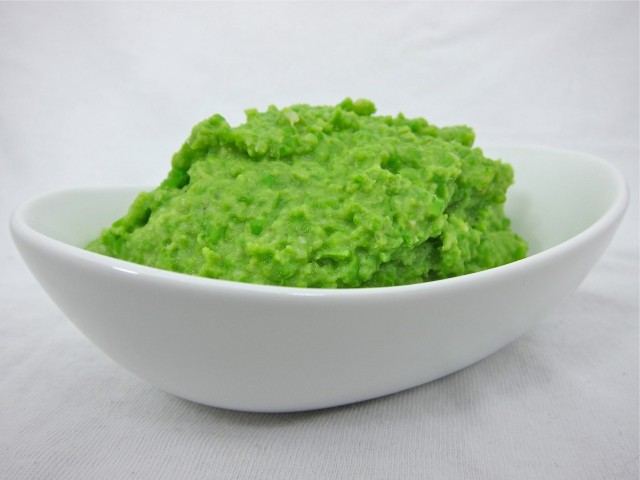 I have made this mash before with a piece of pan-fried salmon. The sweet flavors of the fresh fish and ripe green peas paired wonderfully together.
This also makes for a great dip to serve with crostini at a party. Just drizzle with olive oil and sprinkle with sea salt for a classy presentation.
Spring may be over, but the freshness of peas can be enjoyed any time with this simple side dish!
What is your favorite green vegetable?