I'm kind of glad that I've waited this long to re-cap my Christmas festivities because I really just cannot bring myself to do all the "year in review" and "goals for 2012" posts that show up this time of year. I definitely have some goals for next year and some exciting things on the horizon, but I'll save those things for another day.
This Christmas we drove up to the Chattanooga area to spend Christmas Eve with Jeff's family.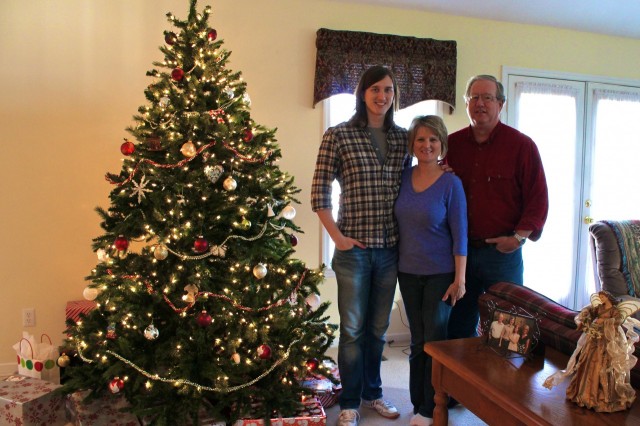 The tree at his Papaw's house was knee-deep in presents!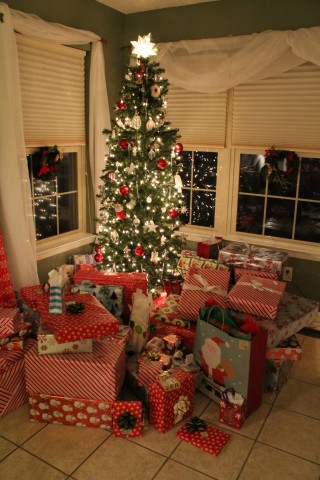 They got passed out rather quickly with the help of two "Santas." Do you guys do that in your family? Someone, usually one of the kids gets to "play Santa" and hand out all the presents!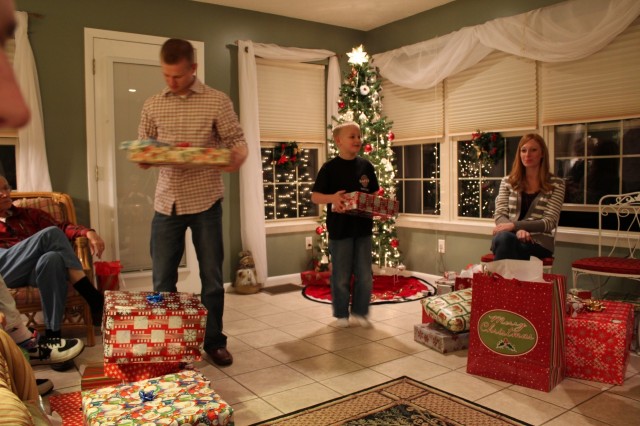 And in Jeff's family everyone takes turns opening gifts one by one, so we all get to see what each person got and take pictures easily.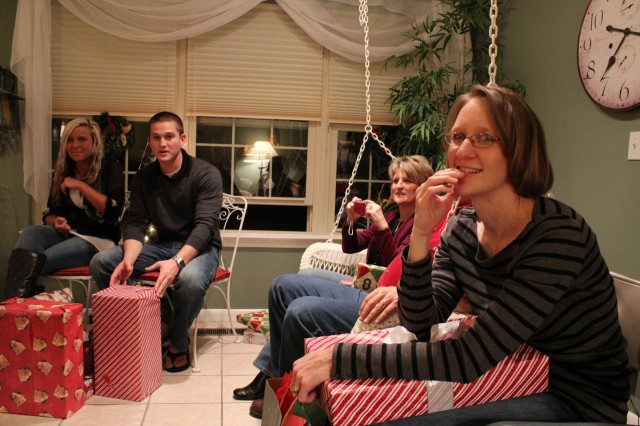 And when it's not your turn to open one you can take turns snapping photos of each other instead!
After about 2 hours of unwrapping gifts (yes it takes that long but it's part of the fun) we went into the kitchen for dessert. I brought a carrot cake because Jeff recently mentioned to me that carrot cake was his favorite, so I just had to make it for him.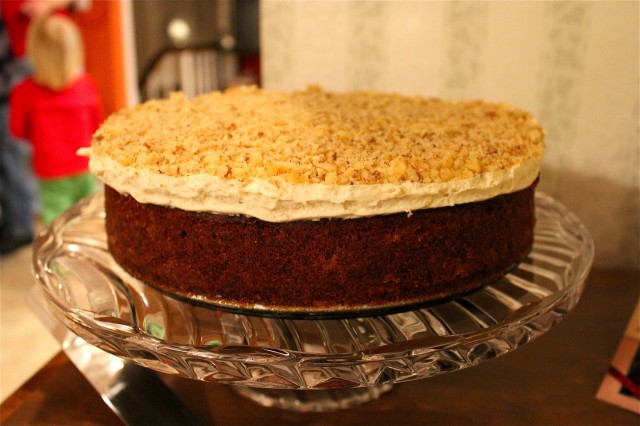 Not just any carrot cake though, this was a carrot cake with a clementine cream cheese frosting! It might just be the best thing I've ever baked.
It makes me so happy when people like things I've cooked or baked, and everyone definitely loved the cake.
Carrot cake with clementine cream cheese frosting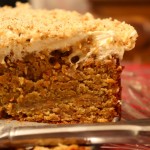 A nutty spicy carrot cake with citrusy clementine cream cheese frosting.
Prep Time: 30 minutes
Cook Time: 55 minutes
Ingredients
1 and 1/4 cups

softened butter

2 cups

brown sugar

5

eggs (separated)

zest and juice of

one clementine

1 and 1/2 cups

flour

1 heaping tsp.

baking powder

1 cup

ground almond meal

4 oz.

crushed walnuts

1 heaping tsp.

cinnamon

a pinch each of

clove and nutmeg

1/2 tsp.

ground ginger

10 oz.

finely shredded carrots

pinch of

salt

And for the

frosting:

8 oz.

room temp. cream cheese

1 stick

softened butter

1 cup

powdered sugar

zest and juice of

one clementine

1 tbsp.

honey

1/2 tsp.

cinnamon

4 additional oz. of

crush walnuts to top
Cooking Directions
For the cake:
Grease a 9-inch spring-form cake pan with butter and set aside.
Beat egg whites and salt in a large bowl until stiff peaks form.
In a stand mixer, cream together butter and brown sugar until light and fluffy.
Add eggs one at a time, mixing in between, then add clementine juice.
Mix together dry ingredients and zest in a separate bowl and add to wet mix in three installments, mixing completely in between each addition. Stir in walnuts and shredded carrot by hand.
Fold beaten egg whites into the batter gently and pour into cake pan.
Bake at 350 degrees for 55 minutes, then remove and let cool completely in cake pan.
For the frosting:
Beat together butter and cream cheese until light and fluffy.
Add zest, juice, honey, and cinnamon and mix in. Add sugar until desired consistency is achieved and frost over a completely cooled cake.
Top with 4 oz. of crushed walnuts to garnish.
After dessert we went back to Jeff's parents house to spend the night so that we could leave from there to head to Hiawassee, GA the next morning. My Dad's side of the family has moved up there in recent years and it's a beautiful part of Georgia, even if it is 2 and a half hours away.
I was so done with snapping photos so I didn't really take any that day except for this one of me and my Dad. Don't we have the same eyes?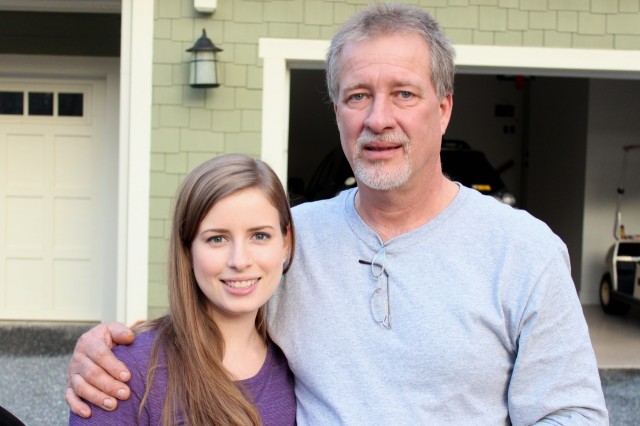 So you may have noticed that I haven't told you what Jeff and I got for each other yet. We actually exchanged gifts the Friday before Christmas so that we'd have time to "play" with our new stuff before we had to head up to Chattanooga.
I sent Jeff down to the basement to open his since I'd been storing it down there.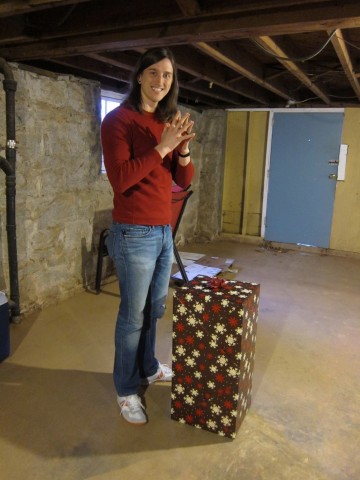 It's a home beer brewing kit! We'll both enjoy that one! 😉
He is so excited about it and has been spending the last week reading up on brewing techniques and shopping for the ingredients he'll need to make his first batch!
He had also been dying for me to open his gift to me for all of December, and now I know why…
It's a Cannon Rebel DSLR camera!!! Ahhhh!
I've been dying for a better camera for ages. I'm really starting to understand and enjoy photography and it was time to upgrade for sure. I absolutely love the Cannon PowerShot S90 Point and Shoot that I've been using for the last 2 years and I'll definitely continue to use it, but a DSLR was necessary for me to be able to continue improving my photography skills and to take more professional quality photos.
It's also going to be invaluable for a personal project I've been working on…….
Anyway, I hope your holiday season was wonderful too. See you all in the new year!