So, mint… yeah, I'm still obsessed with it. I devoured every single one of the mojito bites I made last week and desperately needed another minty treat to munch on. I'm also loving on pineapple right now and had the idea to toss it in mint in an effort to get more of both of those things into my face. I added lime juice, zest, and sugar to make a bit of a sweet syrup and the results are fantastic!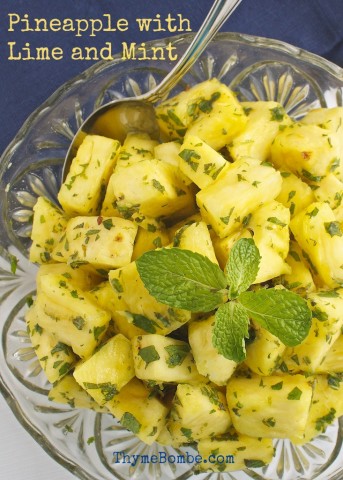 I totally made this for myself with no intention of putting it on the blog, but it was so tasty that I just had to share it. I had some of it alongside a quesadilla for lunch yesterday and it was a perfect match. It's so refreshing and summery, fantastic served cold to beat the heat.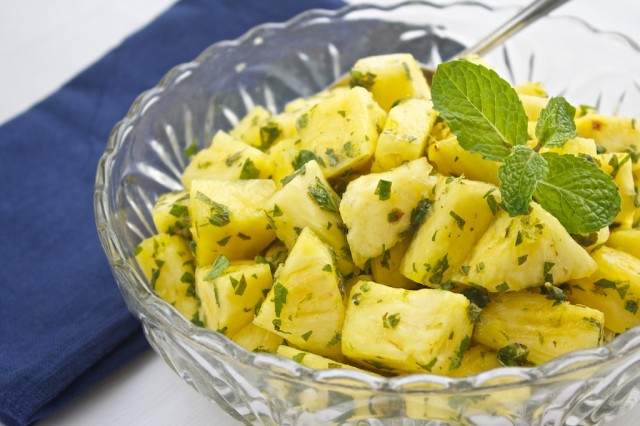 And it only took a few minutes to put together.
Do you know how to break down a pineapple? I know it looks intimidating but it really only takes a minute to do. Just take a large sharp knife and slice off the top and bottom, then stand it on one of the ends and slice down the sides to remove the last of the scaly exterior, making sure to remove all of the brown parts. You'll be tempted to not cut in too deep in an effort to get more pineapple, but don't – you really need to remove all of the brown pitted parts, they're not pleasant to eat. Then just cut the fruit off the core. I slice down one side of the core, then rotate and slice down again, leaving 4 large pieces. Again, don't cut too close to the core, it's too fibrous to eat! You can then chop the fruit into whatever size pieces you want. Sounds like a lot of work, but it really only takes a minute.
Pineapple with lime and mint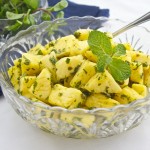 A simple snack of fresh pineapple with herbs and citrus.
Prep Time: 10 minutes
Ingredients
1 small

pineapple

2 tsp.

sugar

the zest and juice of

1 lime

a handful of

fresh mint leaves (chopped fine)
Cooking Directions
With a large sharp knife, slice the top and bottom off of the pineapple. Stand the pineapple up on one of the cut ends and slice the sides off, making sure to remove all of the brown bits.
Cut the pineapple off of the core in 4 large pieces and chop into bite-size pieces.
In a large bowl, combine cubed pineapple with sugar, zest, juice, and mint. Stir to combine and allow to sit for 30 minutes in the refrigerator before serving.
Store any remaining in an air-tight container in the refrigerator for up to 5 days.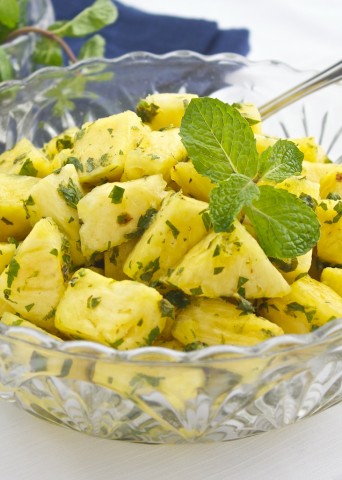 I managed to eat an entire pineapple by myself last week, so I don't see this lasting very long in my house. That's ok though, I still have half a bag of fresh mint to use up, so I'll just have to buy another one and make more!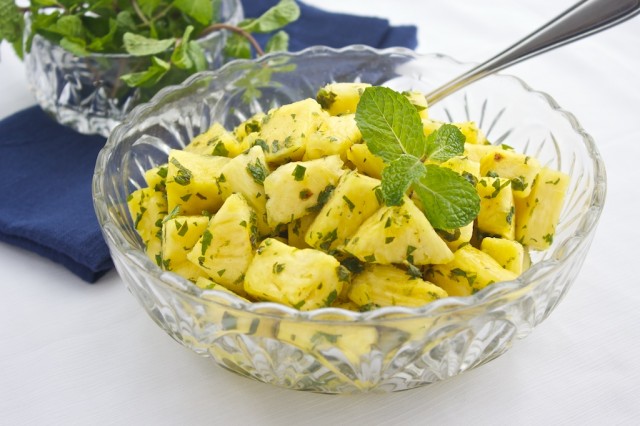 I asked you guys on my Facebook blog page yesterday what foods you're craving lately, too. Looks like basil is a theme for many of us. I'm personally hooked on Thai basil at the moment, but I do use sweet Italian basil quite a lot too. In fact, I have some plans in the works for using both types of basil in a few different recipes that should appear on the blog in a few weeks. I think I feel a new obsession coming on…
What is your current favorite fruit?
What do you like to pair basil with?