I seem to develop a new food obsession every couple of months. I went through a period of intense and insatiable grapefruit lust a few months ago – there was nothing more delicious in the world to me than a ripe grapefruit at that time, and I ate one almost every day. Right now I'm in a berry bubble. If you haven't noticed, berries have appeared on my blog a lot recently, and it's because I'm absolutely obsessed with them nearly to the point of dependency.
My craving for berries is nowhere near over, but I'm starting to feel the intensity ease up a little now that the initial excitement from all this newly seasonal fruit has settled some. And right on cue, a new craving has emerged: Mint. Guys, I'm losing my mind over this stuff right now.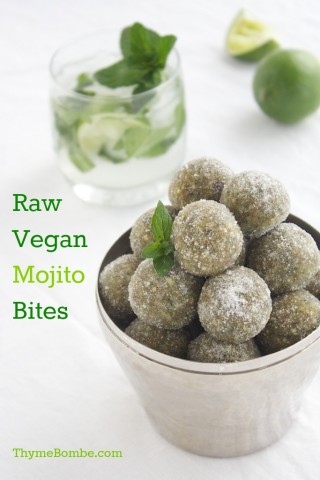 The beautiful spring weather we're having right now in Georgia (on the days it isn't pouring down rain, at least) has me wistfully dreaming of sipping cocktails on patios in the sunshine. It won't be long now before the bully that is summer in Georgia comes to scare away this brief moment of fair weather, replacing it with a beatdown of searing sun rays and suffocating chokehold of humidity. Of course I'm exaggerating, but only a little.
Anyway, we've been too busy for cocktails on patios lately, so I've been entertaining myself by recreating the flavor of one of my favorites at home, one that just so happens to feature my food obsession of the moment. Mmmmmmmojitos!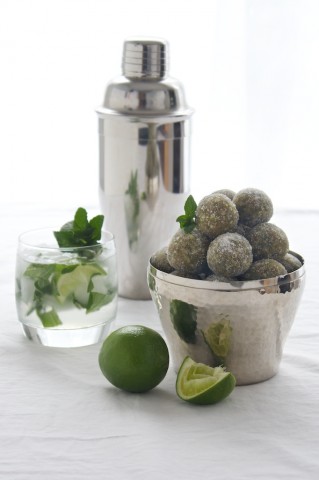 The mojito is a mixture of rum and club soda, flavored with the refreshing additions of lime and mint that have been muddled with sugar. The flavor is so clean and crisp with the herbal aromas of lime zest and mint leaves scented throughout. The sugar never fully dissolves, and instead soaks up the other flavors, making for a sweet and flavorful sip with lots of texture.
These mojito bites are made with nothing more than nuts, dates, lime, mint, and agave to sweeten. I've rolled them in sugar to recreate that gritty undissolved sugar you get in the bottom of the glass – my favorite part. And guys, they really do taste like mojitos! It's a perfect replica! Sans booze, of course.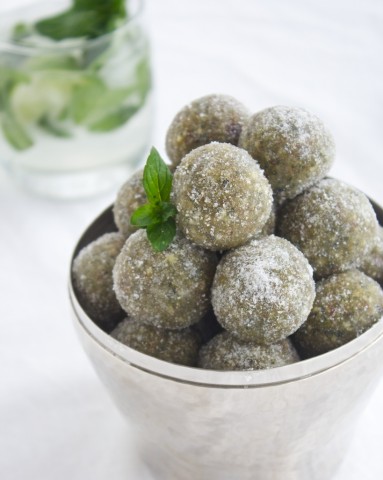 I've been keeping these in the refrigerator so I can enjoy them cold, just like a cocktail. Every bite is a burst of fresh mint and lime, and I especially love getting to lick the minty sugar off my fingers afterwards.
For a clutch of poppable minty snacks to curb your own cocktail cravings, follow these easy steps…
Raw vegan mojito bites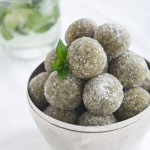 All the flavor of the classic summertime cocktail with none of the hangover.
Prep Time: 15 minutes
Yield: Makes 22 to 24 bites
Ingredients
1 cup

raw unsalted macadamia nuts

1 cup

raw unsalted cashews

3/4 cup

chopped dates

3/4 cup

fresh mint leaves

4 tbsp.

fresh-squeezed lime juice

the zest of

2 limes

1 tsp.

raw agave nectar

pinch

salt

white sugar for

rolling
Cooking Directions
In a food processor, pulse together nuts until small. Add dates and pulse to combine.
Add in mint, juice, zest, agave, and salt. Process until a paste is formed.
Pinch off small bits of the paste and roll into balls. Roll balls in sugar.
Store in an air-tight container in the refrigerator for up to 2 weeks.
Best part: No hangover!  Second best part: No straw clogged with mint leaves! Third best part: No giving yourself a headache trying to suck the mint leaves up through the straw! Fourth best part: No deciding it might work better to blow the mint back down the straw and having half the drink explode out of your glass as the mint shoots out of the straw like a cannon!
Just me? Ok.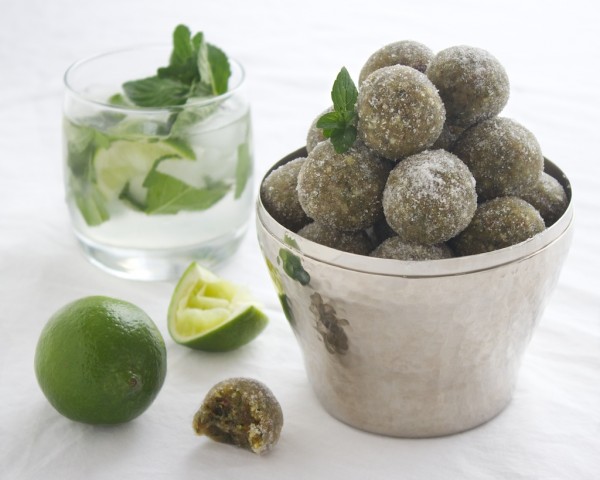 Oh, and they're completely raw and vegan too. Nifty!
UPDATE: As a reader pointed out, white table sugar is usually not a raw or vegan product. Bone char, a product made from charring animal bones, is often used to de-colorize sugar for that bright white look. Even sugars labelled as raw often are not. Usually they are processed into white sugar before adding back some of the natural molasses to appear less processed. When making this recipe, I fully intended to use truly raw and vegan sugar but didn't realize I was out of it until it was too late. I meant to say something about it but forgot. If it's important to you that these snacks are indeed raw and vegan, be sure to read the labels on your sugar products carefully or omit altogether. Sucanat may be your best bet. It is a dehydrated sugar that retains all of it's natural molasses, making it one of the least processed sugars available.
What flavors are you craving right now?
What cocktail would you like to have in a bite-sized treat?