Tuesday marked 2 years of marriage for Jeff and I. I'm gonna avoid all the mushy stuff and just tell you about the amazing dinner we had at Cakes and Ale, a local Decatur restaurant we've been meaning to try for a long time.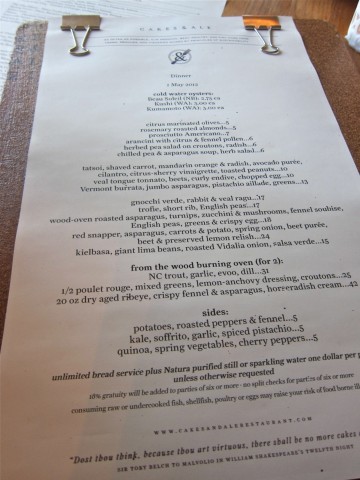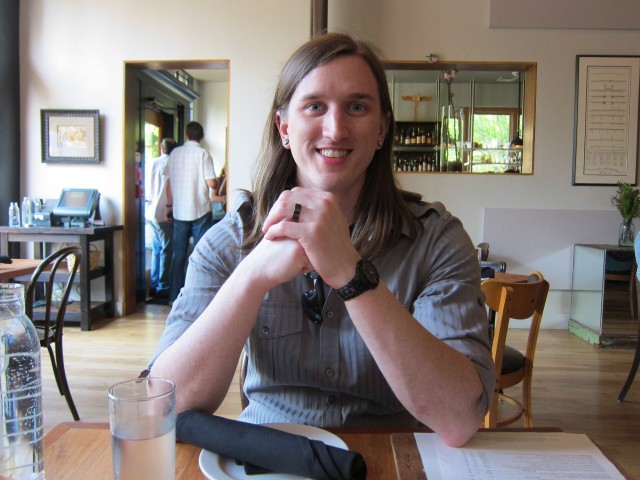 They claimed to be pretty booked, so we had to come in early at 6:30 to grab seats before the rush. We figured we could just grab a few cocktails and take it slow.
I started with a truly delicious whiskey cocktail with flavors of orange and honey. Not too sweet and just boozy enough. Jeff went with a Bell's Two Hearted Ale, one of our favorites and one that we just tried to clone recently with our 4th ever home brew!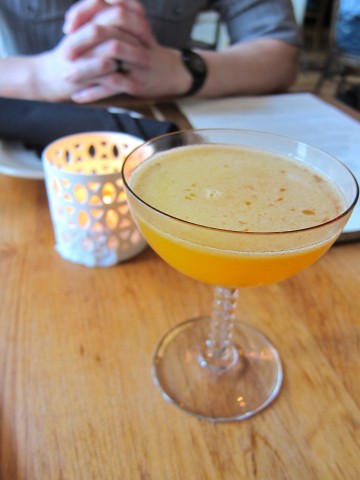 Ok so, I have stated many times throughout my life that the only seafood I don't like is the oyster. BUT, while we were in Seattle we were served a plate of Kumamoto oysters that we weren't expecting during an omakase sushi dinner and loved them. Cakes and Ale had three types of oysters that you could order individually for a little snack, including the Kumamoto, so we asked for 2 to see if we still enjoyed them.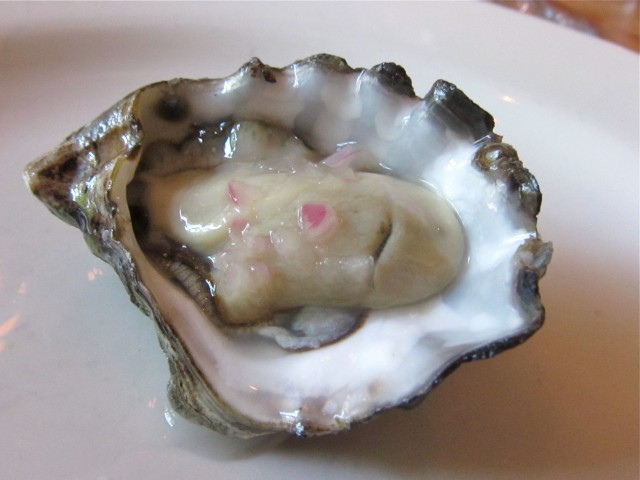 These teensy little beauties nestled in their curly-lipped shells were served with a lightly acidic shallot mignonette. They were just as tasty as I remembered. Apparently, I just like Washington oysters.
First appetizer was the arancini with citrus and fennel pollen. These little balls of creamy risotto were perfectly fried to a light golden crispness and were barely kissed with the aromatic fennel pollen that was more of an aroma than a flavor.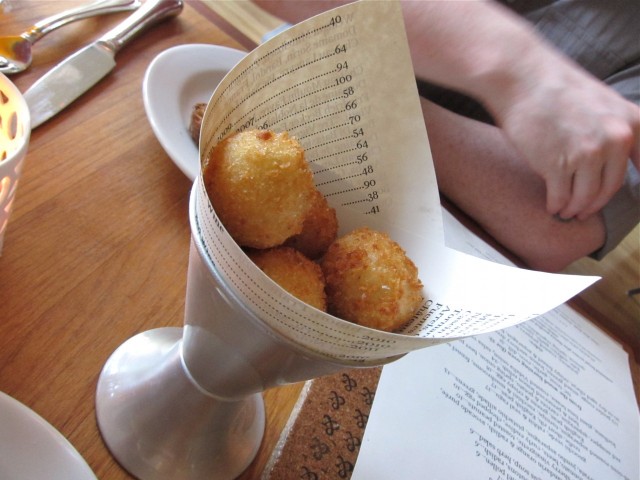 Next was the tatsoi (asian spinach) salad with shaved carrot and radish, citrus avocado puree, fresh cilantro, and peanuts. So refreshing! I think the farmer's market has a type of asian spinach so I might try to recreate this one at home. The cilantro really made it.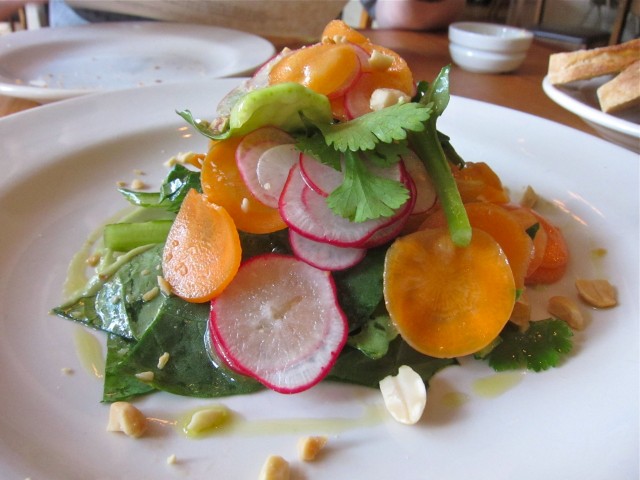 Then we moved on to the heavier stuff. First was the gnocchi verde with rabbit ragu. Wow guys…incredible. Perfectly pillowy gnocchi and the most intense and luscious ragu ever. Rabbit reminds me of the flavor of slow roasted pork, very soft and sweet.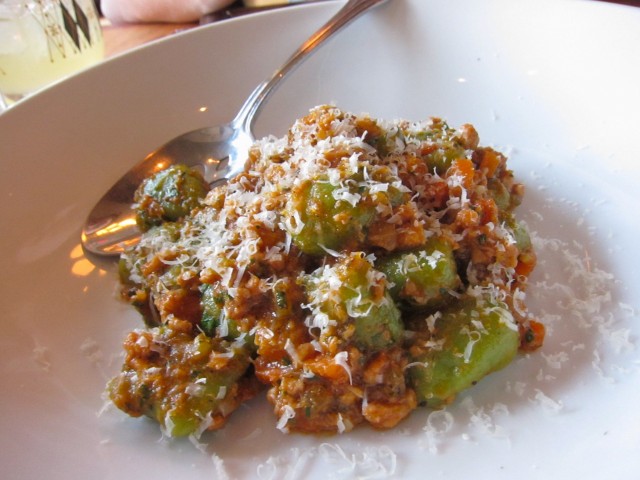 We decided to split the ribeye with crispy fennel and horseradish cream for our entree. It takes nearly an hour to prepare, so we ordered it pretty early in the evening and tried to take it slow so there wouldn't be too much down time waiting for it.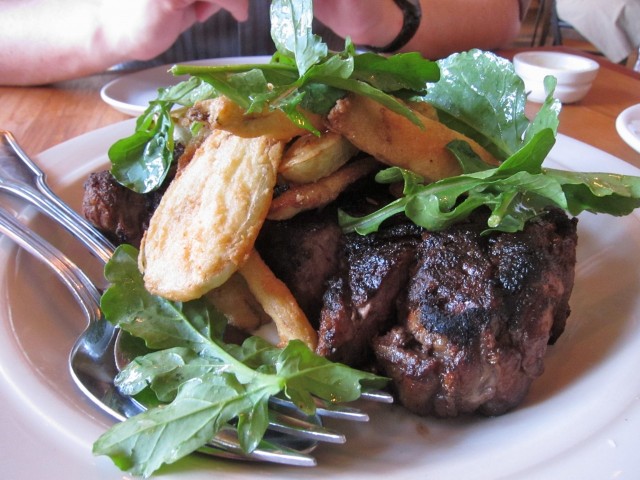 This thing was huge! Very little fat and perfectly salted and crusty on the outside with a meltingly soft center. The crispy fennel reminded me of fried okra, and the horseradish cream wasn't too spicy and complemented everything on the plate. Well worth the wait.
We both ordered another round of cocktails before getting down to dessert. This was the Spring Fever, with a bitter lemon soda that served as a nice palate cleanser.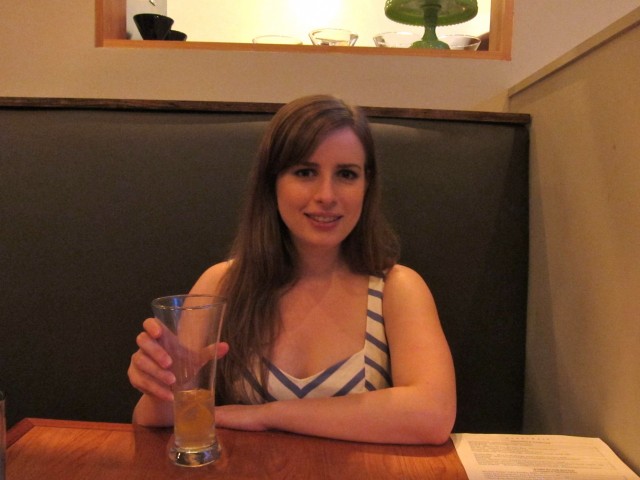 I chose dessert. We had a meyer lemon tart with an almond crust and almond praline, topped with meringue and resting on a bit of raspberry puree.
Ya'll know I love lemon desserts, right? This one was beyond tart to the point of being downright sour, but I loved it that way. Jeff kept making the sour lemon face with every bite though, and eventually relinquished the last few bites to me. Score.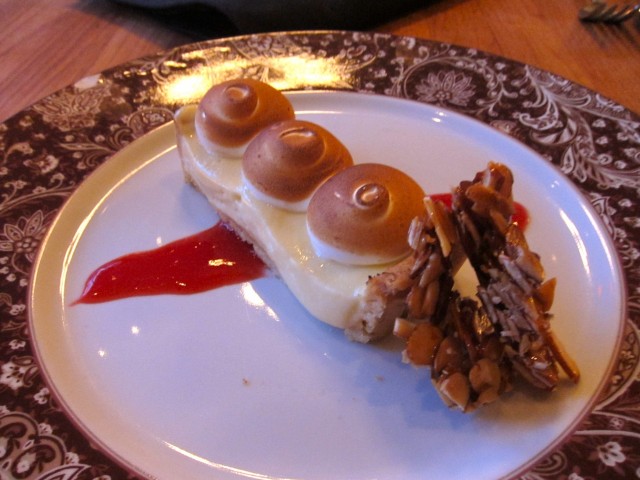 Cakes and Ale was outstanding. We've been avoiding it because it's, well…expensive. And every time I've checked their ever-changing menu online I haven't been too excited about the offerings. I'm really glad we just went for it because everything was beyond my expectations and the staff was super-friendly and helpful. They also have a bakery and coffee shop next door that we'll have to hit up for breakfast some time.
Well that was dinner. Now, presents! Well, one present. I assumed that we weren't exchanging gifts this year because we're going on vacation soon (more on that later,) so I didn't get Jeff anything. He, however, schemed to get me a little something that I'm very excited about. Check it out!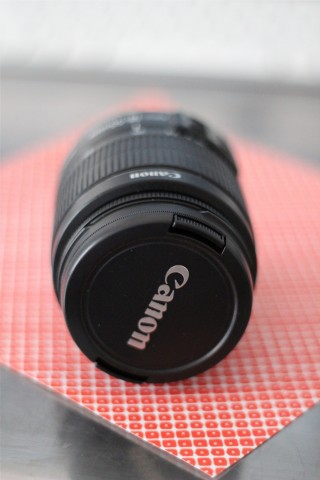 That's the stock lens that came with the Canon Rebel camera Jeff got me for Christmas. But I took the photo with my new "Nifty Fifty" 50mm/f 1.8 lens!
I tend to gravitate towards these super wide aperture shots (only a small part is in focus and the rest is fuzzy) and this lens is awesome at making those shots happen easily. It's fixed focal though, meaning you can't zoom but rather have to physically move yourself closer or farther from your subject. It's taking some getting used to, but it's not as hard as I thought it would be.
What is your significant other's best quality?
What's a restaurant you've been meaning to try for a long time?