I don't know why, but this feels like one of the busiest years of my life. Time is flying by at a dizzying pace. It seems like it was just Christmas not too long ago and yet here we are already in hot-as-hell summer and just a few short months away from having lived in our new rental house for a full year. Time flies when you're having fun, or when you're really busy, I guess.
And so, because of said busy-ness, I've let so many goings-on go untold. Here's what's been up with me lately…
1. Donut peaches are in season! My favorite fruit is a tie between a perfectly ripe strawberry and these squat little donut peaches. I've had one of these babies every day for 2 weeks now with no end in sight.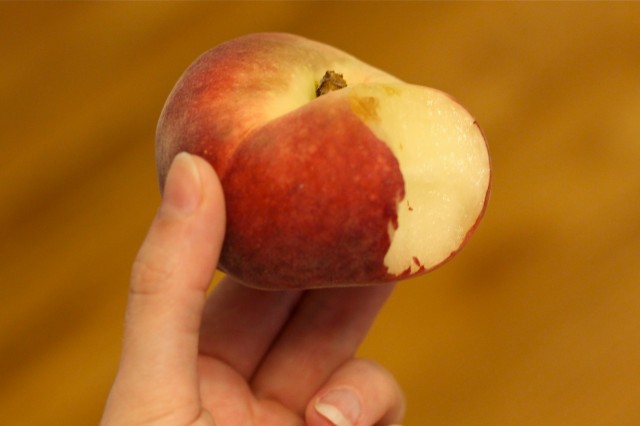 2. Apparently I like olives and mangoes now. I have hated both of these foods my entire life and suddenly I can't get enough of them. What's next, cherries? Blech!
3. My car got crunched. It was parked in the street for a day and one of our neighbors backed into it on her way out to work one morning. They were super cool about it and left a note, so we were able to deal with all the insurance stuff right away and get it repaired quickly. Good as new now.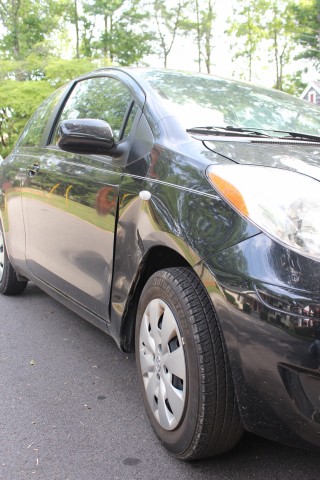 4. Jeff and I have been working on a mobile game app together. He's gotten into game development over the last year and tinkered with a few game ideas, we've finally found one that's stuck. He'll be doing all the technical stuff (which is WAY over my head) and I'm working on concept art and story ideas. Maybe in a year or so you guys will be able to download a game we made!
5. The cats are broken. Lucas has been sneezing out giant gobs of snot for over a month now. He's on his second round of antibiotics and seems to be doing a bit better. Liam lost an adult tooth last week for seemingly no reason. They've both needed shots and yearly checkups. These little f%&$ers have been expensive this month.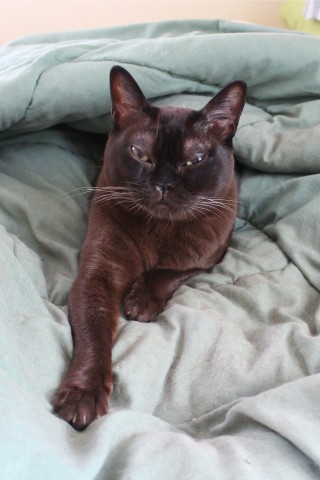 6. I sliced the crap out of my thumb. I was trying to slice a stale loaf of bread in half lengthwise to use in a book recipe photo and ended up mangling my thumb knuckle. I promptly fainted…twice. Luckily Jeff was home that day to help me or I could've conked my head on the floor and bled out. Ok…I probably wouldn't have bled out, but it was still really scary. And now I have a creepy-looking gash on my thumb that is not going to heal prettily. I'll spare you the photo.
7. I was supposed to photograph my very last book recipe today, but the recipe was a dud. I made wasabi pea crackers and learned after several batches that wasabi flavor just disappears when exposed to high heat. I think I have something even better planned to replace it though. Here's another one that sounded good on paper but just didn't turn out well: Asian pear poached in black tea with honey mascarpone, walnuts, and candied ginger. Asian pears just don't poach well, it leeches out all their flavor leaving a mealy husk.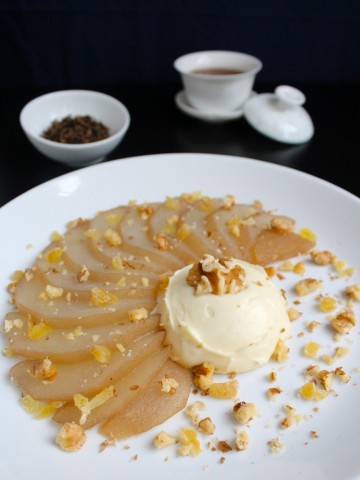 8. Jeff has the flu. He's been miserable for 5 days now and I've been doing my very best to take care of him. So far, I haven't gotten it from him (:::fingers crossed:::) We were just talking yesterday about how completely differently we like to be cared for when we're ill. He needs to be doted on, touched, and made to feel loved. I need to be alone. All I want when I'm ill is a huge blanket, no responsibilities, no touching, and an alternating schedule of a 2 hour movie followed by a 2 hour nap continuously until I'm well again.
9. After a 2 month hiatus, I'm restarting the LiveFit program somewhere in the middle. I got really busy for a while with book stuff and wedding cake stuff and gym time got cut in favor of focusing on those things. It feels really good to get back to working out regularly. I love strength training!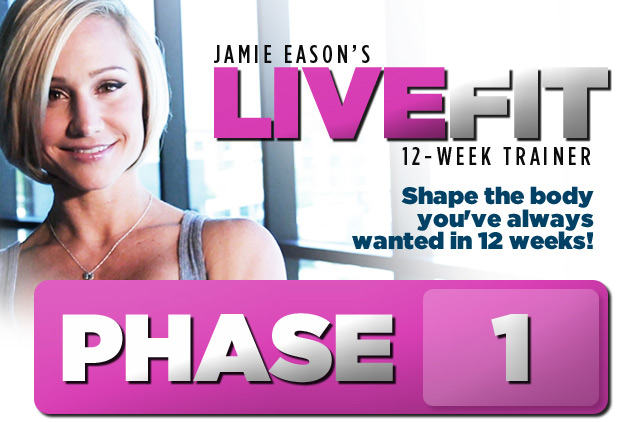 10. I finally get to make an all-buttercream wedding cake! I mentioned that I'm doing another wedding cake in September. Well, we just finished ironing out the details for it and I'm really excited to make this cake now, especially because I've really wanted to try doing a fondant-less cake for once. I can't say any more about it though because it's a surprise for the bride (the groom picked out all the details) and I don't want her to read about it here before she gets to see it on the big day.
Whew!
That's what I've been up to, what about you?